Adscook Review & Lifetime Deal
Adscook Review: This post going to be a detailed review of Adscook. In which we will talk about it's features, using benefits and lifetime deal pricing.
What is Adscook?
Adscook is an AI-powered ad management and automation tool helping marketers or even non-techies to run high ROI ads on Facebook and Instagram.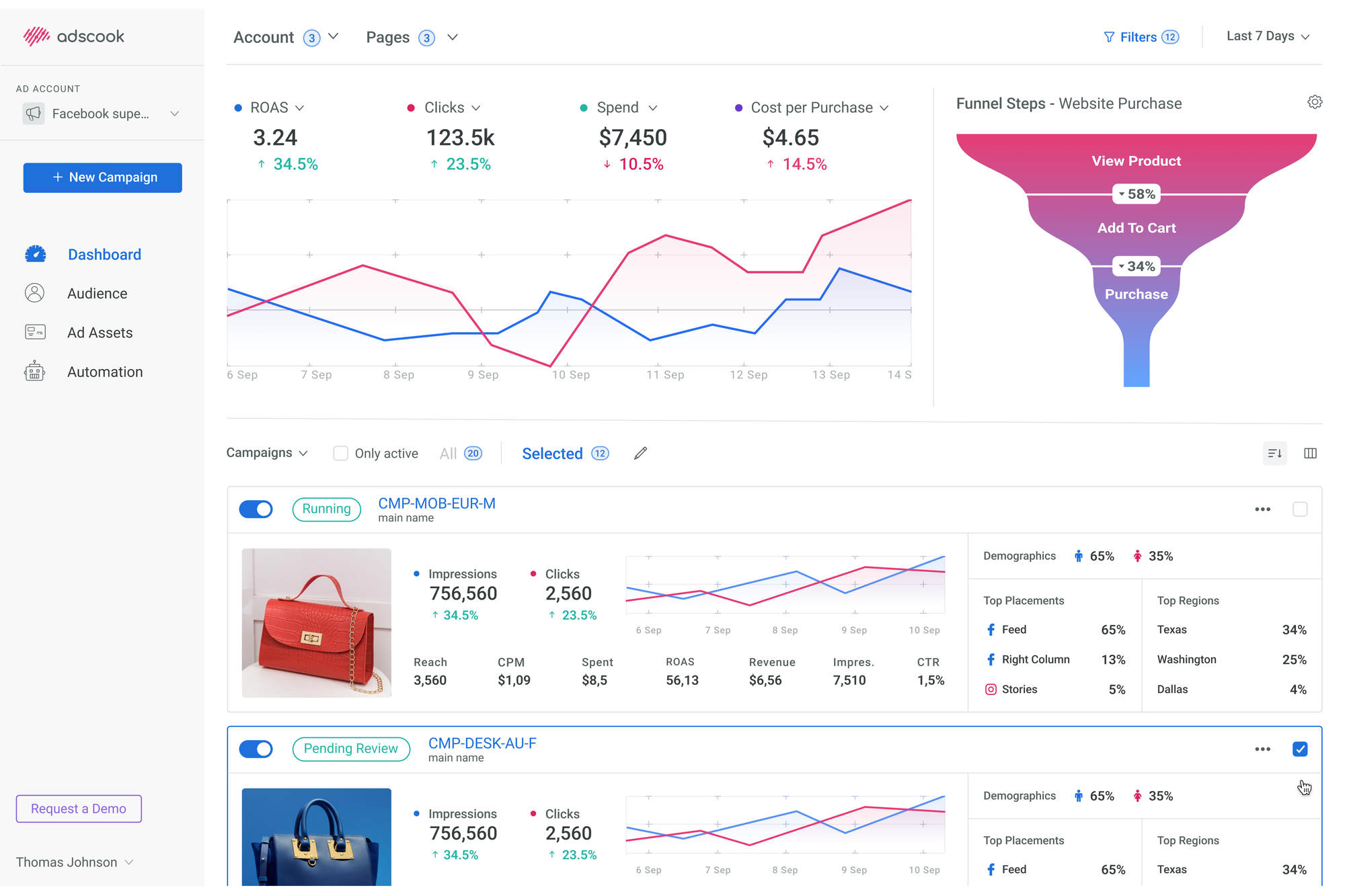 With this online advertising management system, you can advertise on social media platforms such as Facebook and Instagram and get high conversions.
It allows users to set up campaigns, monitor performance, and manage ad spending. So they can get more sales without spending more on ads.
Plus, if you are an Ad expert and run ads for clients, then with this you can also link and manage their ads from a single dashboard that you are using for your ads, isn't that making freelancing more eaiser.
Highlights (TL;DR):
Create Ad Campaigns Effortlessly – Create multiple ad variations instantly and target top-performing audiences with pre-made custom audiences that are proven to convert.
Boost revenue from Facebook/Instagram ads with automation and 24/7 monitoring that adjusts campaign behavior based on customized conditions & saves your money
Automate Optimization to Boost Results – Activate A.i powered pre-set automations with ease and save up to 40% of your daily budget that is wasted on bad ads.
Create and launch up to 500 Ads across multiple Facebook accounts, then analyze data across all accounts using one dashboard.
Best for Marketers, Online business and ecommerce professionals
---

Adscook: Features Overview

Ad Campaigns
Users can either import existing ad campaigns from the Facebook ads manager or create a new one from scratch.
It offers multiple objectives such as Conversions, Traffic, post engagement, lead generation, video views to select from.
This is pretty much similar to the FB campaign creation objectives.
These powerful ad creation options let you upload 50 media assets per ad, as well as customize audiences to create 500 unique ads.
You can upload media from your desktop or drive, and save content to an ad asset library that you can continuously access as you develop new ads. You can also make new advertisements from scratch in a variety of Facebook post types, including carousel, links, and videos. Or, you can optimize existing posts to maintain organic social proof.
Targeting Audience
You can create custom audiences based on target locations, demographics and interests.
And the best part, you can also save these audiences prestes for use in later campaigns.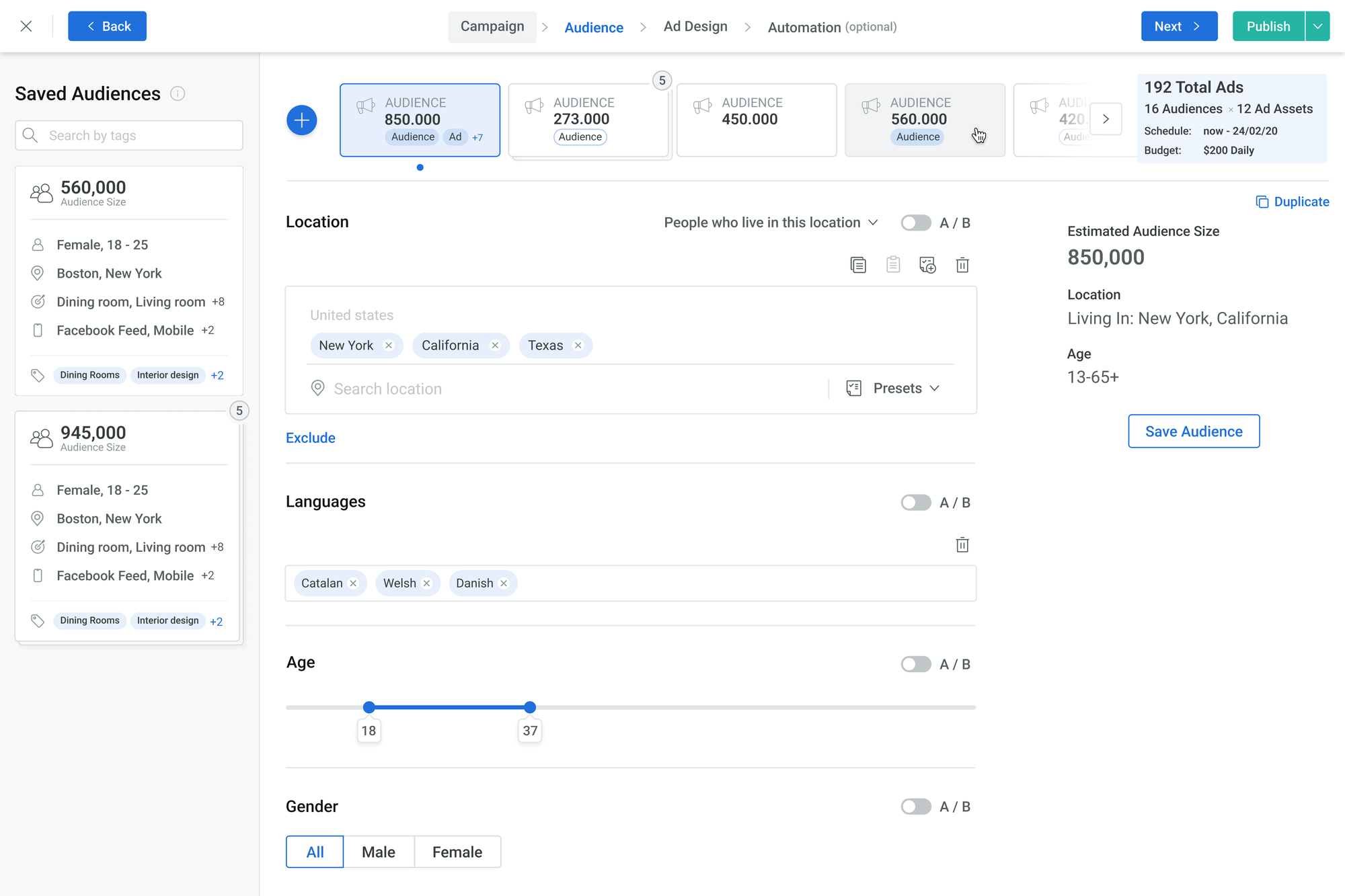 Adscook lets you easily copy and paste targeting details across audiences. This makes it easy to use targeting information from one campaign to create new campaigns.
Automatic A/B Testing
Adscook A/B Test is the most helpful feature here while targeting the audience there is an "A/B Test" toggle available on the top right of every targeting section.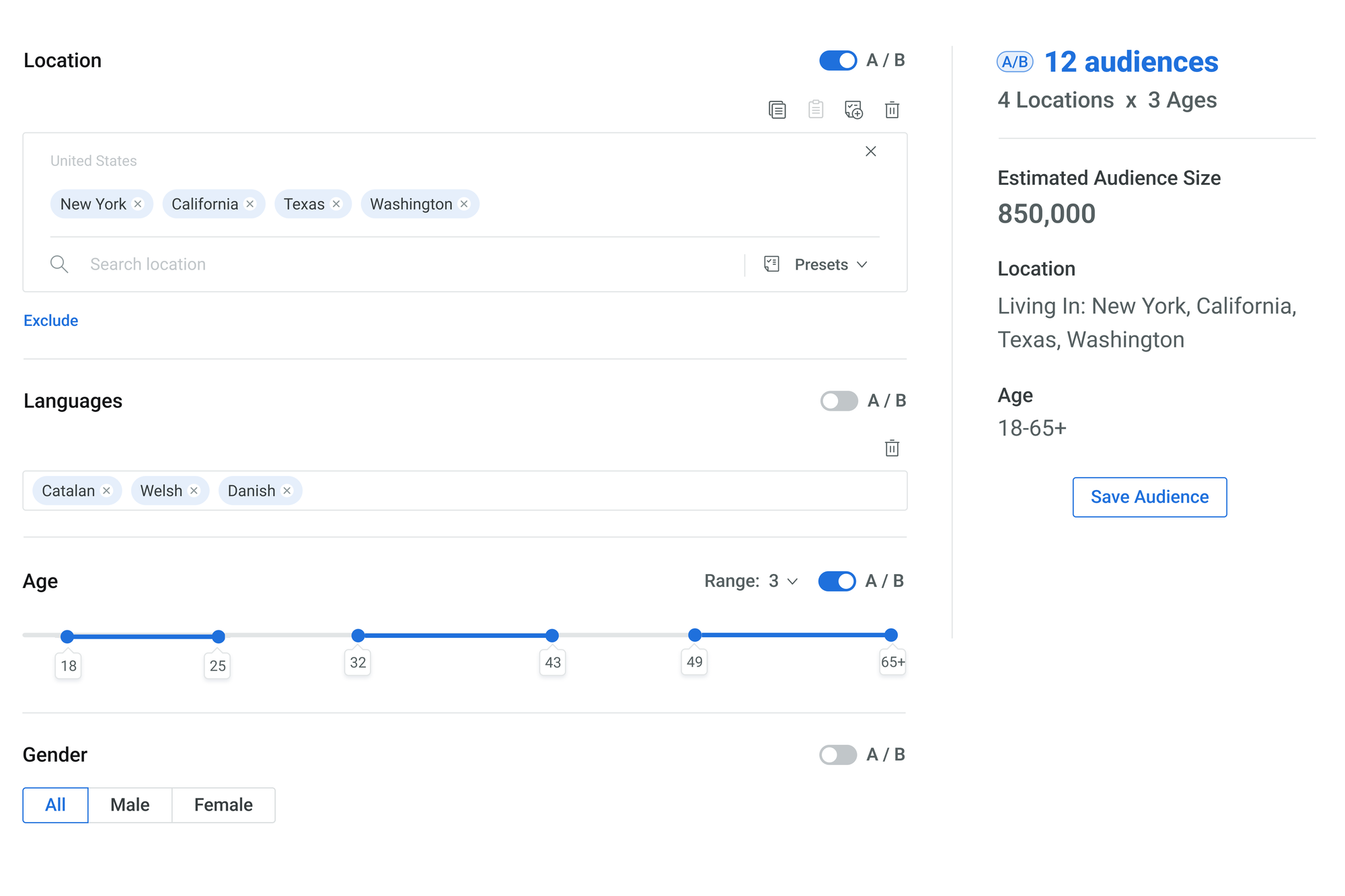 When you enable or switch ON this A/B test toggle, Adscook's a.i automatically create split test variants based on your Targeting combinations. This saves a lot of time and effort from manual work.
24/7 Monitoring
After launching your ad campaigns, Adscook's automation monitors your ads in every 15 minutes period that works 24/7. As soon as something goes wrong, you'll be notified right away. So no need to check again and again.
Automation – A.i Pre-set Rules
Adscook automation is the most powerful feature that optimizes Ad campaigns on automation and saves money.
Adscook provides an easy way to create custom rules that help you get better results. Or you can just select from their pre-set rules.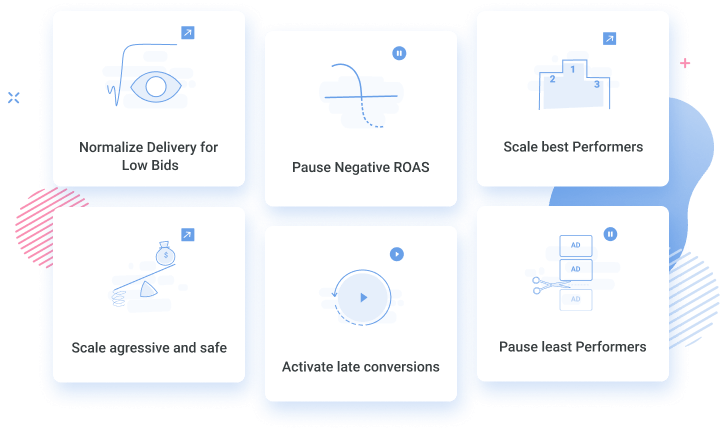 Use the pre-set rules to automatically scale up ads when your website gets more traffic, or pause them if your site isn't getting any visitors.
Set your own rules based on a wide range of conditions, including ones related to your business goals.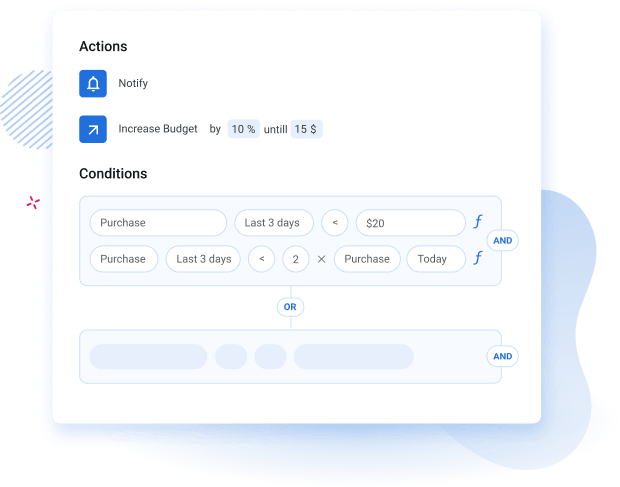 Automatically adjust your spending based on the number of orders you're receiving.
All in 1 Analytics Dashboard
Adscook provides an intuitive dashboard that allows users to view all of linked Facebook accounts information in one place.
This dashboard includes stats on individual ad campaigns as well as reports on key KPI's such as CPA, CTR, and conversions. Users can easily edit and create new assets while viewing the report by clicking directly on the desired asset within the report.
Plus, Adscook users set a custom rule-checking schedule, even integrating with google analytics to add even more intelligence to my data.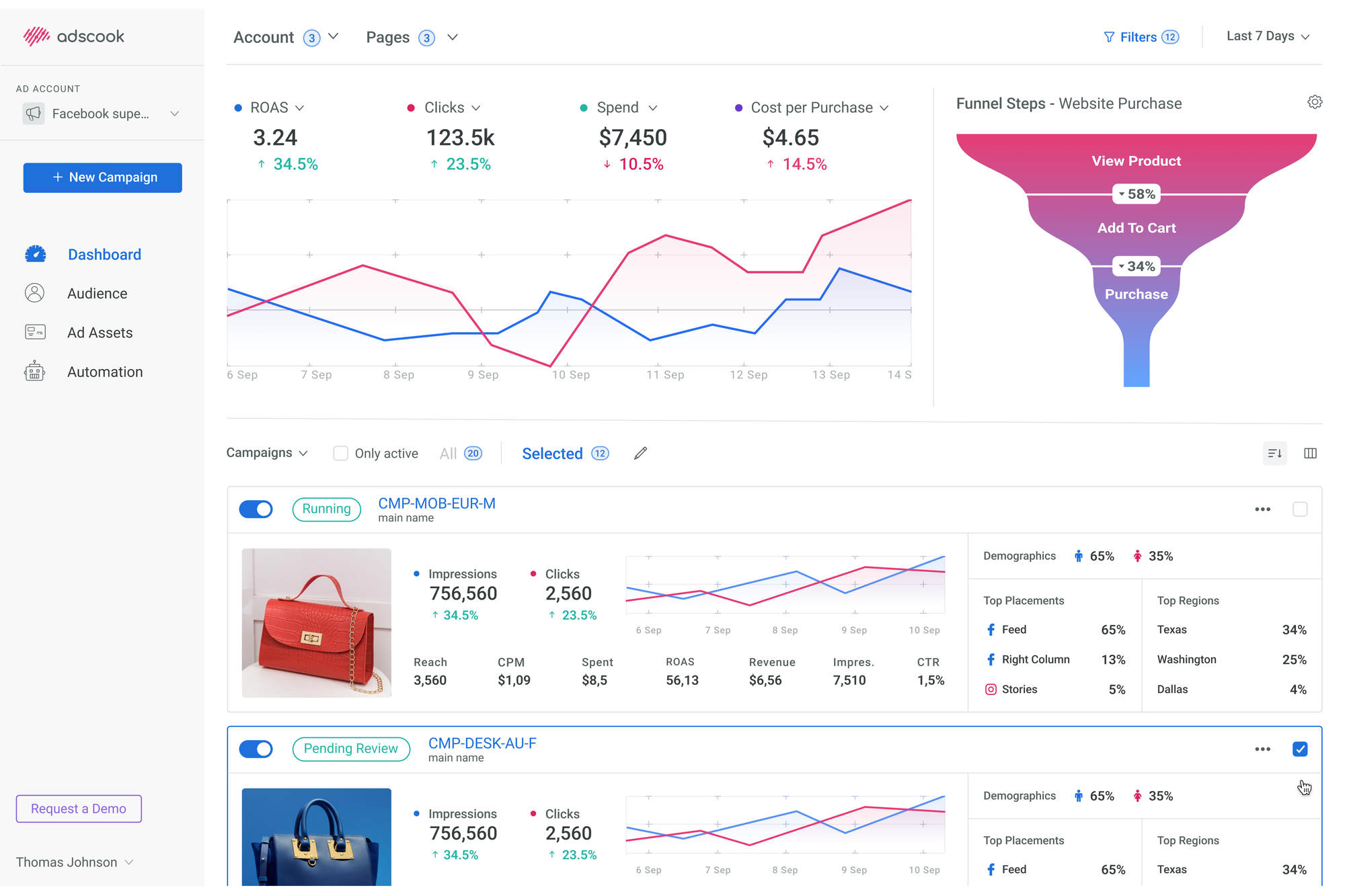 ---

What are the Benefits of using Adscook

What's the Benefit of using Adscook?
Easily Launch Ads That Convert
Launch up to 500 ad variations with a few clicks
Automate A/B test your audiences and creatives by any variable
High-quality audiences that improve over time
Bulk edit your audiences and creatives
Automated ad campaign optimization using A.i powered Pre-set Rules
Save 40% of ad spend that is wasted on unprofitable ads
Profitable & proactive scaling
Effective & evergreen advertising workflow
Access to agency-level results through automation
Get more accurate data on your ads via Google analytics and Wicked Reports Integrations
Adscook automates key functions for campaign optimization. Campaigns get faster results by using automated reports. And helps you run smarter campaigns.
Lifetime access to Adscook means you've to never pay another dime like the other tools which charge every month!
---

Adscook Lifetime Deal: Includes

Lifetime access to Adscook
All future Plan updates
Campaign creation
Automated campaign monitoring and management
Automate A/B variants
Access to All Pre-set A.i Automations
Save field presets
Copy & paste entire fields from one asset to another
Actionable and multi-account reporting
And there is also 60 days money-back guarantee for every plan, which means if somehow you are not happy with Adscook (which is not going to happen), you can return it within 60 days of purchase and full money will be back without asking any question.
So why are you hesitating!
Needs Attention: Most deals are out of stock within a week of coming to a lifetime deal offer. So take it now if you need it or don't want to miss it.

---

GEt Additional 10% OFF on AISEO Lifetime Deal

Want an extra 10% discount on Adscook AppsumoLifetime Dea, Just follow these steps below,
Wait for few seconds, until a discount pop up appears
Enter your Email address
Check your inbox, you will get an extra 10% discount
NOTE: This is only for your First-order or New Appsumo Users.

Adscook: Video review
Thank you for reading this post, don't forget to share with more people like you!
PLATFORM
CUSTOMER SUPPORT
| | |
| --- | --- |
| 24/7 Live Support | ❌ |
| Email/Help Desk | ✔️ |
| Online Chat | ✔️ |
| Phone Support | ❌ |
INTEGRATION
| | |
| --- | --- |
| Integration Available | Facebook, Instagram, Google Ads |
ALTERNATIVE
| | |
| --- | --- |
| Best Alternative to | Adyouneed, Facebook ads manager, Adtuo |
Pop Up Tool Features
PLAN
| | |
| --- | --- |
| Free Trial | ✔️, 30 days free trail |
BEST FOR
| | |
| --- | --- |
| Suitable for | Anyone and Everyone using Facebook and Instagram Ads to scale up their business, Startups, Enterprises, Marketing Agencies, Bloggers, Content Writers, Copywriters, SEO experts, Social Media influencers |
Social Media Tool Features
| | |
| --- | --- |
| AI Generated Ad Copy | ❌ |
| eCommerce Integration | ❌ |
Ad Tool FEATURES
| | |
| --- | --- |
| Ads Platform Integration | Facebook, Instagram, Google Ads (Coming Soon) |
| Multiple websites/stores | ✔️ |
| Multiple users | ❌ |
| Multiple Ad accounts | ✔️ |
| Multi-Channel Campaigns | Only Facebook and Instagram, Google ads in beta, ❌ |
| Ads Design Integration | ❌ |
| Split Testing | ✔️, Automatic A/B testing |
| AI Audience Finder | ❌ |
| Asset Organization | ✔️ |
| Audience Builder | ✔️ |
| Automatic Optimizations | ✔️, A.i Pre-set automations |
| Automatic UTM Tagging | ✔️ |
| Automation Builder | ✔️ |
| Bulk Audience Creation | ✔️ |
| Campaign Dashboard | ✔️ |
| Catalog Ads | ✔️ |
| COGS Calculation | ✔️ |
| Data Aggregation | ✔️, 3in1 |
| Google Analytics | ✔️ |
| One-click Campaign Setup | ✔️ |
| Pre-Built Audience Templates | ✔️ |
| Pre-built Optimization Strategies | ✔️ |
| Pre-made Lookalike Audience | ✔️ |
| Product-based Ad campaigns | ✔️ |
| Product Based Reports | ✔️ |
| Profit Calculation | ✔️, ❌ |
| Scaling Strategies | ✔️ |
| Client share preview | ✔️ |
PROS:
Easy to user UI and UX
Super easy to setup
Automation is a killing feature
Analyzing Dashboard gives a bird's view of everything in a single place.
Even beginners can run expert-level campaigns with scalify without wasting money.
CONS:
No team members add feature
Currently Google ads not in action
No sharing links feature is available for reports to be shared with the clients.
😍 Try World's Best Ai Writer for Free!
🔥FREE 80+ Widgets, Make your Site Stand!