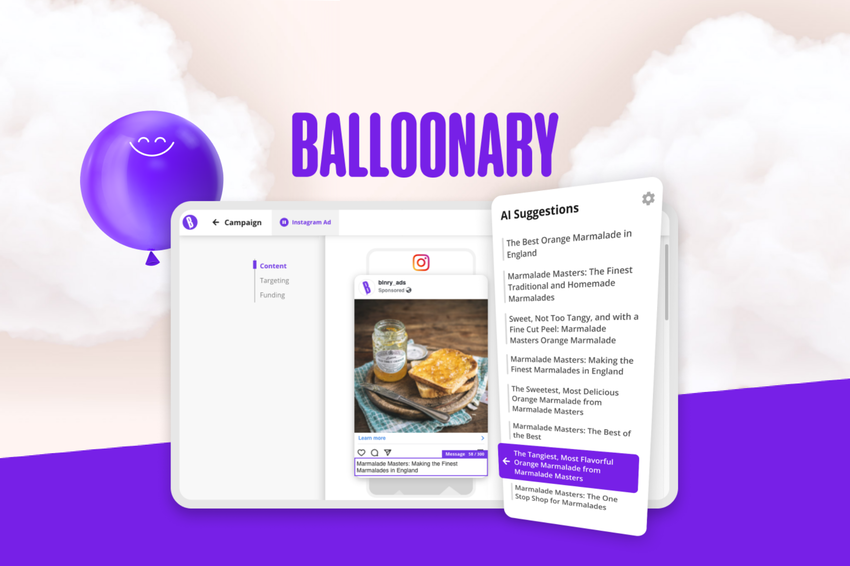 LifeTime Deal
Balloonary Review
Balloonary Review & Lifetime Deal – The Best Saas Platform for Automated Digital Ads
Balloonary review: In this post we are going to review Balloonary a.i ad management tool and talk about it's features, using benefits and lifetime deal pricing.
As the world moves towards a more digital-friendly life, so too does the advertising industry. In order to keep up with the increasing demand for digital ads, many companies have turned to automated ad platforms.
What is Balloonary?
Digital advertising is a critical part of any business' marketing strategy. But managing and measuring the results of those ads can be a daunting task.
That's where Balloonary comes in – the perfect Saas platform for automating Google, Facebook & Linkedin ads. With balloonary, you can target your audience more effectively than ever before.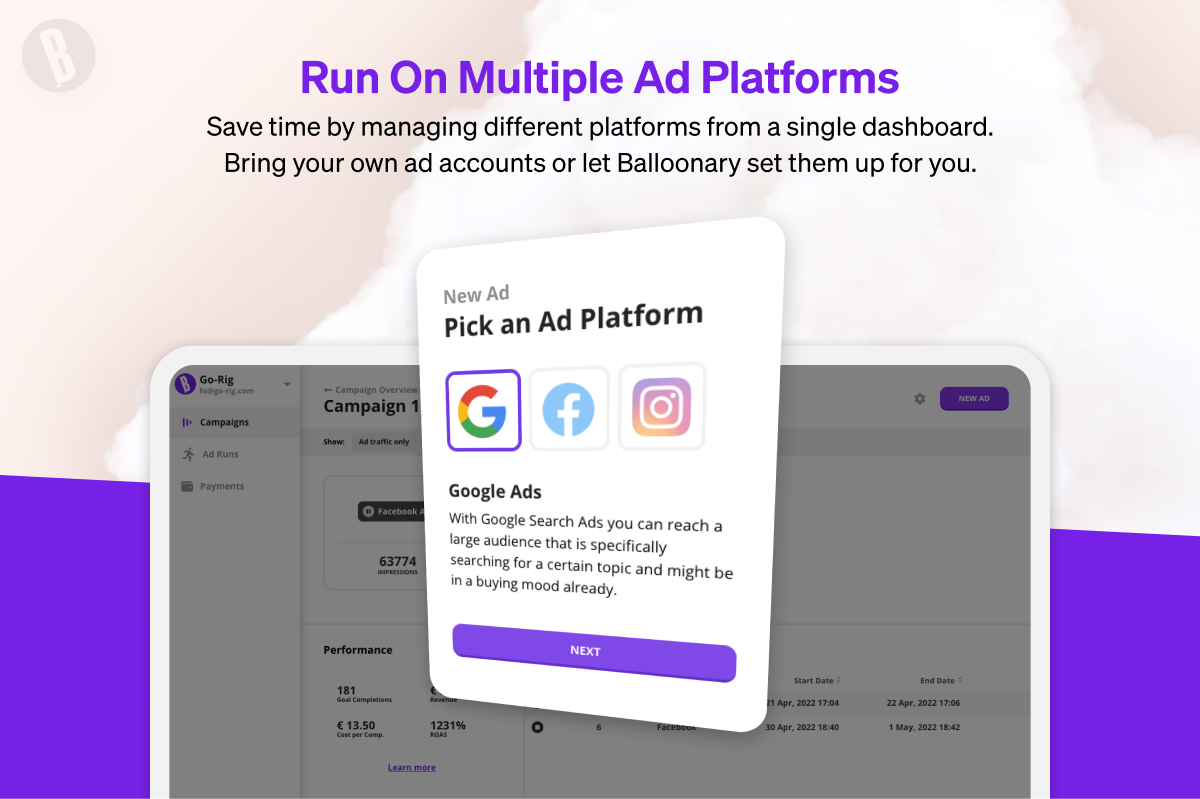 By using Balloonary, you can avoid the hassle and time-consuming task of creating digital ads yourself. Plus, with Balloonary's robust customization capabilities, you can create ads that perfectly match your website's content and tone.
So if you're looking to get started with automated digital ads, balloonay is the perfect platform for you!
Balloonary Lifetime Deal Highlights (TL;DR):
Automatically generate ad concepts, including ad copy, ad creative, and audience targeting in just a few clicks
Alternative to: Adline, Markopolo ai
Run ads across Google, Facebook, or Instagram, plus manage ad spend—all from one platform
Best for: Marketers, Online business and ecommerce professionals
How Does Balloonary Work?
This platform makes it easy for businesses of all sizes to get started.
Once you add your website URL in Balloonary platform, it's AI automatically generates digital ads for multiple platforms based on your web content.
In more simple words, Balloonary automatically scans your website and use it's AI to generate branded ad copy, image ideas, and audience targeting, so you don't have to start from scratch.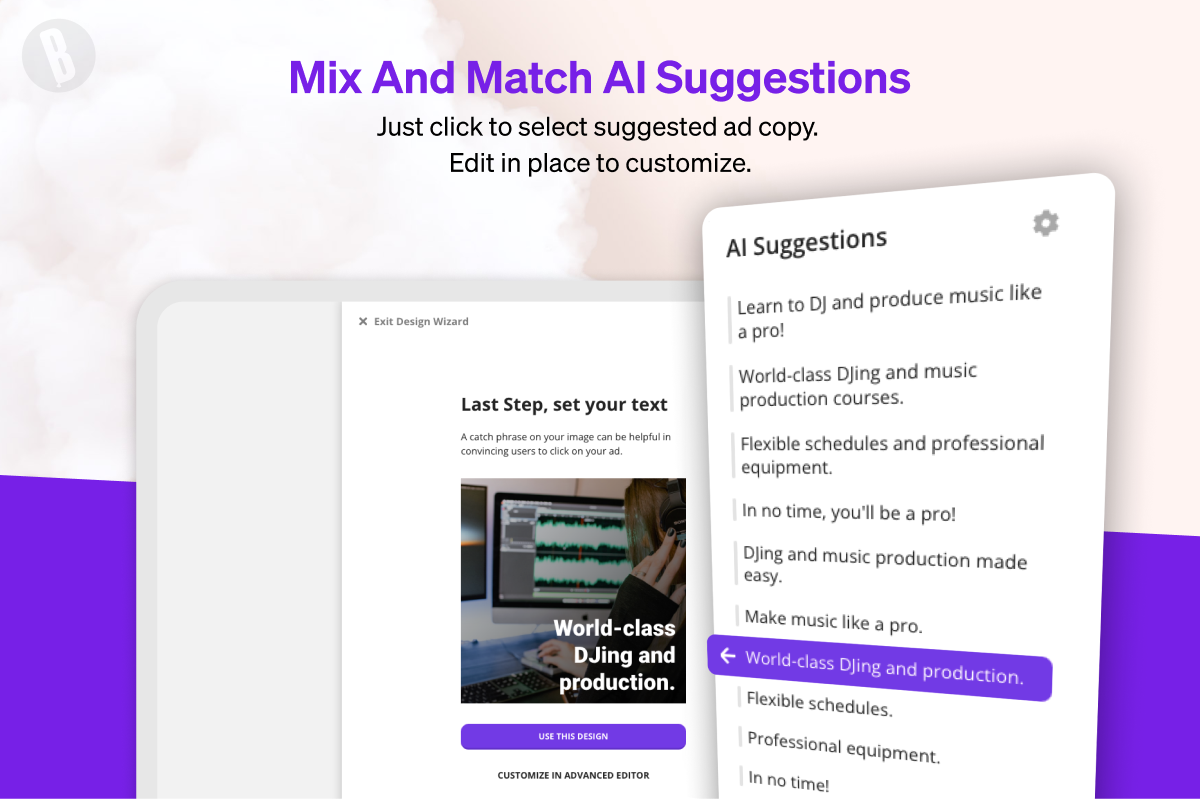 It also recommend suggestions which you can add in your ad with just one click, or simply use the AI-generated content as a starting point.
Plus, smart keyword and location targeting suggestions ensure you're always placing ads in front of the right audience.
All these features offered are designed to help small businesses increase their online presence. With features like automated ad campaigns and targeted ads, balloonary can help you reach your target audience in a more efficient and effective way.
---
Balloonary Features: Overview

▪️ Creating Ads Scanning Your Website
As I said above, when you are setting up your account balloonary asks for your website URL.
And once you enter your website url, it scans the site and generate ad creatives on automation.
For example, suppose I want to run google ads formy site saas-guru.net, so balloonary ai will generate ad 'headline' & 'description' by scanning my site.
You can see above there are many suggestion available to choose from. Same goes for Facebook & Linkedin ads.
This facebook ad creative fully built on automation using ballloonary ai.
And believe me, this makes things a lot easier, I don't have to work on copy, image and CTA text.
Generally creating an adcreativbe takes around 30-60 mins. But using Balloonay it took just 3- 5 minutes.
▪️ Ad Design Editior
Balloonary 'Design Editior' section lets you design ad image within the dashboard.
From here you can customize or change everything for your ad design like,
Image – Select from your website or search millions of free images from the Unsplash library.
Logo – Add logo
Text – Add text in different fonts and sizes on ad image
Gradient – From here you can add gradient effect on ad image
Background image
Using 'design editior', users are fully free to change everything in their ad image design.
Plus, to makes things more easy balloonary also has ad design template libarary for all kind of ad objectives.
▪️ Supported Platforms for Managening Ads
Using Balloonary, you can create, run, manage and automated digital ads for,
Google
Facebook
Instagram
Linkedin
Linking balloonary with these platforms is really easy all you have to just click on 'connect' button.
▪️ Audience Targeting
Balloonary also made a complicated process really easy in running digital ads which is Audience Targeting.
All you have to enter the asked details such as,
Locations – Where you want to target
Keywords – Targeting keywords (for google ads)
Demographics – Select language
Age – Choose your targeted audience age
Inerest – Select audience interest etc.
Adding answers to these asked questions you can easily target your ad audience.
▪️ Analytics & Reports
Balloonary provides an intuitive dashboard that allows users to view all campaigns at one place.
This dashboard includes stats on individual ad campaigns as well as reports on key KPI's such as CPA, CTR, and conversions. Users can easily switch these campaigns..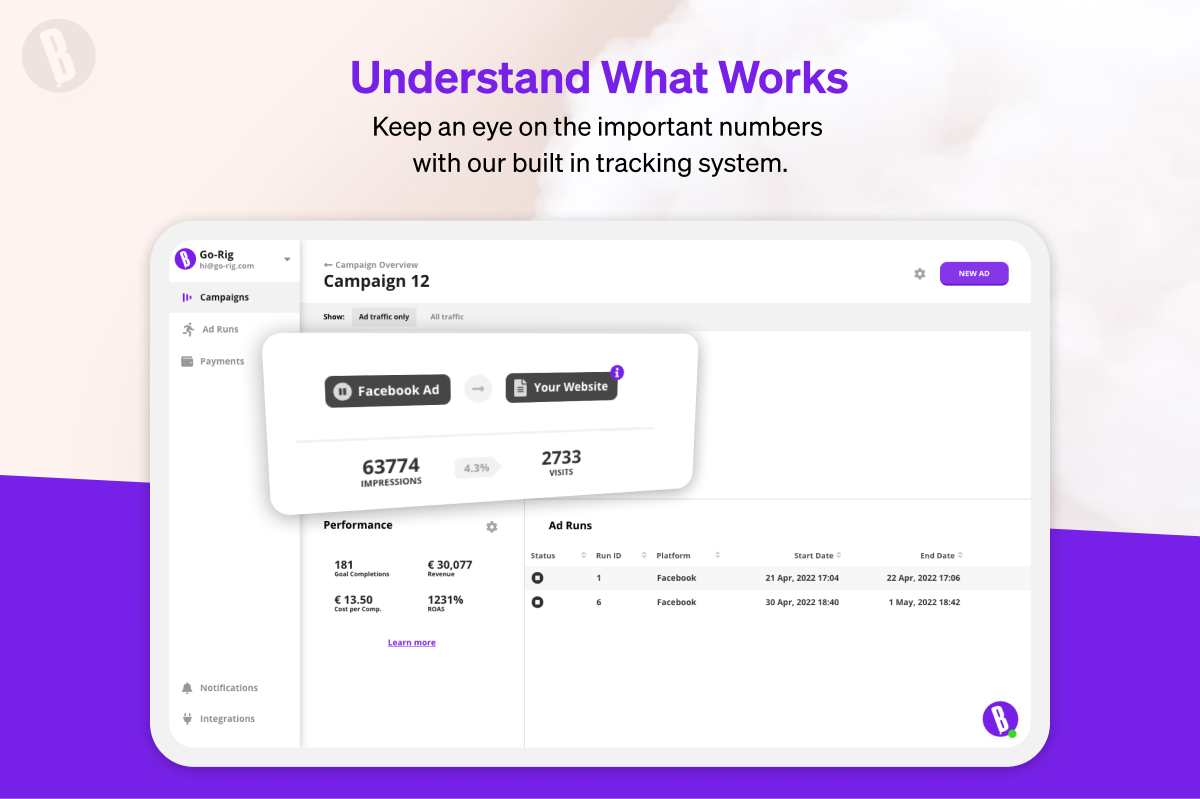 ---
Benefits of Using Balloonary

User really good, easy to understand and eye comforting.
Easily Launch Ads That Convert
Launch many campaigns with a few clicks
Target High-quality audiences really easy
Design ad creative within the dasboard
Automated ad campaign optimization using A.i powered Pre-set Rules
Save 40% of ad spend that is wasted on unprofitable ads
Effective & evergreen advertising workflow
Access to agency-level results through automation
Balloonary is easy to use and has a wide range of features with ai automation.
Plus, it takes care of all the complicated work for you, so you can focus on running your campaigns smoothly and reliably. So what are you waiting for? Sign up today and start making money with your digital ads!
---
Currently appsumo offering balloonary lifetime deal at really afforadble pricing, starting from $69 one-time payment.
There are multiple plans available from which you can select based on your need.
With Single plan, you can only add 1 brand and run 10 ads.
Double Plan, lets you add 3 brands and 30 ads at a time. This one good for brands and small businesses.
Third Plan, if you are an Agency or offer digital ad services then check Multiple plan section.
◼️ Lifetime Deal Includes
Lifetime access to Balloonary
All future updates

Automatic ad generation

Compliance watchdog

Continuous optimization

Balloonary ad accounts (0% instead of 20% commission)

Bring your own ad account (always 0% commission)

Advanced ad templates

Team collaboration
And there is also 60-day money-back guarantee for every plan, which means if somehow you are not happy with Balloonary (which is not going to happen), you can return it under 60 days of purchase and full money will be back without asking any question.
So why are you hesitating!
Needs Attention: Most deals are out of stock within a week of coming to a lifetime deal offer. So take it now if you need it or don't want to miss it.


GET Additional 10% OFF on Balloonary Lifetime Deal

Want an extra 10% discount on Balloonary Appsumo Lifetime Deal, Just follow these steps below,
Wait for few seconds, until a discount pop up appears
Enter your Email address
Check your inbox, you will get an extra 10% discount
NOTE: This is only for your First-order or New Appsumo Users.

---
Final Thoughts: Is Balloonary Worth it?
BALLOONARY is a good saas platform for automated digital ads. It provides users with the best possible experience by automating the entire ad-running process.
This saves time and money, making it the perfect choice for businesses looking to increase their online presence.
So it's definetely worth trying, plus if somehow you are not happy with platform, just refuind it within 60 days as it comes under refund policy by appsumo.
Thank you for reading this post, don't forget to share with more people like you!
Campaign Setup & Ad Creation
9
PROS:
Easy to use & understand User interface
Ad creation process is easy and fully automated
Ai suggesting makes copywriting effort free and save lots of time
Ad design editior & Template library is good
Audience targeting is child's play
Give detailed reports on clicks, views and ctr insights on campaigns.
CONS:
Less control
No A/B testing
No video ads for youtube using google ads
No pre set rules for ad automation
A
😍 Try World's Best Ai Writer for Free!
🔥FREE 80+ Widgets, Make your Site Stand!