Blogely Review & Lifetime Deal
Blogely Review: Blogely is an SEO and Content Optimizing Tool, Which let its users find the best keywords to use in their content by analyzing what people are searching for and what top 10 ranking competition is using. It shows you which keywords will provide the most benefit.
Highlights (TL;DR):
All-in-one research, writing, SEO Optimization and publishing platform for blogs and websites.
Alternative to: Frase, Serf SEO
Content Insights, Competition Analysis, LSI Keywords, On page SEO and many more…
Best for: Content Writers, Bloggers, Freelancers, SEO experts, and Bloggers.
---
What is Blogely & How does it work?
Blogging is an extremely competitive industry nowadays, you have to research the content, analyze the competitor's post, write the post and then publish it and still, it's not promised that your post will rank in a higher position on search engines.
But what if there's a tool that makes your every task in blogging a lot easy in one single platform, So let me introduce Blogely. It's an alternative to Surfer SEO or Frase. Which is currently on Lifetime Deal.
With Blogely you can research, analyze top 10 ranking posts, find out LSI keywords, do On page techanical SEO, write and directly publish the post on your WordPress blog from a single dashboard without wasting tons of hours.
---
These features are available in the menu section of the dashboard.
Content
Here you can add your blogs, add previous posts to optimize them or even start writing a new post from scratch.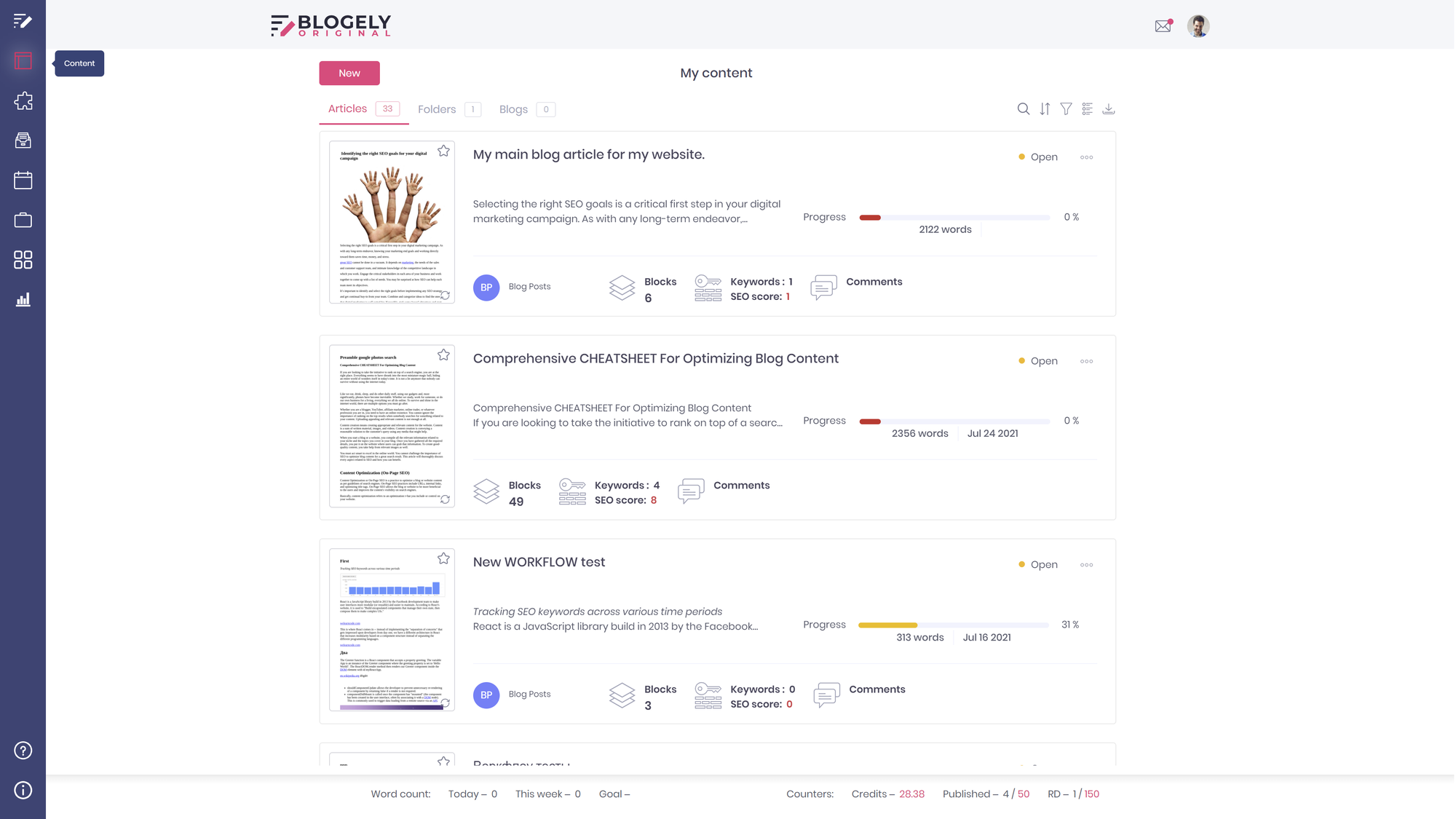 For content writing, Blogely has a separate insightful writing application that you can use in 2 modes.
1. Full-Screen Mode: Full-screen mode provides a minimalist experience. You can add texts formatting by selecting various elements such as paragraphs, headings, bold, italic, table cells, link text, videos or images. Basically, it's similar to WordPress classic editor or Google Doc editior.

2. Split Screen Mode: When you will add your first block, by default the split-screen mode will be shown like this 👇
On where left side you can access multiple things related to your researched data or notes, SEO score, library for files and the right side is the content editor. This saves a lot of time and makes the writing effortless.
Research Docs
As the name suggests, it's the place where all researched data is gathered and shown in one place at research docs.
Here you can start analysing the top 100 SERPs rankings for different topics or keywords and then use them for ideas or directly import them while writing the content in split-screen mode.
Isn't it pretty handy!
SEO Heatmaps: Competitor Analysis & Keyword Research
Keyword Research: With this, users can research the best keywords related to their post content and check those keywords metrics like volume, completion, CPC and trend.
Plus, you can filter the keywords using,
Related keywords for the seed keyword;
See what exactly people are typing into Google searching using – "Autocomplete" suggestions;
Questions are being asked for your topic
Other ideas that are relevant to your content topic.
Competitor Analysis: Users can also find the top 10 ranking competitors and then use the Blogely SEO heatmap feature to identify the wake points in terms of keywords score. And after they can use those keywords to outrank them.
There's also detailed information available for each competitor,
Believe with Blgely SEO heatmaps, it's really easy to understand what metrics you need to use to get higher rankings.
You can watch the below video to understand the Blogely SEO heatmap in more detailed information.
Content Calendar
Here you can make to-do lists, schedules for upcoming blog posts writing or updating.
Plus, to see everything more understanding you can hover the task on the calendar and see detailed information.
It's the complete content management system.
Plagiarism Checker
Once your content post is ready, it's important to check it's originality score. And the best thing about there's also a plagiarism checker for this.
Blogely integrated with copyleaks for this, and with one click Copyleaks Plagiarisma Checker can compare text on the web and perform extensive searches across various databases to find similar or identical content, present only relevant search results, and help you protect yourself against plagiarism.
One-click publishing
Once your posts are ready to publish, you can publish using one click whether it is WordPress, Joomla, Blogger, Ghost, Medium or Shopify.
Or you can also publish on all these platforms at once. Isn't it saving a lot of timing.
You don't need to WordPress or any of these mentioned platforms one by one to manually publish your content.
---

Blogely Lifetime Deal: Includes

Lifetime access to SimilarContent Plan
All future SimilarContent Plan updates
Unlimited articles
Unlimited notes and library
Editorial calendar
Versioning and templates
Backups and historical tracking
SEO optimization and keywords
SEO recommended topics
Workflow management
Feedback and social sharing
Blog list sync
1 owner account
Thank you for reading this post, don't forget to share with more people like you!
CUSTOMER SUPPORT
| | |
| --- | --- |
| 24/7 Live Support | ❌ |
| Email/Help Desk | ✔️ |
| Online Chat | ✔️ |
| Phone Support | ❌ |
All in 1 SEO Tool Features
| | |
| --- | --- |
| SEO Audit/Reporting | ✔️, On page SEO |
| SERP Tracking | ✔️, Post keywords ranking |
| Keyword Research | ✔️ |
ALTERNATIVE
| | |
| --- | --- |
| Best Alternative to | Frase, Surfer Seo, Marketmuse, WriterZen |
SEO Tool Features
| | |
| --- | --- |
| Ranking Predictor | ❌ |
| Backlinks Metrics | ❌ |
| Topic Ideas Generation | ✔️ |
| IF/IDF Score | ❌ |
| NLP | ❌ |
| Content Insights | ✔️ |
| Content Scoring | ✔️ |
| Content Editor | ✔️ |
| Readability Checker | ✔️ |
| Content Re-Writer | ✔️ |
| Questions Research | ✔️ |
| LSI Keywords | ✔️ |
| Keyword Suggestions | ✔️ |
| Google Docs Integration | ❌ |
| Sharable Links | ❌ |
| Multi-Language Support | ✔️ |
PLAN
Keyword Research/Suggestion
8.6
😍 Try World's Best Ai Writer for Free!
🔥FREE 80+ Widgets, Make your Site Stand!