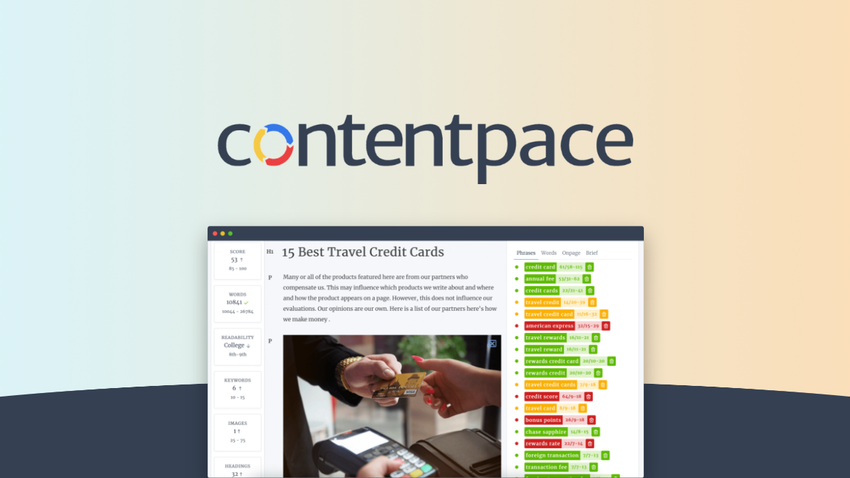 ContentPace Review (2023) – Is it really Good for Content Optimisation?
What if there's a tool which can help in Content research, analyze comprtitor's from SERPs and suggest all the factors to rank in google's 1st page. Let me introduce Contentpace (SurferSEO alternative)
Creating a good quality content is just not enough until you make it SEO optimized, add all relevant keywords and fullfil searcher intent.
Contentpace helps in all these areas and by analyzing top 50 competitors it show all ranking factors like how many words need to be in article, headinds, keywords frequency, SEO insights and much more.
And in this article, I'm going to review contnetpace with detail, talk about it's features, pricing, pros & cons and see wheater it's really a good tool for content optimisation or not.
This article will cover,
What is Contentpace?
How does it works?
All Contentpace features & usage
Customer support
How good Contentpace compared to others
Who should use Contentpace
So lets begin!
Contentpace review by Saas Guru
Summary
Contentpace is NLP powered ai tool, which show all ranking parameters from top 50 SERPs and helps in creating better content to rank higher.
What is Contentpace?
Contentpace (previously known as postpace) is an Ai powered content optimisation tool which helps in Content research, Competitor SERP analysis, Content planning and writing. It also analyse and show all NLP keywords and pharses which can be added in content to boost SEO.
This tool lauched by Muntasir Rashid, after being frusted with SEO tools he wants a centralized platform focused on content workflow automation to increase productivity for high quality content publishing which can easily rank for target keywords.
Contentpace filled with amazing content & SEO optimisation features. Using it's one centralized dashboard users can do all their content related tasks from content research to writing SEO optimised article filled with all suggested information that required to rank higher on google.
Contentpace Review Video
Here's my deatiled video review of contentpace with demo and tutorial on how to use contentpace for audit your old content and improve content quality to rank higher on google.
How Does Contentpace work?
Using Ai and NLP (Natural language processing), contentpace starts by analysing top 50 SERP competitors from google and find out all the ranking factors like average word count, keyword density, readability level, headings, images, paragraph and title lenght.
And based on that it creates a report, suggesting all important factors you article should have to outrank competiors.
It's more like having a virtual SEO expert telling what you to add in your article's content and what should be removed.
Contentpace only analyse google serp ranking metrics. so all data we got come straight from google's search engine and accurate.
What is My Experience with Writecream?
After knowing about Contentpace, I just jumped into the tool and start using it's features.
My prime intention was to improve an old post's content quality. So selected the 'Content Audit' option and entered my post URL which I want to improve.
Within around 3-5 minutes it analyzed and created report with all the things & areas my content lacking compared to Top 50 SERP competitors.
And the best part when I clicked on 'optimize' button, My article was automatically fetched from website to it's writing dashboard (no need to manually copy paste).
After that I did all the things Contentpace ai suggested me and added lacking keywords.
To show the content quality it gives 0-100 score and before optimization my content score was 56.
But after optimizing my content score increased to 81.
Contentpace Appsumo Deal
Contentpace recently added their lifetime plans on Appsumo starting from $79 one time payment.
In this $79 lifetime deal, you will get
Lifetime access to Contentpace with future updates
Unlimited Content Planning
30 topic reports per month
30 content optimization projects
30 content briefs
500 MB media hosting
Unlimited team members & uers seat
Along these appsumo also offer 60 days money back guarantee, if you didn't liked the tool or performance is not satisfactory then return and get 100% money back without asking any questions.
How Credits will be Consumed?
Everytime you will any topic search for content keyword or use create a content optimization project it will consume 1 credit out of your 30 limits quota (if you have puchase $79 tier plan).
The same goes for creating content briefs.
But you can content planner unlimited.
Use Cases of Contentpace
You can use contentpace for,
Content Audit – find all improvent areas in your old posts
Content Research – research information for your topic analyzing competitor's content
Project Management – Manage all your content pieces, team members or clients and boost productivity using workflow dashboard.
Content Planning – Plan your content publishing or various SEO tasks using a visual caleder scheduler
Content Brief – Create a content structure of subheading which you are going to cover in article.
Competitor Analysis
NLP keywords – Find most relevant keywords
SEO Optimiatization – Boost your post's SEO
Features of Contentpace – What makes it Special
Simple User Interface
Ui (User interfacre) is really simple and clean for this tool, all the core features available on above horizotal menu bar.
With just one click away users can easily access any feature.
Topic Reports: Research Content Requirements
If you are thinking about writing an article and want to do SERP analysis for competiors then start with 'Topic Research' section.
It will give you all information on content requirement to outrank competitors from search engines.
For example,
Average words count for article length
Readability score
Headlines and images count
NLP keywords and phrases
Keywords frequency
Analyzing content topic reports, you will instantly know what factors should be avaliable in article to get hight rank on search results.
Content Audit: Inspect Old Blog Post Content
Using 'Content Audit' feature, you can analyis old blog posts and find out all the missing topic gaps (keywords, subheadings, readbility level) that are availble in higher ranking competitors content but lacking in your content.
And once you update old post with all these suggested improvements your content will also be optimised to rank higher.
To use content audit feature you have to just enter old post URL.
After that it will 2-3 minutes to generate report.
Content Brief: Create Article Structure
The 'Content Brief' feature is super helpful which lets you create content outline or a structure of subheadings and topics that you are planning to cover in your article.
Plus it also suggest important keywords and phrase terms that should be available in article.
And the best thing I liked most about this brief editor that users can check competitors article and see in real time what topics they have covered and along with that also find missing information.
You can also share created content briefs to anyone via a shrable link.
Content Planner
Contentpace even has an in-built content calender under it's 'Content Planner' section.
For bloggers it can save a lot time.
Here you can plan or schedule you contnet and SEO related task like on which day you are planning to update old post, SEO content improverment, Linkl building etc.
Content Projects
Using 'Content Projects' setion you can manage all our your contents under 1 dashboard. No matter newly generated or old posts.
Plus all the content pieces (old posts) you have been optimised will also show here.
To create a content project all you have to click on 'create new project' button,
After that it will ask you target keyword, country and language. If you are optimising your old post then there's also a URL section to fetch old post.
Media Library
There's also a 'Media library' in contentpace to show and manage all your used images, videos at one place.
And most amazing part it has also stock images which can used copyright free.
Contentpace Customer Support
Contentpace offers it support via email and live chat. Users can access live chat straight from their dashboard.
Although support is good, I got replies from both options but it took them few hours to reply because they were not active that time.
And it's pretty much understanding as they are new and currently not have a big team. But in future when their user base grew we can expect faster replies.
They also have a dedicated knowledge base section to show helpful tutorials on how to use their platform with step by step guides.
Pros & Cons
Pros – What I liked
✅ Excellent Content Analysis
It show all the factors analyzing top 50 SERP competitors post and helps to create better content.
✅ Various Countries & Language Support
Before optimising or writing content you can select targeting country and choose from 14 language as it supports all popular countries and languages.
✅ In Built Content Planner
With content calender you can plan your old posts update, SEO task or link building. You can even keep a track on your old content writing work.
✅ Stock Images
Using stock images you can find high quality relevent images for your content without any copyright.
✅ Overall Good Support
Support is good they solve all the problems via live chat and emails.
✅ Appsumo Lifetime Deal
Contentpace lifetime deal with unlimited user seats and 60 days money back guarantee available on appsumo. This makes it totally a risk free.
Cons – What I didn't liked
❌ Bad Content Editor Panel
Their content writing panel is not user friendly, doesn't have text formats and when you try to copy paste content it add extra spaces. Overall lots of improvement needed.
❌ Inaccurate Data on Content Score
On Content audit, it gives content a score based on their quality but when go to writing section content score change and show different score. That is confusing.
❌ Limited Language Support
Currently 14 languages supportimg the platform for content writing but in future we can expect more added. So that's not a big issue untill your content language not in list.
❌ No Credit Warnings
Platform doen't show credits limit more transparent specially for audit feature so it's disadvantage when needed the most.
They also need to improve their credit showing function.
User Reviews & Ratings for Contentpace
It's a great tool with overall rating of 4.5+ out of 5 on various platforms.
Capterra Ratings
On this popular software ration platform, contentpace has 4.6 ratings from 99 users.
Mostly people loved it's content analysis feature.
Getapp Ratings
Another great platform for softwares is Getapp and even here Contentpace has 4.6 ratings.
Appsumo Ratings
Even on appsumo lifetime deal platform, it has whopping 5 out of 5 ratings and number of users rapidly increasing.
You can read reviews here, what buyers are saying after using it.
Pricing & Plans
On the official website, there are 3 plans available with pricing starting from $27/month.
But like I mentioned above there'a also a much affordable lifetime plans available on appsumo. And that's what I suggest to go with.
Lifetime Plans & Features
Contentpace lifetime deal starts from $79 one time payment and there are multiples plans you can select from based on your requitrements.
Tier 1 – Single $79
All features lifetime access & future updates
30 topic reports per month
30 content optimization projects
30 content briefs
500 MB media hosting
Tier 2 – Double $158
60 topic reports per month
60 content optimization projects
60 content briefs
1 GB media hosting
Tier 3 – Double $237
90 topic reports per month
90 content optimization projects
90 content briefs
1.5 GB media hosting
Every plan comes with 60 days money back guaratee.
Contentpace Alternatives
Frase
Frase is an Ai writer tool along with content optimization features. it has many similiar features to contentpace like Serp analysis for competitors, content audit & research.
It's pricing starts from $14.99/mon for 1 user with 4 content optimise credits. There is no lifetime deal.
Scalenut
Just like contentpace, scalenut is also a great tool for creating hight quality content based on SERP analysis. Plus it's has also it's own Ai writing assistant to generate content faster.
It has many amazing features like Topic & Keyword research, SEO doc powered by SEMrush and chrome extension.
One of it's most popular feature is Crusie mode, which working combing content analysis and ai writer to generate high quality contnet in few minutes.
Scalenut pricing starts from $29/mon.
You can also read Scalenut vs Jasper comparison to know more about this amazing ai tool.
Who Should Use Contentpace?
Contentpace is a good tool for bloggers, seo experts, content writers, marketers and all the people who want to write high quality content with trusty ranking factors.
As a freelancer or offering content writing service provider you can also use contentpace as a first choice.
Conclusion
Contentpace is definetly one of the best ai tool in 2023 for real-time optimization. There are various features highly focused to content writing.
Using this only 1 tool, you can research content, find all ranking factors analysing SERP competitors, find relevant NLP keywords and plan your content marketing.
And the best thing all these available in a affordable lifetime deal with 60 days money back.
But the problem is I don't know how much longer it's appsumo ltd will be that why I suggest if you are a blogger, content writer, SEO expert or just a begginer don't miss contentpace.
So that's all from my contentpace review, are you already using any SEO tool if yes me know about it below in comments.
Thank you for reading this post, don't forget to share with more people like you!
Specification:
ContentPace Review (2023) – Is it really Good for Content Optimisation?
| | |
| --- | --- |
| Content Research | ✔️ |
| Content Audit | ✔️ |
| SERP Analysis | ✔️ |
| Content/SEO Optimization | ✔️ |
| Content Management | ✔️ |
| Ai Writer | ❌ |
| NLP Terms | ✔️ |
| Content Brief | ✔️ |
| Content Planner | ✔️ |
| Team Members | ✔️ Unlimited |
| Multilanguage Supported | ✔️ 14 languages |
| Free Trial | ✔️ 14 days |
| Alternative | Surfer SEO, Scalenut |
1 review for
ContentPace Review (2023) – Is it really Good for Content Optimisation?
PROS:
Excellent Content Analysis
In Built Content Planner with calender
Various Countries & Language Support
Media Library & Stock Images
Overall Good Support
Affordable Lifetime Plans
CONS:
Bad Content Editor Panel
Inaccurate Data on Content Score
Limited Language Support
No Credit Reamining Warnings
😍 Looking to boost traffic and sales!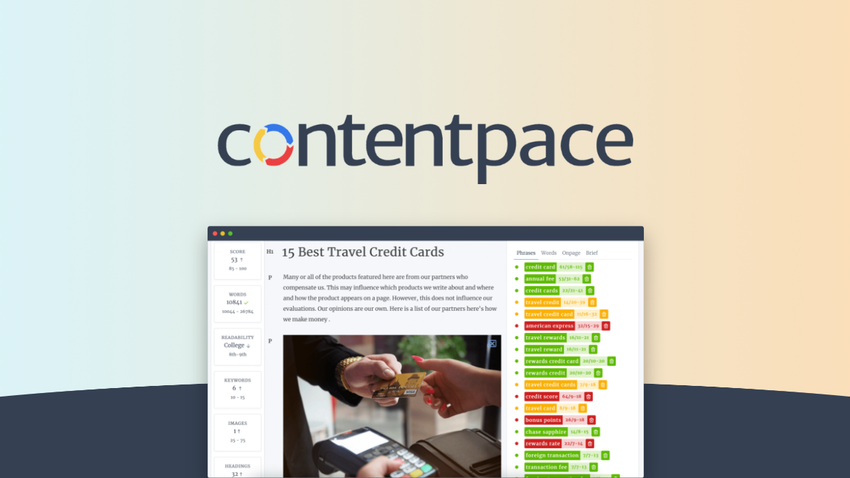 ContentPace Review (2023) – Is it really Good for Content Optimisation?