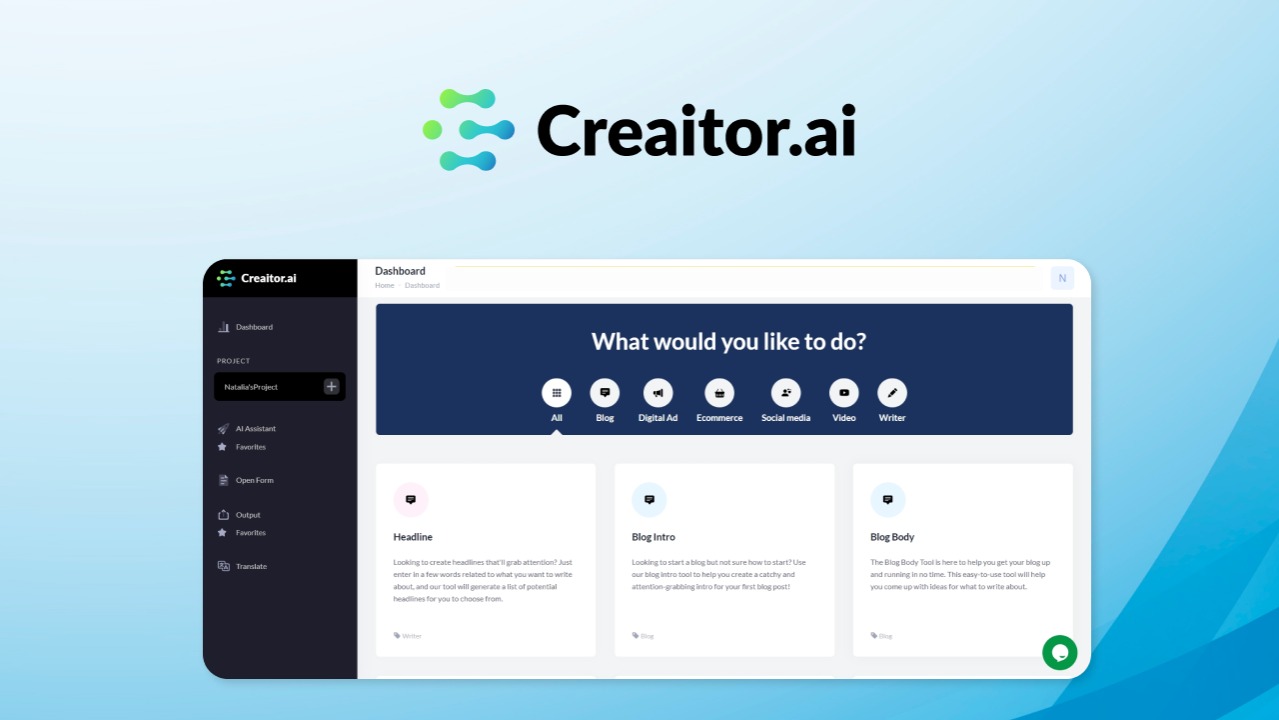 LifeTime Deal
Creaitor Ai Review
Creaitor Ai Review & Lifetime Deal – New Best Ai Writer with Unlimited Words
Creaitor ai review: In this post we are going to review Creaitor a.i content writing tool and talk about it's features, using benefits and lifetime deal pricing.
What is Creaitor ai?
Writing by yourself is time consuming and frustrating. Finding someone to write your article or post for you can cost money. However, there is an alternative solution – creating human like content using ai writer!
Then let me introduce, Creaitor.ai- A.i content writer
Creaitor is an Artificial intelligence writing tool which lets you create SEO optimized blog posts, Emails, Product description, Ads copy and much more content types within few minutes. It has more 50+ ai assitants avaliable for creating different content types.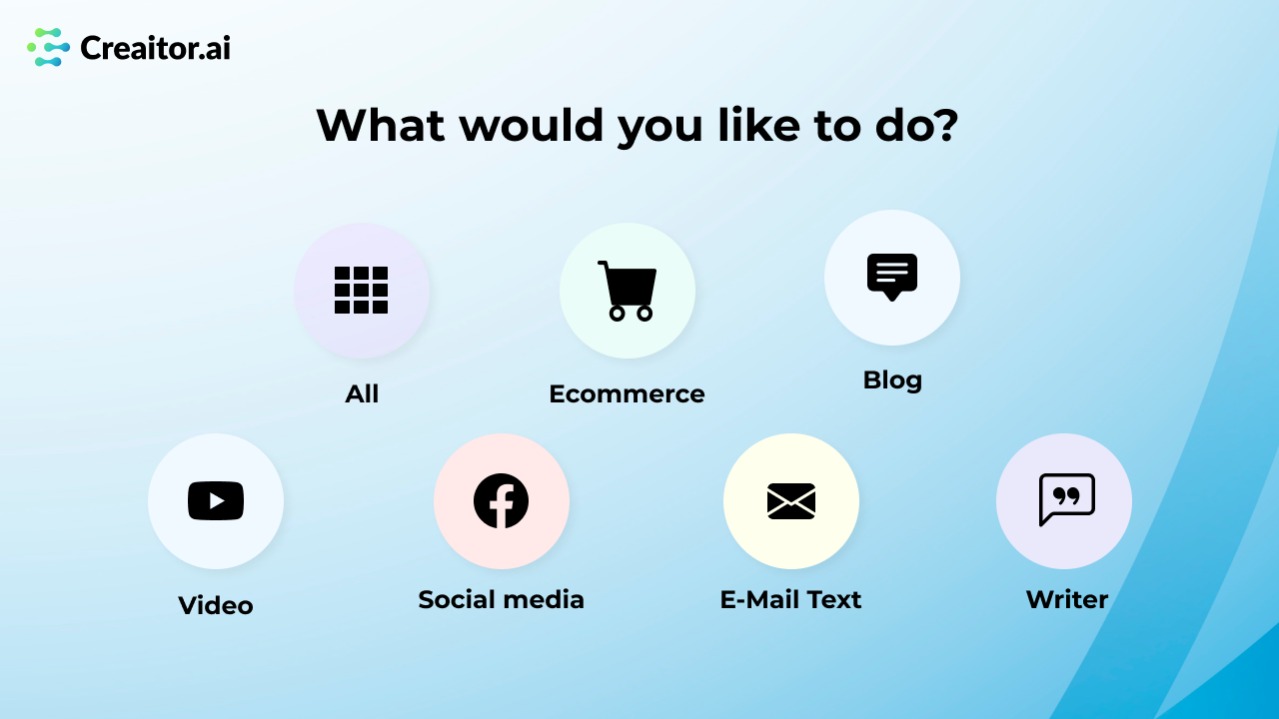 With Creaitor ai writer, you can create a quality blog post content in minutes. Isn't this feel exiciting creating posts in minutes.
How does Creaitor.ai works?
Creator AI helps you create content by giving you a choice of writing assistants designed to help you write.
There are 50+ different content type ai assistants available to choose from, You pick the one that best fits what you are trying to achieve.
For example, you want tio create blog post then just select 'Blog Body' ai assistant. Then it asks you enter a short information about the topic of what you want to create.
After that Creator AI will generate a content for you.
Highlights (TL;DR):
Write copies for emails, blog, website content, email, sales,
social media
, and ad copies in just minutes with a few clicks.
50+ ai assistants available for generating various content types
---
Creaitor ai Features: Overview

▪️ Custom Ai Assistants
As i said above, creaitor ai has 50+ (increasing every month) ai writer available for creating different type of content, these ai assistants is specially trained for generating high quality content piece.
Digital Ads – Generate Google & Facebook Ads Healines and description
Blog – For generating blog Titles, Outlines, Sections (long-form content pieces)
Ecommerce – Generate product description
Social Media – Write Facebook caption, Linkedin post, Pinterest description, and much more
Video – In this category, you find some more good assistant for generationg youtube video title, Viodeo description, Webinar sciript and sales copy.
▪️ Editior
Creaitor ai 'Editior' section lets you generate all types of content in single editing panel like Google doc or wordpress post.
But the specility of the Creaitor ai editor section, which makes it different compared to other ai writers id that you can after your generated any specific content suppose Blog outline.
Then you can select different assistant such as Blog Intro, then within the same editor panel or after the Outline content, Blog intro content will be generated.
That way you can generated content as much as like without any boundaries.
▪️ Adding Multiple Members
Creaitor AI platform lets users collaborate on creating content. You get assign log details and give different permissions to different people. This means that you can add your team members and clients on the same project without any worries.
▪️ Multi Language Translation
This feature along justify the pricing of this tool beacuse with creaitor.ai users can also translate their or others content into different laguages.
Currently it has only 15-20 languages supported for tanslation including English, Spanish, French, Japense, Bulgarian, Estonian, Finnish, Danish, German, Greek, Dutch and more.
But in future we can see more languages support.
---
Is It Worth Using Creaitor Ai

After personaly using and reviewing the quality of generated content sevral times, I can say Creaito ai writer is really good and it's generated content output is also excellent.
And the best part, it only take few seconds (around 15-30 seconds) to generate the output. Plus, we can customize the output numbers and quality of content from setting available at the leftside bottom of Editor section.
But the one thing that I found missing in this tool that there is no inbuilt Plagiarism checker to the originalty of generated content.
Although I check the quality using third party plagirm checking and generated content totally original, but if there a inbuilt feature there. It will be more awesome.
And don't forget, there's also a Translation feature which translate content into 20 different laungaues. You can traslate upto 10,000 words content in single click within few seconds.
This features alone makes Creaitor ai writing assistant worthy.
But if you still confuse about it, try it's 3 days trial. This will give you better understanding. And after that you can buy Creaitor ai lifetime deal.
---
Creatior Ai Lifetime Deal: Includes

Lifetime access to Creaitor ai writer
All future updates
Unlimited characters per month
Up to 5 active users
50+ AI assistants
Unlimited projects
Unlimited output storage
Unlimited translations
Open AI form
Translation form
Multilingual
The best thing that makes Creaitor.ai Best Ai Writer compared to Jasper, Rytr or any other ai writing tool is that there is no word count or content generation limit, Yes in the lifetime deal user get Unlimited words limit.
Means you can generate as much content as you want.
And there is also 60-day money-back guarantee for every plan, which means if somehow you are not happy with Writergenie (which is not going to happen), you can return it under 60 days of purchase and full money will be back without asking any question.
So why are you hesitating!
Needs Attention: Most deals are out of stock within a week of coming to a lifetime deal offer. So take it now if you need it or don't want to miss it.

---
Creatior Ai : Video review (Watch me Writing)
Thank you for reading this post, don't forget to share with more people like you!
Specification:
Creaitor Ai Review
PLATFORM
CUSTOMER SUPPORT
| | |
| --- | --- |
| 24/7 Live Support | ❌ |
| Email/Help Desk | ✔️ |
| Online Chat | ✔️ |
| Phone Support | ❌ |
All in 1 SEO Tool Features
ALTERNATIVE
| | |
| --- | --- |
| Best Alternative to | Jarvis, Scalenut |
WRITING FEATURES
| | |
| --- | --- |
| Content Generation | ✔️ |
| Grammar Check | ✔️ |
| Idea Recommendation | ✔️ |
| Plagiarism Check | ❌ |
| Sentence Formatting | ✔️ |
PLAN
| | |
| --- | --- |
| Free Version | ✔️, but very limited |
BEST FOR
| | |
| --- | --- |
| Suitable for | Startups, Enterprises, Marketing Agencies, Bloggers, Content Writers, Copywriters, SEO experts, Social Media influencers |
FEATURES
| | |
| --- | --- |
| Copywriting | ✔️, Website Content, Blog Intos, Topics & Ideas, Product Descriptions, Social Media Content , Google/facebook/Linkedin Ad copies & headlines |
| A.I/Machine Learning | ✔️ |
| Import/Export | ❌ |
| Others | Create copies in AIDA & PAS format for, Youtube videos, For SEO meta, Business pitch and many more |
| Content Management | ✔️ |
1 review for
Creaitor Ai Review
PROS:
Creaitor's UI & UX are super clean and easy to use
It generated content quality is good and satisfying
There are 50+ content modules available to generate different content types
The more you use it's A.i the better it gets
Plus there's also Translation feature availble which translate content in 20 languages
CONS:
There is no in built Plagiarism checker
😍 Try World's Best Ai Writer for Free!
🔥FREE 80+ Widgets, Make your Site Stand!