Fastcomet vs Hostinger: Are you searching for a good hosting company and came to know that Hostinger or Fastcomet might be a better solution for you.
But now you are confused, about which one you should choose to get the better website speed and performance because both hostings are very popular and offer good hosting services.
So, it is really tough to choose between them.
But don't worry, this hostinger vs fastcomet comparison article will help you know which one is the best hosting in 2022.
In this article, we will compare both hosting's Server Locations, Server Response Time, Website Hosting Speed, Hosting Overall Performance, Uptime & many other factors.
So make sure you read this article till the end to know everything about both hostings.
You can also skip or scroll to any desired comparing section from below table of content.
In the end, I will also summarize this Hosting comparison with Hostinger vs Fastcomet side-by-side comparison, showing all the factors for quick comparison.
Fastcomet vs Hostinger: Company Quick review
▪️ Fastcomet Overview

Fastcomet started in the year 2013 and since then they have offered its hosting services to more than 750,000 websites with customer satisfaction.
They offer Shared Hosting, VPS Cloud Hosting & Dedicated Hosting and the best thing which surprised me is their affordable pricing.
Compare to other hosting companies Fastcomet's pricing is very affordable with top-notch support.
No matter what problem you are facing, their support team reply you within a few minutes. In fact, they promise their support in under 15 minutes.
FastComet Hosting Features
SSD Cloud-Based Infrastructure: FastComset is built on top of Solid State Drives (SSDs) and provides high-speed file storage and data retrieval.
Free Cloudflare CDN: Company offers a free Cloudflare Content Delivery Network (CDN), allowing you to quickly serve your website to users around the globe.
99.9% Uptime – FastComet offers 99.99% uptimes. No doubt all web hosting providers experience downtime from time to time. However, FastComet is committed to keeping its uptime at 99.9%, easily.
Global Data centre Locations: Fastcomets has 11 global networks of data centres providing you access to Toronto, Dallas, Sydney, Mumbai, Tokyo, Singapore, London, Amsterdam, Frankfurt, and Newark.
Top-rates 24/7/365 Technical Support: FastComet offers reliable 24/7 priority support via the ticketing system. If your website goes down or facing any other issue, their experts will help you solve the problem within minutes.
Hassle-free Domain Transfer: FastComs comes with a free domain name transfer. It offers fast and easy transfers with no extra fees. Also, they will continue to renew your domain for one full year for free. This is something I haven't seen in any other hosting.
Quick and Easy Backups: Here, FastComet provides daily and weekly backups at an extra cost. Other web hosting providers charge for the backups, but FastComet won't charge a single penny for it.
Free Website Migration: FastComset provides a free migration service. That means their team will easily move your websites. Their expert team will handle the migration for you on all their plans. The migration includes moving your files, emails, and databases. After that, you can easily manage your account through cPanel.
Money-Back Guarantee: Yes,
In-depth Tutorials: FastComet has an extensive library of tutorials. You can choose 3000+ step-by-step guide tutorials.
With their every hosting plan, Fastcomet offers SSD Storage, SSL, CDN, 1-click WordPress installation, Fast Servers, Virus/malware scanner, DDoS protection & 99.9% uptime promise.
🔥 Saas-guru Recommended
✔️
Free domain, SSL & CDN
✔️ Free migration & Free domain transfer
✔️ SSD Hosting
✔️45 Day Money Back Guarantee
✔️Free 24/7 Priority Support
✔️100% Satisfaction Guarantee
75% off use –
HAHOT75
👍 1837 Reviews
Visit using above like & Paste code on checkout page for extra 75% discount
Fastcomet Review Video – With detailed information
▪️ Hostinger Overview
Hostinger is a great choice for those looking for a low-cost web host. If you are looking for a cheap WebHost, then Hostinger is definitely worth checking out.
The company officially rebranded as Hostinger in 2011, and since then they are continually improving its services and becoming one of the best reliable and affordable hosting companies.
All of their shared hosting plans come with unlimited disk space and bandwidth. Their plans start at just $1.99 per month! That's not bad for a web host.
For my few sites hosting, I'm personally using Hostinger since 2019.
We also tested their server speeds and found them to be pretty decent. We didn't notice any slowdowns or downtime during our testing period.
The only thing that dissatisfies me is their support, sometimes they take more than usual time to reply to the queries.
Hostinger Hosting Features
SSD Hosting: Hostinger offers SSD storage in their hosting which delivers fast data and file response time compared to regular storage.
Free SSL: With every hosting plan hostinger offers free SSL.
Free Professional Emails: Hostinger provides free professional emails. You can create your own domain name email accounts at Hostinger and then use them to send out emails.
Free Domain Registration: With every hosting plan Hostinger gives free domain registration for 1 year which saves around $8-$10 on a new domain.
Unlimited Bandwidth: Hostinger offers unlimited bandwidth and disk space. Your site will never hit any bandwidth limits
Managed WordPress: Hostinger provides managed WordPress solutions. You will receive a list of developer-friendly tools, including — seamless WordPress installation, website building, managed auto WordPress update, plugins and core software upgrades, and many others.
WordPress Acceleration: Hostinger uses LiteSpeed Cache For WordPress (LSCWP) to speed up your website loading time. LSCWP helps to increase the page loading speed by storing all the static files like images, CSS, JavaScript etc. on the web server instead of on the user's device. So there will not be any delays while opening the files.
Free Cloudflare CDN: Hostinger also gives you access to a free Cloudflare CDN. This means you will be able to quickly serve your website(s) to users around the globe!
99.9% Uptime – Hostinger promise to give 99.99% uptime.
Easy Backups & Restore: In hostinger backups generate on weekly or daily basis that users can restore in 1 click.
Free Website Migration: If you are moving from another hosting then hostinger also offers free website migration.
30 Days Money Back Guarantee: Hostinger offers an excellent 30 days money-back policy. If you're not happy with the web hosting service provided, you can get your refund within 30 days.
Hostinger offers Free domain, SSD storage, 99.9% Uptime promise, SSL, Fast server response, Malware scanner, Daily backups and 1-click WordPress Installation.
🔥 90% off on Shared Hosting
✔️
Free domain & free SSL
✔️
Unmetered
traffic (Unlimited GB)
✔️
Unlimited
Bandwidth & Databases
✔️
SSD Storage
✔️ Malware Scanner
✔️
Free
Weekly Backups
✔️
Eco Friendly with 99.99% uptime
✔️ 30-day money-back guarantee
✔️ Support: 24/7 chat & email
👍 3158 Reviews
visit using above link & get extra 90% Off
Hostinger Review Video – With detailed information
Server Locations
▪️ Fastcomet Servers & Data Centres
Fastcomet has well-configured 11 data centres all around the globe.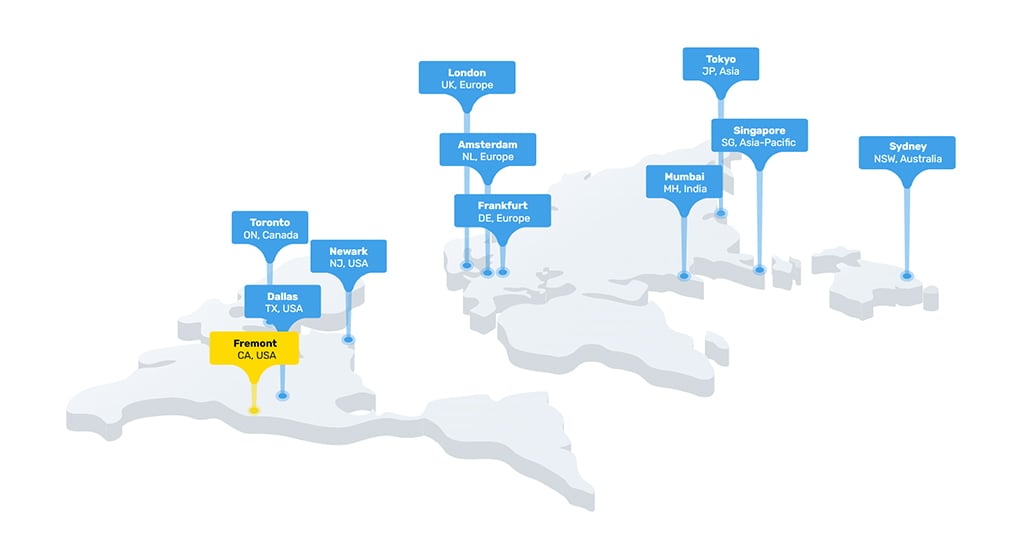 Server locations in the USA,
Dallas (TX-USA), North America
Newark (NJ-USA), North America
Toronto (CANADA), North America
Fremont (CANADA), North America
Server locations in Europe,
Frankfurt (DE)
Amsterdam (NL)
London (UK)
Server locations in Asia,
Singapore (SG)
Tokyo (JP)
Mumbai (IN)
Server locations in Australia
So these are all 11 fastcomet data centres location located all around the world. Make sure while selecting the data centre always choose the nearest one to you.
▪️ Hostinger Servers & Data Centres
Till now, Hostinger has 8 data centres and most of them are situated in Europe & Asia.
But they are consistently increasing their data centres, recently they have launched their Mumbai (INDIA) data centre with really good configurations.
Server locations
Mumbai, India
UK, Europe
USA
Brazil
Netherlands
Singapore, Asia
Indonesia
Lithuania
Server Response Time (SRT)
Now let's do the server response time test for both hostings.
A website's server response time is the amount of time that the hosting server takes to send a web page whenever anyone clicks on a link on the website. Server response time is an important metric because it tells us how fast our websites load.

According to Google, a website has a good response time when the TTFB is under 200 milliseconds. So, If your server response time is under 100ms, it's excellent. Between 100ms and 200 ms is considered good.
▪️ Fastcomet Server Response Time
To test the Fastcomet SRT, I hosted 'https://hostingtest.website' domain on Fastcomet Asia servers with some demo data, and here are the results.
As you see Fastcomet SRT is pretty much excellent and took only 165ms.
And like I said I have used Asia servers that's why in Asian countries the server response time is solid under 100ms compared to the USA or Europe.
▪️ Hostinger Server Response Time
I have hosted 'http://hostingtest.fun' on Hostinger Asia servers to check it's SRT.
Hostinger server also offers a very good response time of 171ms, especially it's Asian countries time.
You can see in Mumbai, India SRT is only 3ms, that outstanding.
Winner: Tie, there is not so much difference in both hosting's SRT. Fastcomet offering 165ms while Hostinger offers 171ms.
Website Load/Speed Test
In this test, we will find out how much time it takes for both hosting to load a website.
▪️ Fastcomet
You can see on above mention image, that our demo fastcomet hosted site got 92 out of 100 in load/speed test and loading under 2 seconds.
These are really good results.
▪️ Hostinger
I'm really amazed by the results, hostinger offering top-notch speed and load time.
Our hosted site loaded in under just 1.31 seconds and got 97 grades out of 100.
Winner: Hostinger, as it is offering better website speed and load time compared to Fastcomet hosting.
For both demo sites that I am using for tests, I have installed the same theme, data, plugins & settings.
Performance Test
By doing a performance test, we will find out the overall hosting performance for various loading websites files such as scripts, HTML, LCP and much more.
To conduct this test we will use the Gtmetrix tool.
▪️ Fastcomet
Honestly, I didn't thought these unsatisfactory results while doing the performance test for Fastcomet.
According to the company they have high-performance hosting, but in testing, but it's not true.
Our website files taking around 3 seconds to fully load and overall hosting performance is just 79% with B grade.
▪️ Hostinger
Now let's do this test for Hostinger hosted site,
Hostinger is doing a lot better in the hosting performance test, for the same website data and files we got a whopping 92% with A grade and the site is taking just around 2 seconds to fully load.
Winner: Hostinger, it has better hosting performance
I am really surprised because both sites have the same theme, plugins and data configured yet there is such a high difference in hosting performance.
Here's a quick comparison of both Hostinger vs Fastcomet Hosting performance,
There's no doubt Hostinger has better hosting performance compared to Fastcomet.
Uptime
Uptime shows us the overall average online/live time for our hosted website on any hosting.
If any hosting goes down from time to time (means not online when a visitor visits the site) and it can affect our website performance, traffic and ranking.
Yes, this factor also affects ranking on Google and causes a 5xx error in the search console.
Let's check out both hosting company's uptime.
▪️ Fastcomet Uptime
For the past few months, I am facing consistent downtime in fastcomet and it resulted me less than 99.9% for the overall period.
In more simple words, fastcomet promises 99.9% uptime but in actuality, it's not providing good uptime.
Every week there are more than 15 minutes of my site facing downtime. That really sucks for any hosting company.
▪️ Hostinger Uptime
As you can see in the above image, hostinger provides almost 100% for most
of the days. Plus it's overall response time is also very good.
Winner: Hostinger, In comparison to Fastcomet, hostinger offer better uptime.
Comparison Summary
| Tests | Hostinger | Fastomet | Winner |
| --- | --- | --- | --- |
| Server Response Time | 165ms | 171ms | Tie |
| Website Speed/Load Test | A97, 1.31s | A92, 1.96s | Hostinger |
| Performance Test | A, 92% | B, 79% | Hostinger |
| Uptime | Most of the days 100% | 99% – 99.8% | Hostinger |
| Total Wins | 3/4 | 0/4 | Hostinger |
From the above table, we can clearly see the side-by-side comparison results for the various tests that we have done.
in 3 out of 4 tests, Hostinger wins and proved it's better than Fastcomet.
Hostinger vs Fastcomet: Security
Before you buy any hosting it's important to know all of the security aspects of that company so that your websites are always secure against hacking, malware and force attacks.
And in this section, we are going to compare Fastcomet vs Hostinger in all security features.
▪️ Fastcomet Security
FastComet protects your servers against DDoS attacks, Botnets, Malicious Traffic, Spam, Exploits and many other threats.
As a result, you will get an improved web experience, better security and reduced downtime. Your server instances are monitored 24/7 and if any suspicious activity is detected.
This all happens due to their fastguard security technology.
Plus, there's also dedicated virus and malware scanner and remover in hosting Cpanel that always monitors all of your hosted sites and remove viruses/malware to secure the servers.
Apart from for that, you get SSH access, IP blocker, Hotlink & Leech Protection, and 2FA via google authenticator.
On all the hosted sites on fastcomet, you can install free SSL and enable green padlock on your sites for browser security.
▪️ Hostinger Security
Hostinger offers security features such as mod_security and other advanced security modules, which ensure the best possible protection, including the following:
mod_security – a web application firewall module that protects against cross-site scripting attacks, SQL injection attacks, buffer overflows, denial of service attacks, malware infection, etc.
Suhosin – a PHP hardening framework that helps prevent XSS attacks, SQL injection attacks and other vulnerabilities.
Open_basedir – an access restriction feature that prevents users from accessing files outside the specified directory.
php_openssl – a PHP extension that provides SSL/TLS encryption capabilities.
These security measures help protect against attacks like SQL injection, cross-site scripting, session fixation, cross-site request forgery, etc.
And like fastcomet, there is also an inbuilt malware scanner in the hostinger hpanel that 24×7/365 always monitor your sites and remove viruses and malware.
Hostinger also provides 2FA, Hotlink protection, SSH access, Ip blocker and more to give fully secure parameters for your server's security.
As for SSL, hostinger only provides free SSL for 1 website. This makes you buy more SSL on additional pay if you are more than 1 site and requires SSL.
That's the disadvantage I've found in Hostinger. But if you know how to use Cloudflare then you can install unlimited free SSL.
Winner: Hostinger, both have good security features but hostinger consistent improves the security.
Hostinger vs Fastcomet: Backups & Restore
Both hosting companies offer weekly on daily backups based on the plan you are using.
▪️ Fastcomet Backup
Fastcomet has Cpanel default Backup wizard and Jetbackup 5 for taking backups and restoring your site.
While Backup wizard lets you download/restore partial or full website backup, Jetbackup 5 only offer partial backup like files or databases not for the full website.
Apart from this, there is no option for single-click restoration if something bad happens with your website and now you want to restore for the previous date.
▪️ Hostinger Backup
Hostinger has better + easy use backup and restoration process.
Users can take partial or full website backup, and download individual files, databases or the PHPMyAdmin section. This makes really easy if you want to restore specific parts.
Plus hostinger takes its restoration to the next level with its single-click restoration feature. This lets you restore your entire website to any desired past date in a single click, fully automatic.


While using this single-click restoration, you don't have to take backup, download the files and then upload them to the server, all the process is automatic.
That makes Hostinger backup really extraordinary compared to other hosting companies.
Hostinger vs Fastcomet: Pricing, Plans & Refund Policy
▪️ Fastcomet Pricing
For their shared hosting, fastcomet has super convenient 3-tier plans, which start from $2.95.
Which is Best Plan?
There are always heavy discounts such as 50%, 60% or sometimes 70% running on the Fastcomet. But here I will reveal a Fastcomet 75% coupon code which you can use anytime until you are a new user.
I suggest grabbing Fastcloud Plus or Fastcloud Extra plan to get the best value for money, as you can host multiple sites within these plans.
Fastcloud Plus is best for hosting sites which are getting around 25000 to 30000 monthly visitors.
Fastcloud Extra is the best hosting for sites which get 100,000 monthly visitors. Furthermore, in this plan users get Rocket Booster, multiple cache features and an extra fast processor.
Fastcomet Coupon Code
So, are you planning to buy the fastcomet hosting? Then, here is a discount deal that will help you to get the cheapest price possible.
How? All you need to do is:
Use this link and select a hosting plan of your choice
On the payment page, just enter the coupon code HAHOT75
And the discount will be applied to your hosting plan!
Verified
Deal 100% working
Fastcomet 75% Coupon Code
After activating & using the coupon code, you will extra 75% off on any shared hosting.
37 People Used
Click on activate deal & use HAHOT75 on checkout
Refund Policy
FastComet offers a great value service at an affordable price. Unlike other web hostings that offer a 30-day money-back guarantee, FastComet offers a 45-day money-back guarantee on all its shared hosting plans.
This means, that if you are not satisfied with Fastcomet, you can ask for a refund within 45 days!
▪️ Hostinger Pricing
Hostinger also has 3-tier plans which start from $1.99 for the single site shared hosting.
All these prices for 48-month hosting period.
Which is Best Plan?
I suggest you go for either the Premium plan or the Business plan, as you can host multiple websites within both plans.
Premium Plan is most suitable for hosting sites which are getting around 25000 monthly visits.
Business Plan, if your budget allows I strongly suggest you to buy this plan as it's not only capable to handle 100K visits/month but there's also CDN, more fast servers, WordPress staging, and daily backups.
Hostinger Coupon Code
Hostinger offers the most affordable hosting with the best performance, mostly their pricing is already at 60 to 70% discount but you can use my coupon code to get extra discount and possible minimum price.
How? All you need to do is:
Use this link and select a hosting plan of your choice
On the payment page, just enter the coupon code HAHOT75
And the discount will be applied to your hosting plan!
And the discount will be applied to your hosting plan!
Verified
Deal 100% working
Hostinger Coupon Code
After activating & using the coupon code, you will extra discount on any shared hosting.
63 People Used
Click on activate deal & use HAHOT75 on checkout
Refund Policy
Hostinger offers a 30-Day Money-Back Guarantee on all their plans. So, you could buy a plan, test it out for a month, and then get your money back if you aren't happy with it.
Final Conclusion: Which Hosting You Should Choose?
Both FastComet and Hostinger are good choices. However, from the last 2 years, Hostinger improved its hosting performance a lot.
In fact, in this comparison, we have tesṭed this, in every comparing criteria Hostinger doing better, offering good website speed/load time, excellent performance & uptime.
So, If you're looking for a host that will help you get started fast, go with Hostinger. They offer great value for money and are easy to use. Their customer service team is also very helpful except they take some to reply until you have their premium support.
While Fastcomet support is really top-notch but it's hosting performance does not match the expectations.
That's why hostinger is a better choice and winner in this comparison battle.
FAQ: Most Asked Question about Fastcomet vs Hostinger
Is Hostinger good for WordPress?

Yes, hostinger offer managed WordPress hosting in their every plan with WordPress acceleration features which in one 1-click boosts WordPress site performance.

Which is better Hostinger or Fastcomet?

Based on this comparison and my experience with both hostings, Hostinger is offering better server performance, speed and uptime.

Is FastComet a good hosting for WordPress sites?

Yes, it's good but you have to buy it's Fastcloud Extra plan for better hosting performance.

Does FastComet use cPanel hosting?

Yes, fastcomet has cPanel to access and manage it's hosting.

Does Hostinger use cPanel hosting?

Nope, hostinger has a customized control panel named as hPanel, which is easier to understand and use compared to cPanel.
Thank you for reading this post, don't forget to share with more people like you!