Mailercloud vs Sendfox: In this post, we are going to review and compare two Email Marketing tools– Sendfox vs Mailercloud. And will find out which one is really the best solution to send email campaigns and grow your list.
Both Mailercloud and Sendfox are Email Marketing tools, best for bloggers, podcasters, marketers and other content creators that lets you set up your own email campaigns, schedule, and automate them.
And because of their affordable lifetime deal pricing, they are a good alternative to expensive ESPs like Getresponse, Convertkit or Sendgrid.
But which one you should choose?, Because each one provides different features, access and has its own pros and cons.
don't worry this post will help you to find out.
So, let's start with comparing both Email tools specs & features side by side!
Side by Side Comparison Chart:
Mailercloud vs Sendfox
Reading this side by side comparison, you can see the tool's similarities and differences at a glance.



Overview
Description
Brand/Store
Availability
User Rating
Review
PLATFORM
Saas, web based
Wordpress
CUSTOMER SUPPORT
24/7 Live Support
Email/Help Desk
Online Chat
Phone Support
INTEGRATION
Integration Available
Webhook integrations
ALTERNATIVE
Best Alternative to
Pop Up Tool Features
Prebuilt Templates
A/B Testing
PLAN
Free Version
BEST FOR
Suitable for
Funnel Builder Features
Automation
Email Marketing Tool Features
Email Marketing
Unlimited Email Send
Adding Members
Drag n Drop Builder
Regular Campaigns
Drip Campaigns
Referral Campaigns
Dynamic Content
Monitoring
HTML Editior
WYIWYG Editior
Custom Domain
Custom Landing Pages
Custom Forms
Dedicated IP
Personalization
Segmentation
Event Triggered Email
Auto Responder
Reports/Analytics
CAN-SPAM Compliance
Mailing List Management
Subscriber list management
RSS Feed Email
Delivery by Timezone
Timestamp
Video Comparison:
Sendfox vs Mailercloud
What's the Difference & Who Wins
Mailercloud vs Sendfox
UI (Ease of Use)
Both Sendfox and Mailercloud has eye-friendly and easy to understand user interface.
Mailercloud has all it's features and tools visually available under one menu, that let users to access any features with a single click.
While in Sendfox all features are located in the top horizontal menu and available to access in a single click.
Winner: Tie, both tools UI is really easy to use and understand
---
Email Builder
Let's first talk about Mailercloud email builder,
Mailercloud's email builder comes with canvas-based drag and drop builder, so you can design professional-looking emails even if you have limited tech knowledge.
There are blocks available such as the text, button, image that you can use to design your email.
And if you want to edit your email using HTML then there, is also an HTML block available.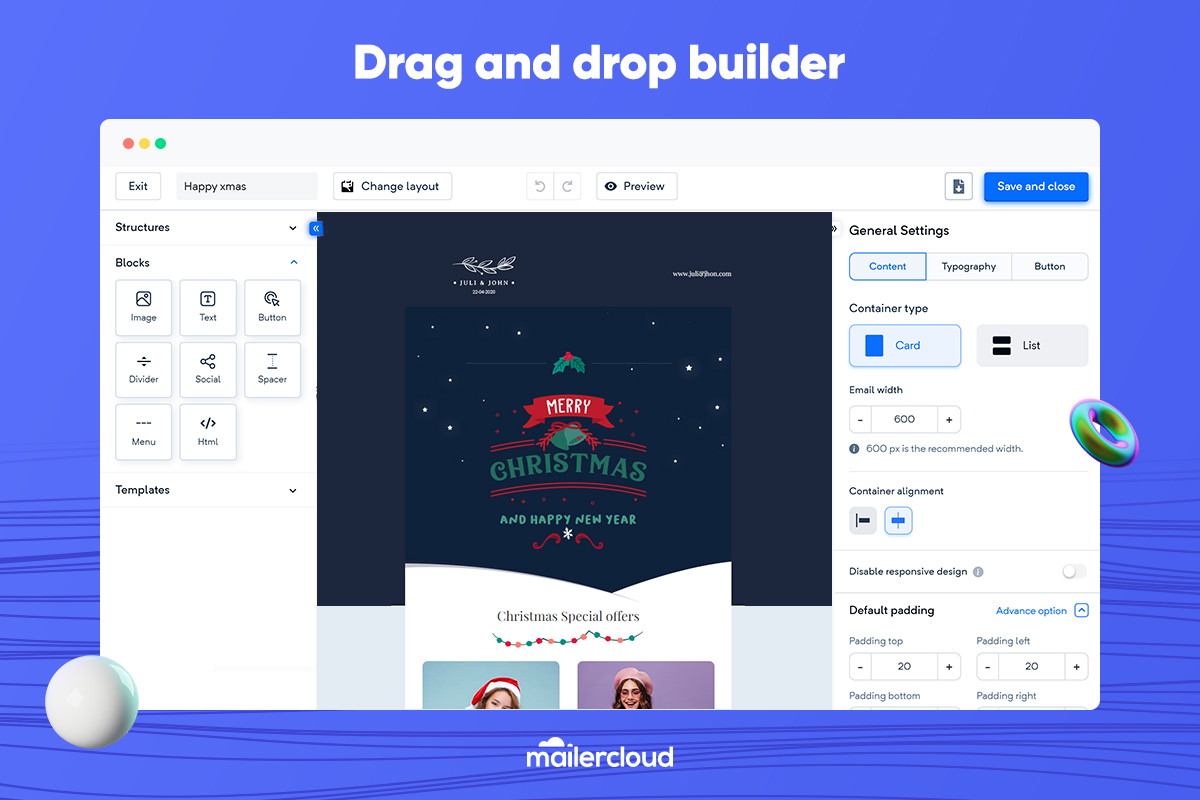 You can customize your emails by choosing different fonts, colours, buttons, spacing, and graphics.
Now let's see Sendfox Email Builder,
Sendfox doesn't have any fancy or drag n drop email builder, in fact, it has the most simple email builder.
Yes, simple yet powerful because it has an in-built WYSIWYG email editor. That lets you customize font, colour, text format, and links with mobile-friendliness.
Note: Mailercloud doesn't have any WYSIWYG email editor.
Although possibilities are limited because you are not getting block designs to use. But still, this is what makes sendfox more unique.
And there's also an HTML editor (but to access that you have to buy their empire addon).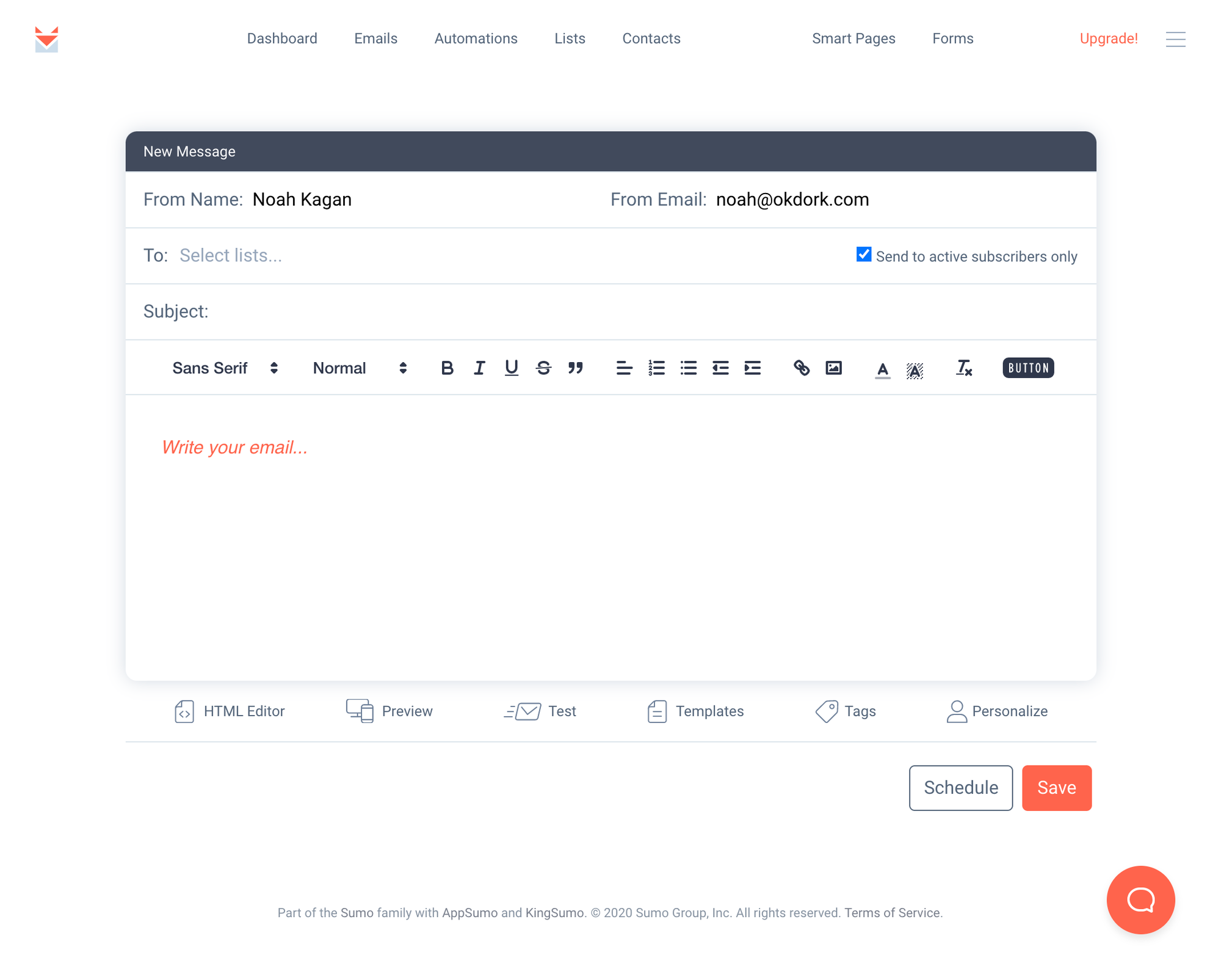 Winner: Mailercloud as it comes with drag n drop email builder with HTML editor which makes email creation really easy, especially if you are a beginner.
---
Campaign Types
In mailercloud, you can create only create regular campaigns although it is enough. But sendfox has more than this to offer.
With Senfox users can create the regular campaign, Referral Campaign (best for contest or giveaways) and RSS feed campaign (create email drafts automatically from an RSS feed).
Winner: Sendfox, as it has multiple campaign types to offer for us.
---
Prebuilt Email Templates
For this comparison factor, Mailercloud clearly wins, because it comes with tons of pre-designed ready to use email templates that you can use to send good looking emails to your subscribers with spending time on creating a new one from scratch.
Just select your desired template, change/customize it's colours, text, CTA button and you are ready to send.
That makes things really easy.
While on the other hand, Sendfox doesn't offer any pre-designed email templates because it doesn't have a block editing option or drag n drop email builder. really disappointing!
Winner: Mailercloud
---
Automation
Both tools have powerful Automations, where you can assign the emails to send on series or after an event occurred based on the subscriber's actions like clicking or opening.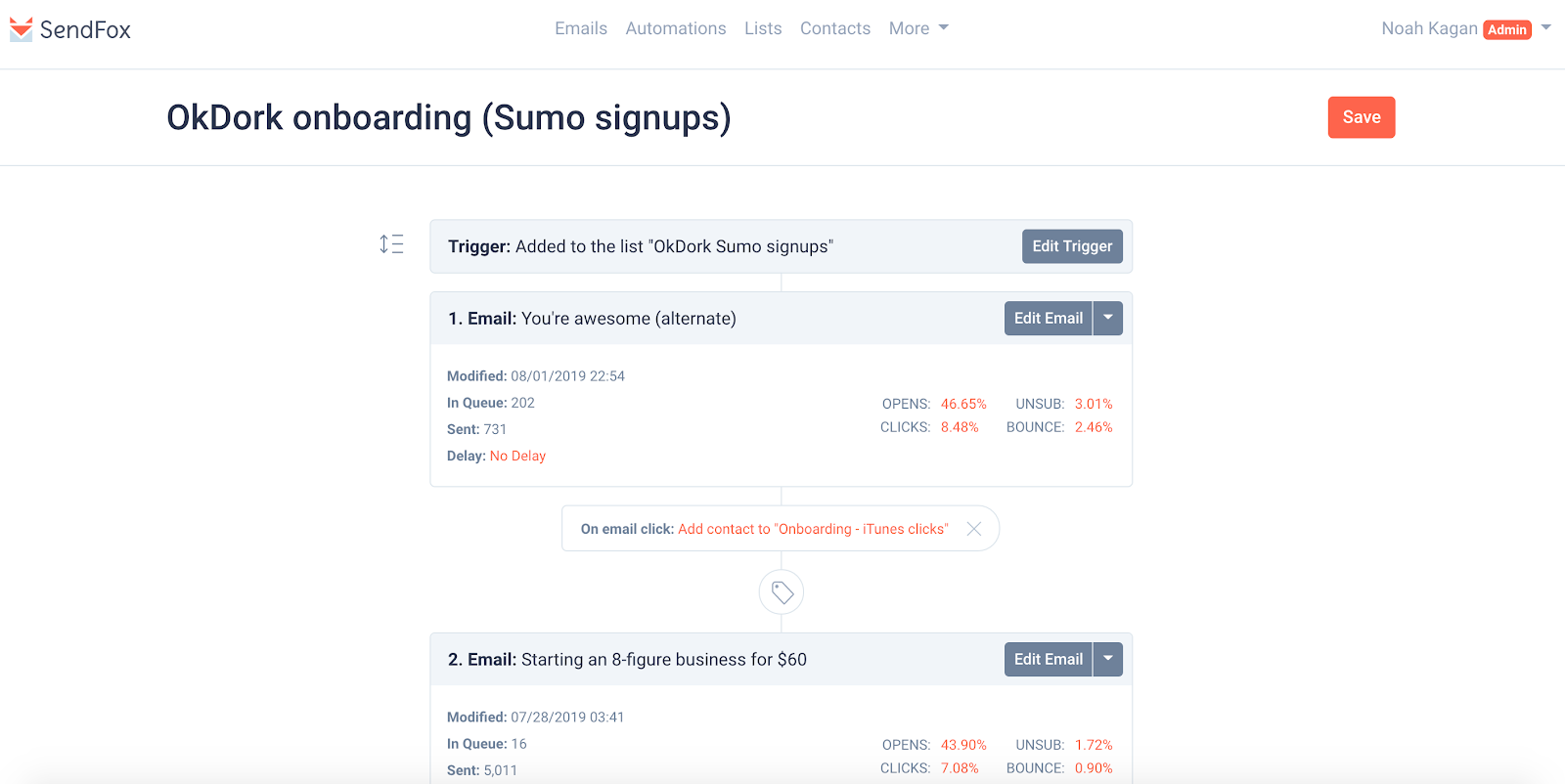 And it's really difficult to find a winner for this factor that's why it's a tie.
Winner: Tie
---
AutoResponder
Again mailercloud wins here because it also has a powerful and advanced autoresponder that doesn't come in Sendfox.
And because I haven't tested this feature yet, I can't give more details here. But if you are looking for email marketing tool autoresponder then no doubt it's a good option for you.
Winner: Mailercloud
---
Segmentation & Personalisation
With segmentation and personalisation, you can give a personal touch to each subscriber such as their name, location, gender or any other category.
This is really helpful for getting higher open rates and conversations in email marketing.
Hopefully Sendfox, and Mailercloud both have these features.
Winner: Tie
---
Pricing & Plans
Both tools offer a limited lifetime deal with the almost same pricing tag.
Mailercloud Lifetime Deal
Mailercloud lifetime plan is live on Appsumo starting from $59 one time payment for Tier 1 plan, which includes,
Tier 1 Plan – $59/Lifetime
Lifetime access to Mailercloud
All future Plan updates
7500 Contacts
Unlimited Emails
Unlimited Users
Automation
Time-based campaign
Autoresponder
A/B testing
Drag-and-drop editor
Mobile-friendly email newsletters
Template gallery
Segmentation
API
60 Days Refund Policy
Needs Attention: Most deals are out of stock within a week of coming to a lifetime deal offer. So take it now if you need it or don't want to miss it.

Sendfox Lifetime Deal
Sendfox Lifetime deal on Appsumo with a $49 pricing tag for the Tier 1 plan.
Lifetime access to Sendfox
All future Plan updates
Unlimited email sends
Scheduled email campaigns at any time of the day
Unlimited triggered automation (with unlimited emails per automation)
Custom landing page
Custom forms (including GDPR)
Lists and tagging to keep your contacts separated
WYSIWYG email editor to make writing emails easy
Advanced analytics to track opens, clicks, and more
CRM functionality to write notes on each subscriber
Integrations: Sumo.com, KingSumo, Zapier, API, and POST HTML code
RSS feed auto-pull — create email drafts automatically from an RSS feed
Manage unlimited brands from one account
Translation ability
And there is also 60 days money-back guarantee for every plan, which means if somehow you are not happy with Sendfox(which is not going to happen), you can return it within 60 days of purchase and full money will be back without asking any question.
So why are you hesitating!
---
Mailercloud vs Sendfox: Conclusion – Winner!!!
Both tools are good and come under in lifetime deals with the almost same price tag (only $10 difference).
But I found Mailerclouds is a more good deal with lots of unique features that Sendfox don't offer.
The only thing I disliked about Mailercloud is, it doesn't have more campaign types to offer but they are consistently improving so I think we see them in future.
And unlike Sendfox, Mailercloud offers drag n drop email editor with pre-designed templates and an HTML editor.
So, If you are thinking about purchasing Mailercloud, go without doubt, But Hurry! because soon this lifetime deal will be gone or prices will be increased.
GET Additional 10% OFF on Mailercloud Lifetime Deal
Want an extra 10% discount on Mailercloud Appsumo Lifetime Deal, Just follow these steps below,
Wait for few seconds, until a discount pop up appears
Enter your Email address
Check your inbox, you will get an extra 10% discount
NOTE: This is only for your First-order or New Appsumo Users.

You can also read these detailed reviews,
More Popular Comparison
Most asked questions about Sendfox vs Mailercloud?
🤔Is SendFox email marketing any good?

SendFox is a perfect combination between simplicity and affordability. Email marketing is done easily by using this tool.

❓Does SendFox has an autoresponder?

No it doesn't have, But SendFox has automation something like autoresponder sequences where your subscribers get emails sent to them automatically at certain intervals

❓Does Mailercloud have drag n drop email editor?
A Small Request

I hope you loved this post – Mailercloud vs Sendfox | Which one is Best Email Marketing Tool?

I've put so much effort into writing this blog post to provide value to readers & you, It'll be very helpful for me, if you consider sharing it.
Your 1 share can reach this article to more people and help us grow.

It will take just a few seconds,
👇Here are the share buttons!
Thank you for reading this post, don't forget to share with more people like you!
Mailercloud vs Sendfox | Which one is Best Email Marketing Tool?