Are you searching for a platfrom which can help you build mobile friendly fast-loading beautiful landing pages, check this detailed Pagemaker.io review.
After testing and reviewing various page builders, I get to know about Pagemaker – a mobile optimized landing page builder with fast loading speed.
So in this article, I'll share my detailed review on pagemaker, talk about it's features, capabilities, pros and cons.
In the end I will also test website speed and performace for Pagemaker.io created sites to see whether it's actually a good one or not?
So let's dive in!
Pagemaker.io review by Saas Guru
Disclaimer: Saas-guru.info is reader-supported and earns money from mentioned affiliate products. You may find few affiliate links on this post as well. When you click on links, we may earn a commission without costing you extra!. This helps us to cut down costs of review products, online tools and website.
What is Pagemaker.io?
It's a saas based landing page building platform which can create high converting landing pages and SEO friendly websites for any niche or business. While other page builders focus on desktop, Pagemaker aims for mobile first optimized pages for fast loading speed and smooth user experience.
And the best part, it has 300+ pre-designed and result tested templates to choose from and instantly launch your landing page or full website in few minutes without any coding or designing knowledge.
You can even use pagemaker for building e-commerce sites.
One more thing that makes this platfrom unique, you don't need a hosting plan. Just connect your domain and Pagemaker host all the created sites and page on it's CDN enabled servers that's why loading speed is super fast.
Detailed Pagemaker.io Review Video
In this video, I'll share my detailed pagemaker.io review and will show you how to use it along with some of the templates and features.
Features
Page Builder: Create Landing Pages and Full Websites
This is pagemaker's core feature building websites and high-converting landing pages, with it's mobile-first editor you can create any kind of landing page wheter a sales page or lead generation.
– Pre-Designed Template & Modules
Pagemaker also has 300+ pre designed landing page & multipage website templates for any business niche to help it's users instantly creating pages in few minutes,
For editing pages, it has more than 560+ editing elements and modules available for Title Heading, CTA Buttons, Form, Hero Section, Countdown, FAQ, Footer etc.
You can use these modules anywhere and easily edit or customize their colors, text, image, background, placement and much more.
Amazon Page Builder: Create Amazon Product Pages
This feature help you to create indiviual landing pages for your ecommerce products if you are selling them on Amazon marketplace.
And the best part, you can import listed product images, description, prices, buy link directly from amazon using product link. Let me show you the steps,
Step 1. In the dashboard, go to 'Amazon pages' section in pagemaker and Click on 'Add New Page'
Step 2. After that it will ask you to paste liste product url link from amazon.
Step 3. Then it will import the images, description, listing price, discount and product link.
Step 4. Select a physical products layout from pre-designed template library.
Step 5. Customize the text, images, colors and button.
That's all, just save and publish the page. And your product page is created.
Plugin & Integrations
Pagemaker also offer some detailed analytics plug ins to track real-time visitors insights for Facebook and Google.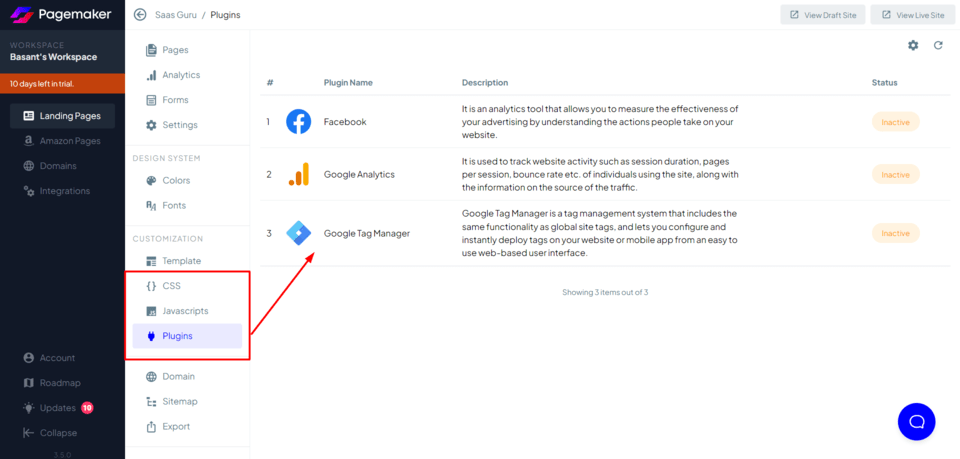 Plus if you want to add custom HTML, CSS codes or Javascripts, there's also option for that.
And using native integrations you can connect the site with email marketing, workflow automation and payment gateway platforms.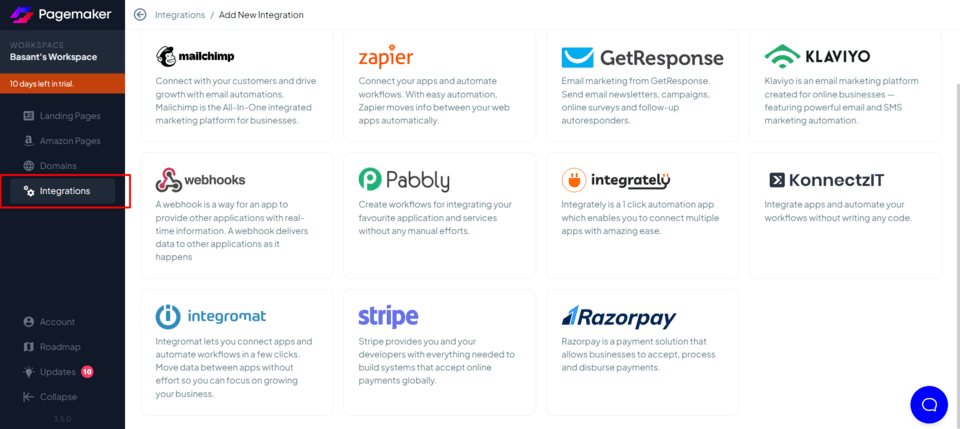 All integrations,
Mailchimp
Zapier
GetResponse
Klaviyo
Webhooks
Pabbly 
Integrately
KonnectzIT
Integromat
Razorpay
Stripe
Superfast CDN Hosting
All the landing pages and websites built with pagemaker hosted on their cloud servers which are CDN (content delivery network) powered. Simply means your website is going to be load faster no matter which country or location it accessed from.
Plus Pagemaker also assure it can handle unlimited traffic without dropping the performance.
Along with this, users can also use their custom domains to connect with websites.
Website Loading & Performance Test
I have used serval platforms to test the loading speed and hosting performance for Pagemaker hosted websites.
GTmetrix – Performance Test
On Gtmetrix app, the performance score is excellent, you can see hosted website got 'A' grade with 93% and there is no blocking or delaying resources from hosting.
Now let's do the website loading speed test.
Pingdom – Speed Test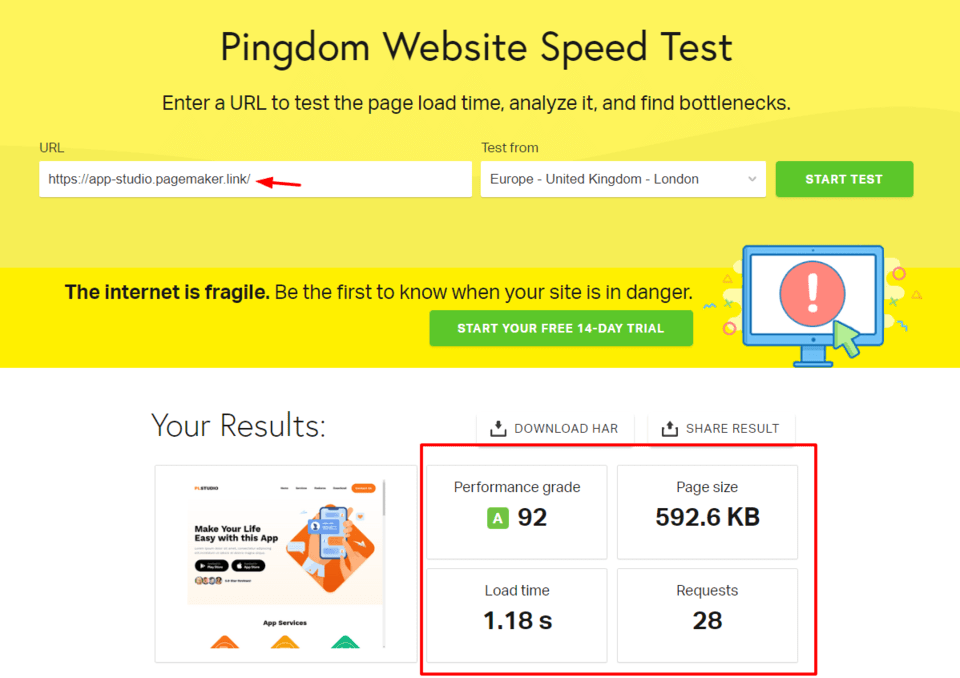 For speed test, website's loading speed is blazing fast got the A grade with 92 out of 100. And site is taking just around 1 second to fully load.
Bitcatcha – Server Response Test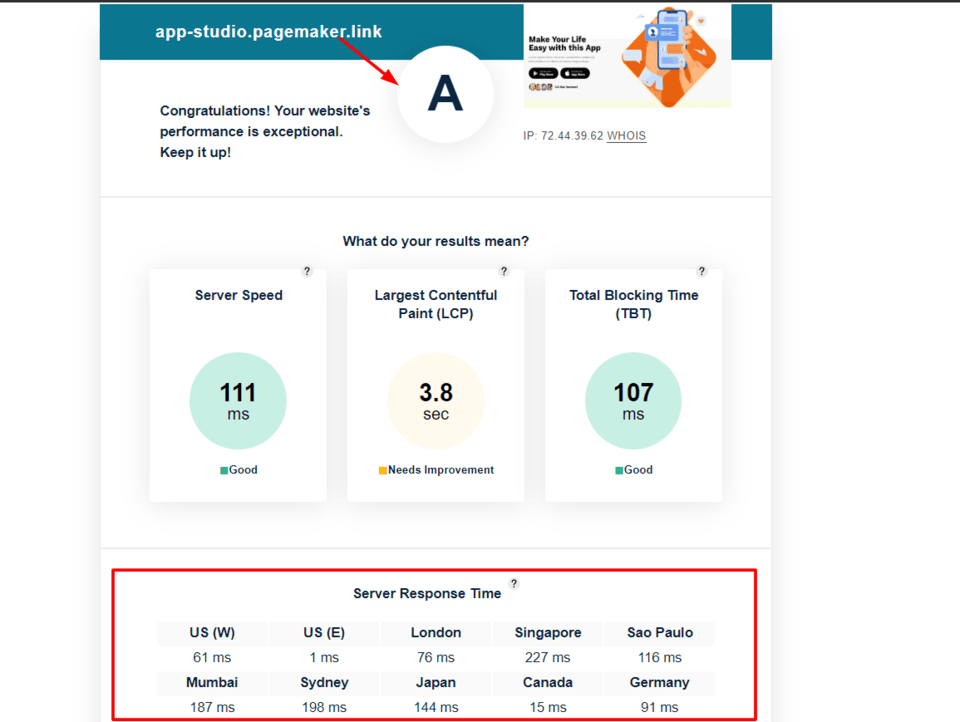 In the server response test, pagemaker servers performing superfast and sending website files to the visior device in 111ms which is basically 10th part of 1 second.
At the bolw you can also see that for the different couintries how much server taking to reponse. For example in US it's only 61ms and for Mumbai (India) its' 187ms.
All these such good server speed and response is because of CDN.
For every test, Pagemaker got 'A' that is just extra ordinary beacsue for created website we are not using Cache tool or optimization but still all the results are excellent for testing.
Pros & Cons
Pros – What I Liked about Pagemaker
 ✅ Mobile-First Landing Pages
This page builder highly focus on mobile optimizated page building, which makes super easy to create landing pages for mobile devices in real time.
 ✅ Superfast Loading Speed
Pagemaker host all the created webpages on it's Cloud CDN Server and load website blazing fast from country.
 ✅ Beautiful Pre-designed Templates & Editing Modules
It has 300+ high converting website and landing page templates & 580+ editing module blocks to use in your any project with easy customization.
✅ Great Customer Support
Support team know their work, instantly reply to queries and offer quality helping until customer is satisfied.
✅ Lots of Integration available
One thing that pagemaker consistently working adding various integrations whether it's email marketing campaigns, automations or payment gateways. There are many integrations.
Cons – What I Didn't Liked
❌ Editing elements names not familiar in Templates
One thing that bugs me most is name used for editing module blocks in Templates. For example – they have used strange names like Aliah for Features section or Morrison for Image section.
This makes complicated to understand the editing element for beginners.
❌ Limited Plugins
As of now pagemaker only added just 3 plugin and even those are just for facebook and google analytics. That's very limited.
Hope, we can see more plugins in future for extra funtionalities.
❌ Limited Editing
Even creating page from scartch, we can only use pre built modules and customize them. But creating your own section is not possible in Pagemaker as there are no elements for that.
And that's the biggest disadvantage I found in Pagemaker.
Pricing: What is the cost of PageMaker software?
On the official website there are two pricing plans available: Pro and Agency.
Pro Plan – This plan costs $20/month when you Choose annual plan and in this plan you can create 15 campaign means landing pages or multi page websites and in every multi page website. you can just add up to 7 pages so that's the limit of Pro plan.
Plus it also offers team members adding & 5 custom domains you can connect with.
Agency Plan – It $70 per month For agency plan and in which you can create 75 campaigns With up to 20 pages in every campaign And you can connect 25 customer domains.
Both plans promise to handle unlimited website traffic and there's also the 14 days trial available to experience the platform.
But the more sweet thing compared to these annual plans is that there is also a lifetime deal available.
Pagemaker Lifetime Deal
Currently pagemaker is also offering its lifetime access with more affordable pricing on appsumo Starting from $69 one time payment.
Every plan offer Pro Features and can handle unlimited traffic and the only difference between them is the Campaign, Custom domain & team members limit.
Return & Refund Policy
All these LTD plans come with 60 days money back guarantee, means after purchasing if somehow you are not satisfied then just return within 60 days and your 100% money will be refunded.
This makes all appsumo deals totally risk free.
Who is Pagemaker Good For?
Pagemaker is good for all those people who are searching for a page builder to create landing pages instantly with Beautiful looking design and high converting layouts.
And customizing pages is really easy. All you have to do is just replace the words text, background color or the images.
But if you are thinking to create the custom editing modules or sections like elementor then you cannot do it in the pagemaker because there is no such feature, even creating the pages from scratch you cannot create the Custom modules because there are no elements available. 
And that's the biggest advantage I have found in the pagemaker. 
So if you are just looking for a page maker to create pages instantly Using pre-designed templates and modules then definitely this is the best tool you can find currently available on the lifetime deal.
Final Concusion
Pagemaker is really a good tool that helps in creating high converting mobile optimized websites no matter whether it's a sales or the lead generation landing page or a multipage site.
Plus don't forget its CDN hosting that makes it's hosted sites super fast to load from any corner of the world.
We can even connect our custom domains. And the best part is we don't have to pay annual or monthly subscription fees because currently pagemaker is available with Lifetime plans on appsumo.
So overall my suggestion is Pagemaker totally a value giving deal that you shouldn't miss out!
And if you still have any query about the pagemaker or want to know something else just ask me in the comments I will be happy to answer them.
Thank you for reading this post, don't forget to share with more people like you!