LifeTime Deal
Post Planner
Post Planner Review & Lifetime Deal
Post Planner Review: Post Planner is an Advanced social media assistant and management tool, which let users manage or create, publish, schedule and recycle the posts on all major social media platforms from a single dashboard. And show published post & Competitor's post results on all in 1 stream section.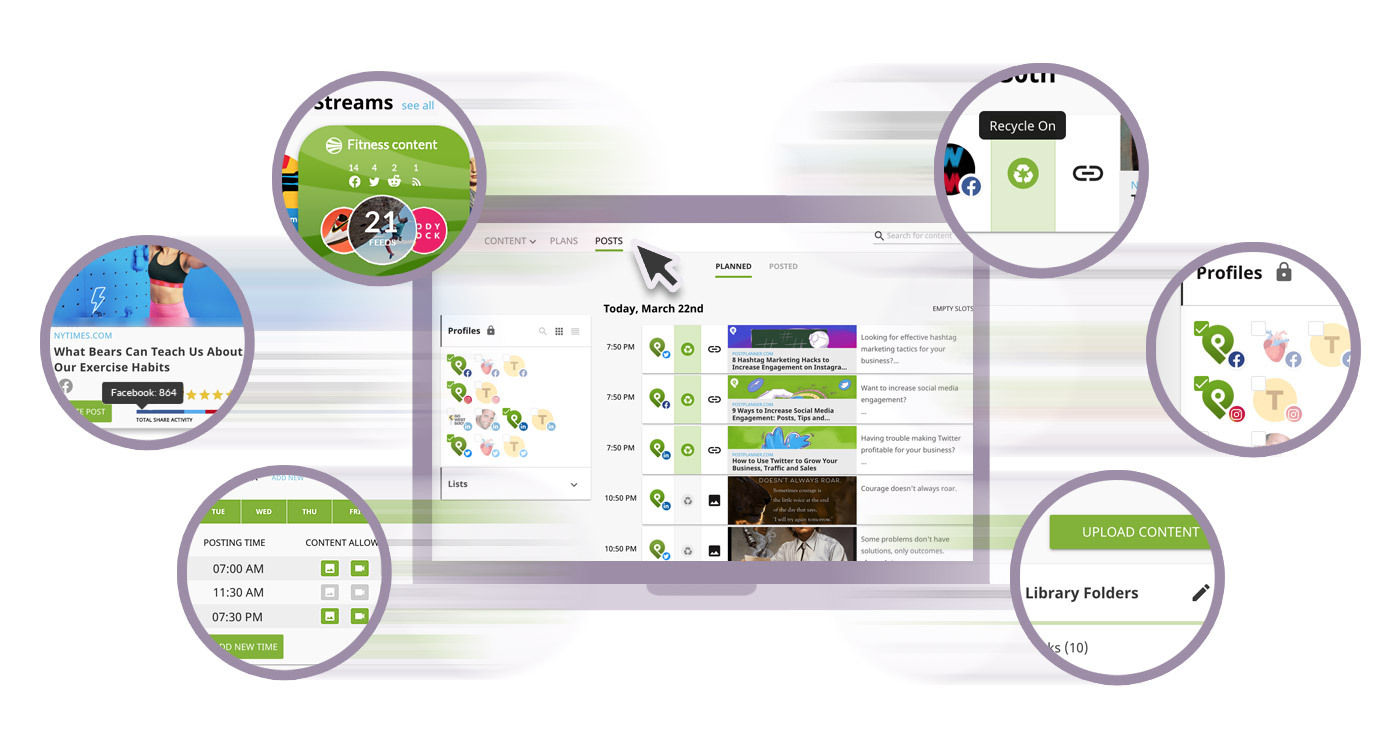 Plus there is also the various niche/industry templated available ready to use to make viral content such as Quotes, questions, fill in blanks etc. This will really help it's users to post engaging posts with 1 click.
Highlights (TL;DR):
Produce fresh, engaging copy with the help of templates drawn from top-performing posts across social media
Use automatic posting to streamline scheduling and convert high-engagement content into sales opportunities
Best for: Best for: Small businesses, content creators, and Indiviual social infuencers
---

Post Planner: Features & Tools

Automate Posts with Content Scheduler
All the posts that you published, scheduled or in drat will appear in the Content scheduler with the post info in the calendar, Plus you can also schedule posts from here on any specific day or time.
This allows you to add more automated content. You can schedule your posts to publish automatically, and reschedule them as needed.
No more manual scheduling! Create a posting plan.
Set your daily posting times
Manage your calendar visually
Edit, shuffle or pause anytime
Find Viral Content Ideas
Post planner fetched top accounts posts and show them under one tap with it's A.I scoring (out of 5 stars) to tell which post performing well and getting more shares and engagements.
So you can use this data to create your post, this will give instant content ideas that you can use for publishing and never run out of content ideas.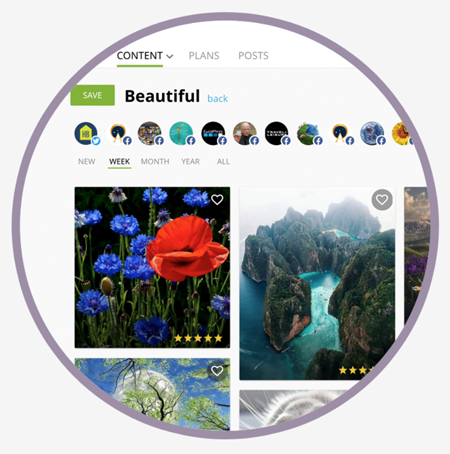 Discover viral content from Facebook, Twitter, Reddit and RSS…
All in one place.
Find articles, quotes, contests and more!
Sort by virality, Likes or shares
Use 5-star ratings to identify gems
Share & re-share — tweet & retweet — pin & repin
Posts Recycle
With this feature, you can Re-publish your old post automatically using recycle button and get more engagements and traffic.
Content Curation- All Competitors in 1 place
Post planner let it's users to view and analyze all niche/industry relevant top competitor's posts with performance insights in 1 curated dashboard. Plus users can also select any particular competitor profile to view all published posts from the past week, month or year.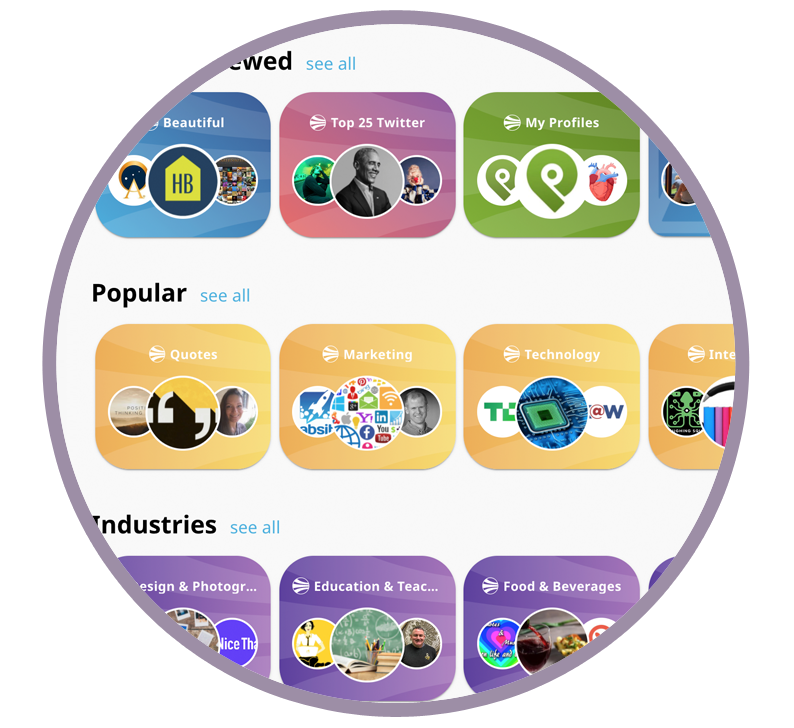 That gives Post planner more advanced competitor analysis edge compared to other social media management tools like Ocoya or Feedhive
Choose ANY topic, niche or industry.
Aggregate social media feeds into a single stream
Cherry-pick the best content
Follow streams curated by industry experts
Explore 20,000+ Content Templates
Yes, there are more than 20,000+content templates available ready to use in Post planner, which are relevant to any niche or industry.
All you have to change few words with your niche words and boom! They are ready.
You can filter these templates in various usage such as Quotes, questions, fill in blanks, Conversation starter etc.
Search quotes by name, keyword or topic
Add quotes to your images & media
Share trivia, fill-in-the-blanks, seasonal posts
Get pre-written contests (fully customizable
All these mentioned features are very easy to use and come with an amazing user-friendly interface. So, don't waste time just reading the feature and try them now without any risk because Post Planner is offering it's lifetime deal only of limited time.

---
Social Media Platforms Integration available on Post Planner
1. Facebook
2. Instagram
3. Twitter
4. LinkedIn
5. Pinterest
---
Post Planner Lifetime Deal Offers
Lifetime access to PostPlanner
3 Profiles
300 Scheduled Posts
12 Posts/Profile/Day
1 User
Content Curation
20,000+ inspiring quotes
Post analytics
Support included
All future plan updates
30-day Money Back Guarantee
And there is also 30 days money-back guarantee for every plan, which means if somehow you are not happy with Post Planner, you can return it under 30 days of purchase and full money will be back without asking any question.
So why are you hesitating!
Needs Attention: Most deals are out of stock within a week of coming to a lifetime deal offer. So take it now if you need it or don't want to miss it.

Thank you for reading this post, don't forget to share with more people like you!
Specification:
Post Planner
PLATFORM
CUSTOMER SUPPORT
| | |
| --- | --- |
| 24/7 Live Support | ❌ |
| Email/Help Desk | ✔️ |
| Online Chat | ❌ |
| Phone Support | ❌ |
INTEGRATION
| | |
| --- | --- |
| Integration Available | All major media platforms |
ALTERNATIVE
| | |
| --- | --- |
| Best Alternative to | Hootsuite, Ocoya |
Pop Up Tool Features
| | |
| --- | --- |
| Analytics Dashboard | ✔️ |
| Prebuilt Templates | ✔️, 500+ Templates |
PLAN
| | |
| --- | --- |
| Free Trial | ✔️, 7 days free trial |
BEST FOR
| | |
| --- | --- |
| Suitable for | Agencies, Bloggers, Startups, Marketers, Social media experts |
FEATURES
| | |
| --- | --- |
| Copywriting | ❌ |
| Scheduling | ✔️, With Calendar |
| Social Media Management | ✔️ |
Social Media Tool Features
| | |
| --- | --- |
| Multiple User | ❌ |
| Post Creation | ✔️ |
| A.i | ✔️ |
| AI Generated Ad Copy | ❌ |
| Api | ❌ |
| Ecommerce | ❌ |
| eCommerce Integration | ❌ |
1 review for
Post Planner
Competitor's Post Analysis
8.7
PROS:
Find content ideas easily and use them for your posts
Their scheduling & recycling features are awesome
Post Planner has a library of content templates to always publish engaging content
The content creation feature saves lot of time
CONS:
Currently, it's life deal only offering 3 profile limit
😍 Try World's Best Ai Writer for Free!
🔥FREE 80+ Widgets, Make your Site Stand!