Radaar Review [Social Media Management Tool]- Is There any Lifetime Deal?
Radaar Review: In this post, we are going to review Radaar in detail to find out is it really a valuable asset in social media management and how it's different compared to it's competitors.

What is Radaar?
For most of people, Social media became an important part of their lifestyle. And as a brand, marketer, content creator or influencer, it's the best place to engage with the interested audience and promote our services/products.
But the problem is there are tons of social platforms available and for individual people, it's hard to manage everything all yourself.
Believe me, it takes a lot of effort and time just to publish content on various social media platforms one by one (it's the most painful part).
But what if, there's a tool that can do it in a single click and voooosh, your post is published on all the social platforms.
Let me introduce, Radaar – a powerful social media assistance and management tool.
Radaar is a social media assistant and management tool, which let users manage or create, publish and schedule posts on all major social media platforms from a single dashboard. And show published post results on all in 1 analytical reports section.
Plus to make the social media game easy to win, this tool also has many other amazing features such as
Inbox – All in one inbox to manage all social platforms messages and conversations in a single inbox.
Hashtag Manager – Find, research, and manage all your brand hashtags.
URL Shortener – Can you believe there's also an inbuilt shortener like Rebranding or Switchy (it feels like a charm).
Monitor – With this your monitor your social media competitors or your any other query using keywords.
Quick Replies – Create replies that auto-send to start the conversation with the audience this will improve your response time.
And many more other features
---
Highlights (TL;DR):
Manage all your social media accounts from a single dashboard
Schedule social posts with automatic reposts
Best for: Best for: Small businesses, content creators, Social media agencies and digital marketers looking for a real ROI on their efforts with easy-to-build campaigns
---
Radaar Features: Overview

▪️ Social Media Platforms Connection
Radaar support all major social platforms integration & connectivity,
Facebook Page & Groups
Instagram
Twitter
Linkedin Organization & Personal
Pinterest
Youtube
Vimeo
Tiktok
Google My Business
Google Search
Telegram
Sms
Whatsapp
Webhook API
You can see there are tons of platforms supported by Radaar, plus you can also use webhook to integrate with other platforms which are not available in the list.
And connectivity process is also very easy for any of these platforms, just choose the platform > click on connect button > authorize your account & that's all, you will be connected.
▪️ Social Publishing
Radaar created a simple and powerful all in 1 dashboard to manage your Facebook, Instagram, Youtube, Linkedin, Twitter, Pinterest, Tiktok and Google Business social media accounts from a single publishing dashboard.
To start the publishing content, user has to go to the "scheduler" section, which comes with a visual content calendar.
Here, click on the 'paper plane icon' to create or schedule a new post
Within the publishing dashboard, users can,
Create or schedule posts
Preview them before posting (how they will look on Facebook, Instagram or LinkedIn)
Check content engagement score (auto-generated by radaar a.i)
Publish the post on all platforms in 1 click
Mark them for Autoposting with scheduling
The best thing about the radaar publishing dashboard, it also lets you manage all your hashtags within it's hashtag manager, so you don't have to copy or find them from previous sources. isn't that amazing!
What makes the Radaar extra special is its "Content Score" features. This a.i automatically calculate the engagement score for the content and show 0-100% (where 100% means extremely engaging).
There's also a feature that shows the right time to post, which means whether you want the best time to increase sign-ups, registrations, sales, or leads Just use this feature and let Radaar automatically pick the best times to post for each network based on the business metrics you set.
And because it supports adding multiple team members with permission, Admin has full control of team members content quality before approving the publishing.
▪️ Content Calendar
Planning content is never easy but Radaar makes it easier than ever before with the visual content calendar, which is available within the scheduler.
From the calendar dashboard, users can view previously posted content & future scheduled posts, which platforms are selected for publishing and tons of more stats.
And to make the reporting easier to understand, you can also use coloured categories, for example, green for published posts, red for errors, and yellow for scheduled posts.
Using Radaar's Calendar feature, you can view and visually plan content for various or some special days ahead of time.
▪️ Social Monitoring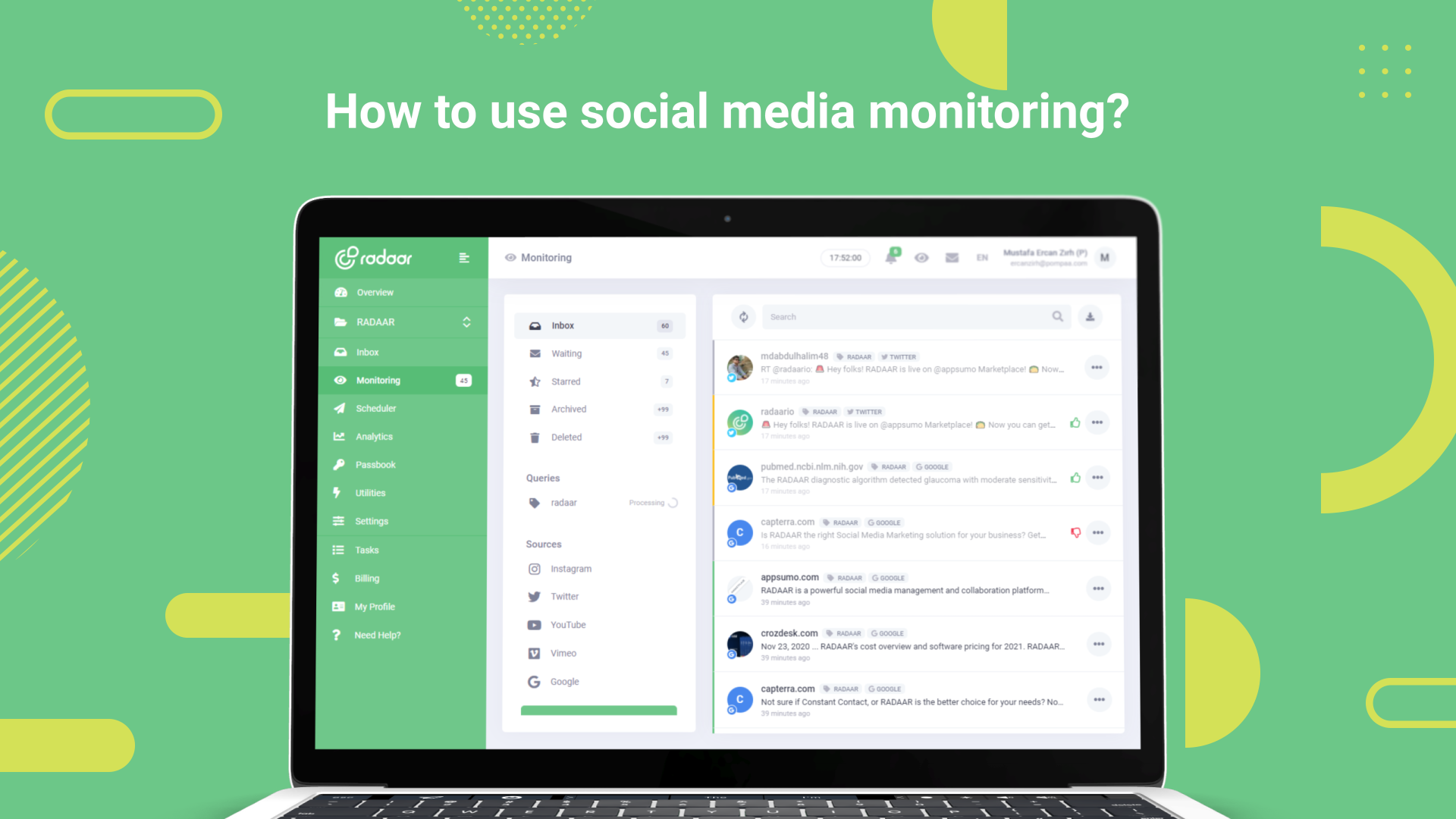 There's another special feature "Monitoring", which lets' you add keywords, topics or competitors to always monitor related content.
With this feature, you can also understand customers' feedback, get valuable insights promptly with decision-makers, and respond quickly to customers' issues.
This feature is very helpful when trying to understand what people are talking about your brand, industry or competitors.
▪️ All in one Inbox
Radar's social inbox functions as an all in one united inbox. It contains messages from all of your social media accounts such as Facebook, Twitter, telegram, LinkedIn etc.
It also allows users to reply to those messages directly from within the app without having to go back and forth between those apps.
You can respond quickly to each message using this inbox. This helps you stay connected with your friends and followers and decrease the response time.
▪️ Reports & Analytics
The analysis engine of Radaar now includes alerts and reports that let users analyze business performance and conditions in an organized manner.
With RADAAR analytics, you can easily track, capture, store and manage your online content. You can also perform A/B testing and analytics. It is easy to use and is very user friendly.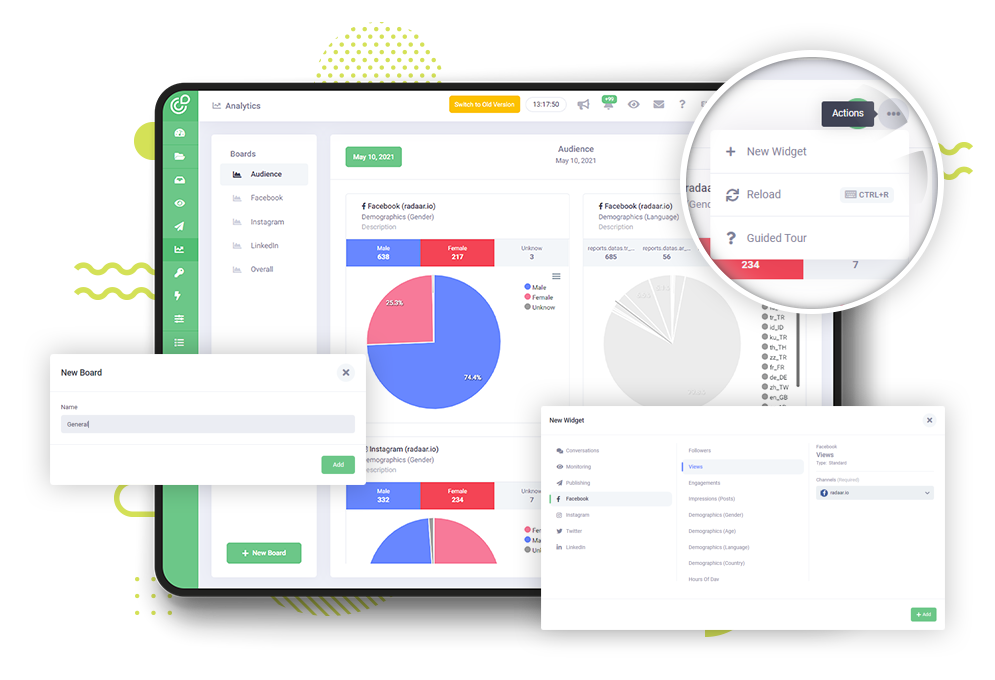 It is highly customizable means you can decide what you want in your reports section and allows the admin to share the report with others.
Users can even create charts, apply filters and set up notifications using this new feature of RADAAR.
Plus, radaar also measures organic, earned and owned social media performance. As I said It allows users to create great dashboard views of data quickly by using predefined widgets. Radaar helps brands to understand the impact of their content by enabling them to view the response of each type of social network.
It also provides information about how many users saw the different social media messages.
All the mentioned features are very easy to use and come with an amazing user-friendly interface. So, don't waste time just reading the feature and try them now without any risk.

---
Social Media Platforms Integration available on Radaar

Users can connect multiple social medial accounts at once with Radaar,
Facebook Page & Groups
Instagram
Twitter
Linkedin Organization & Personal
Pinterest
Youtube
Vimeo
Tiktok
Google My Business
Google Search
Telegram
Sms
Whatsapp
Webhook API
RSS Feeds
---
Radaar Pricing – Is There any Lifetime Deal

sadly, Radaar doesn't offer any life plan.
As for now, it has only 3 pricing plans, which start from $7.99/month (when purchased yearly on billing) for the basic plan.
Each plan gives additional access to it's features.
Plus there is also 14 a days trial period, which lets you experience this platform magic.
Why There's No Lifetime Deal on Radaar?
There are lots of expenses included in running these types of online applications like hosting or server charges, Feature updation cost, development team salary, marketing cost, customer support team salary, other tools integration & API billing and much more hidden cost.
So think to yourself, how can they continue running their business for lifetime if there's no way to pay the cost bills every month.
That's why there is no Lifetime deal currently offered by Radaar.
And it seems logical otherwise their business will be shut down after few years.
Needs Attention: Most deals are out of stock within a week of coming to a lifetime deal offer. So take it now if you need it or don't want to miss it.

---
Radaar – Video Overview
Thank you for reading this post, don't forget to share with more people like you!
PLATFORM
CUSTOMER SUPPORT
| | |
| --- | --- |
| 24/7 Live Support | ❌ |
| Email/Help Desk | ✔️ |
| Online Chat | ✔️ |
| Phone Support | ❌ |
INTEGRATION
| | |
| --- | --- |
| Integration Available | All major media platforms, Canva |
ALTERNATIVE
| | |
| --- | --- |
| Best Alternative to | Feedhive, Hootsuite, Buffer |
Pop Up Tool Features
| | |
| --- | --- |
| Analytics Dashboard | ✔️ |
| Prebuilt Templates | ✔️ |
PLAN
| | |
| --- | --- |
| Free Trial | ✔️, 14 Days Trial |
BEST FOR
| | |
| --- | --- |
| Suitable for | Agencies, Bloggers, Startups, Marketers, Social media experts |
FEATURES
| | |
| --- | --- |
| Copywriting | ❌ |
| Scheduling | ✔️, With Calendar |
| Social Media Management | ✔️ |
Social Media Tool Features
| | |
| --- | --- |
| Multiple User | ✔️ |
| Post Creation | ✔️ |
| A.i | ✔️ |
| AI Generated Ad Copy | ❌ |
| Api | ✔️ |
| Ecommerce | ❌ |
| eCommerce Integration | ❌ |
PROS:
Easy to use U.i
Built-in URL shortener
All in one Inbox
Visual Content Calendar
CONS:
User experience can be more improved
😍 Try World's Best Ai Writer for Free!
🔥FREE 80+ Widgets, Make your Site Stand!