SEMrush vs SpyFu: In this post, we are going to review & compare 2 popular SEO and PPC tools SpyFu vs Semrush for Competitor Analysis. So we can find out which one really has the better features and options available for the Competitor Research.
Semrush is an all in 1 SEO tool kit which also offers an advanced Competitor Research & Analysis tool with lots of features and it's data trusted by many SEO experts, agencies and brands.
While Spyfu is only a Competitor analysis focused tool.
Both tools have good features for analysing organic as well as paid competitors, so you can check and steal their top traffic-generating keywords, low spending PPC ads and SEO tactics.
And in this post, I'll solely focus on comparing their Competiton Research Features, such as
Competitor Analysis Tool
Keyword Research
Database & Sources
Pricing & Plans
So let's begin by comparing both tool's features side by side, to understand what they have to offer.
What's the Difference:
SpyFu vs SEMrush Comparison
Competitor Analysis: Semrush vs SpyFu
Competitor analysis helps you understand what your competitor's strengths and weaknesses are. You can also see what keywords they are ranking and how much traffic they get from search engines. This allows you to know your competitor's SEO tactics and performance.
Then you can easily find the opportunities for your website/brand to start working.
Hopefully, Semrush and Spyfu both tools provide detailed data on competitor's SEO & PPC insights. But which one is better let's find out.
SEMrush: Competitive Analysis Tools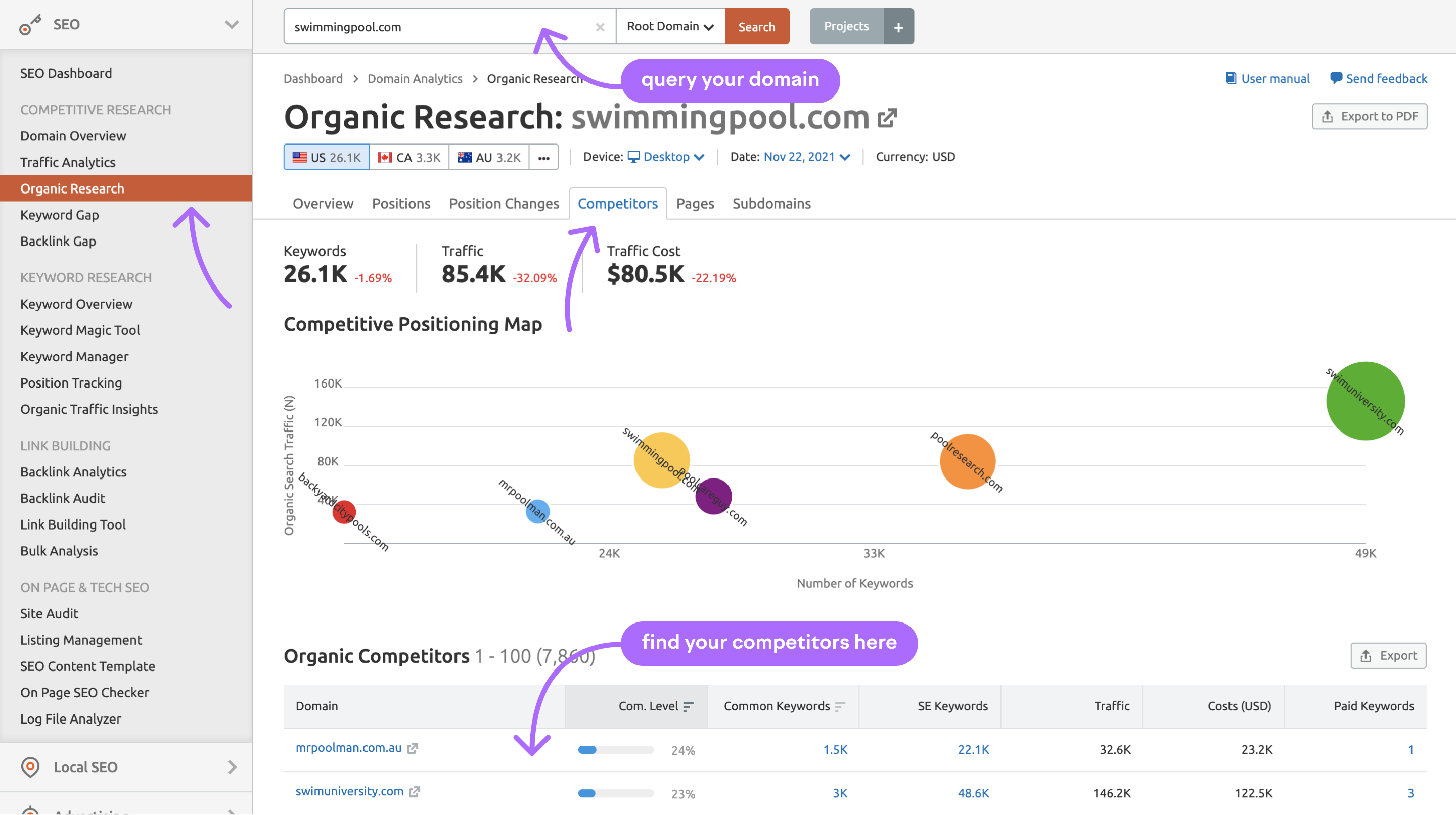 Under the "Competitive Research" section (get semrush 7 days free trial), there are five tools available for starting the analysis based on the User's different needs.
▪️ Domain Overview- As the name suggests, With this, you check the competitor's all-important insights like their domain authority, Organic/Paid traffic, Organic keywords, Backlinks any more important stuff.
▪️ Traffic Analysis- Here you get the Traffic overview, Sources from where competitor getting traffic, Top pages generating the most traffic, GEO distribution data (country-wise traffic) etc.
▪️ Organic Research- This gives a lot of useful data on your or competitor's domains Organic traffic, Keywords, Page rankings & positions, other organic competitors and much more stuff.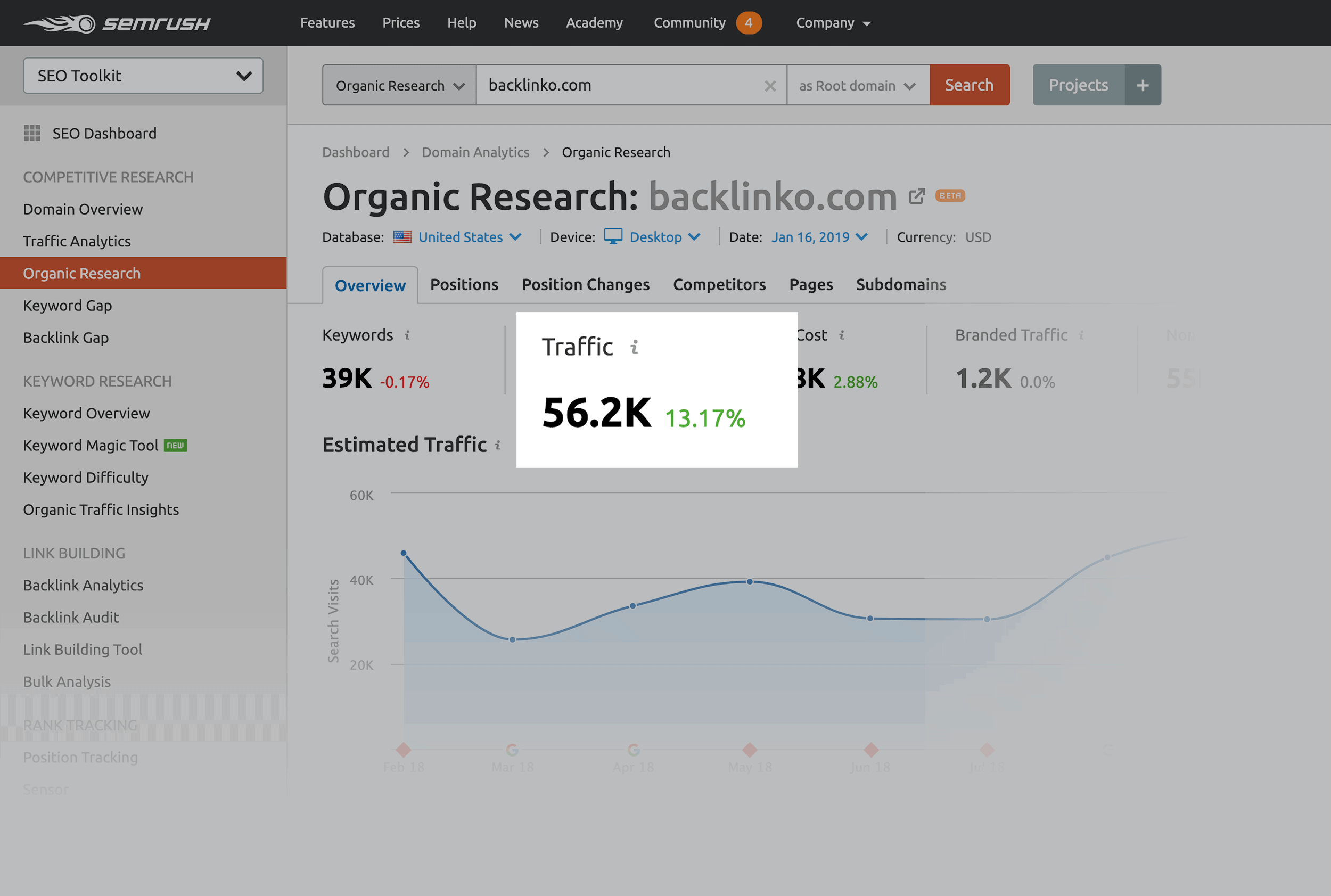 You can also use "Orgainic Research" to find out your major organic competitors,
just enter your domain, and click on search.
Scroll to the bottom to the main organic competitors and you will see all competitors. Then you can use these to make the list of top competitors for further analysis.
▪️ Keyword Gap- Basically, this tool lets find all the keywords that your competitors are ranking but your website is not.
And because your site is also similar to competitor's niche, you can easily rank for these keywords.
To use this amazing tool, just enter your 3 or 4 competitors domain, and click on compare button.
And it will show all the results under the Top Opportunities section.
▪️ Backlink Gap- Like keyword gap tool, Backlink Gap Tool helps you find out the best backlinks building opportunities that your competitors used for linking.
And that's how you can also get easy winning backlinks just by analysing your competitors.
SpyFu: Competitive Analysis Tools
As I already mentioned above, Spyfu is dedicated only to competitive analysis. So you can only use it to check all competitor's insights related to SEO, PPC ads, Keywords, Backlinks and more.
To begin the analysis, you have to enter your Competitor's domain and click on the search button.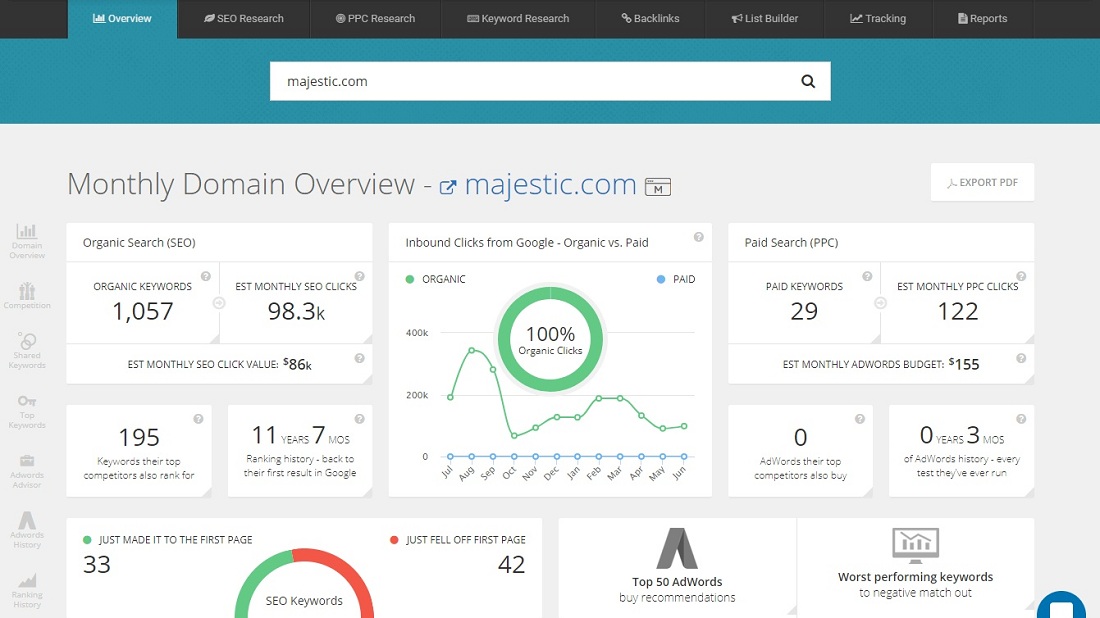 And then It will show the domain overview, where you can see competitors all insights for every term such as Top Organic keywords, Organic/Paid traffic, Google Ads history, Backlinks, Competition and SERP history in a single dashboard.
For example, if you want to identify your top competitors then Just enter your domain URL, and go to "Competition" section.
Here you can your organic and paid competitors.
Then you can click on any of those competitors to get all insights.
Did you can even look up the top pages that are generating traffic for them, and then you can identify the opportunities to rank for.
Furthermore, you can even get the competitor's PPC insights like all PPC keywords, Clicks, Bids and other metrics.
inner: Which One is Better for Competitor Analysis
There's also an "Adwords history" section available at the bottom, which shows you all the historical Ad campaigns data of competitors.
Spyfu really makes it easier to reverse engineer your competitor's PPC campaigns, so you can skip testing and use their strategies and insights to launch your successful ads.
Winner: Which One is Better for Competitor Analysis
There's no doubt, that both tools are good, in fact, I liked Spyfu Paid PPC ads data for competition. It's easy to understand.
But SEMrush is better. It's "competitor analysis toolkit" offers everything that Spyfu. Plus it's more than a competition tool compared to Spyfu which is mostly limited to competition research.
And because Semrush has the largest database in the world, gathering data from 182 Countries from various sources, it's data is far more accurate than Spyfu, which collects data from only 2 countries US & UK.
Winner- SEMrush, if you want accurate data from all around the globe on which can depend then there is no better tool than this.
---
Keyword Research: Semrush vs SpyFu
SEMrush: Keyword Research
Semrush is mostly popular for it's keyword research. And there are 2 individual (but integrated) tools available in SEMrush to start the keyword research,
1. Keyword Overview- This gives the brief data of any keyword like it's Global volume, Related keyword, SERP analysis for Top ranking sites for that keyword, Searcher intent, keyword variation and much more stuff.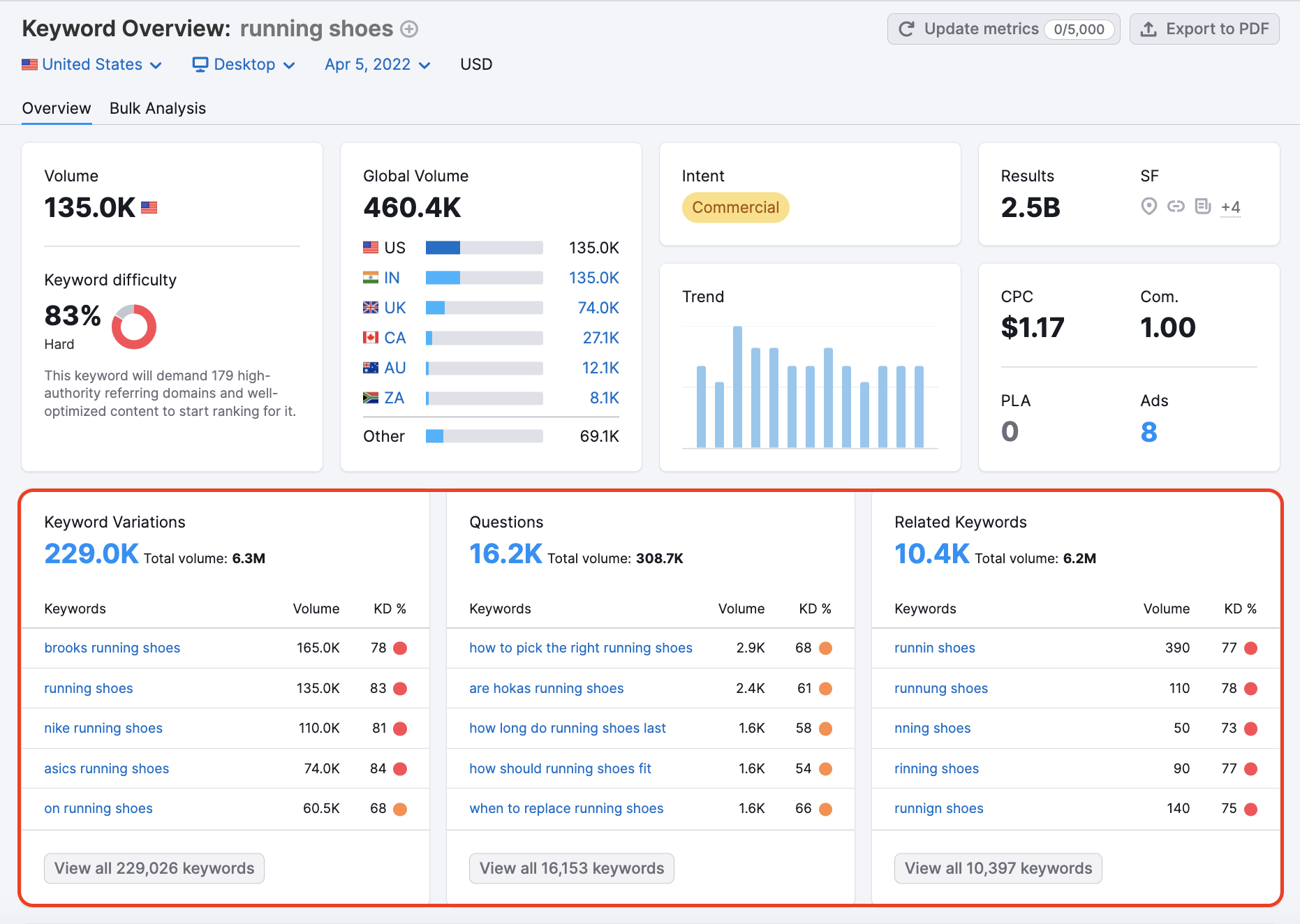 And when you click on "view all keywords", it takes you to Keyword Magic Tool.
2. Keyword Magic Tool – It's the best tool in the market to get millions of keyword suggestions in a few clicks.
All you need to do is enter the seed keywords that you want to rank for, choose the country where you want to rank and let the keyword magic tool do its work.
In just a few seconds, you will get all keyword suggestions listed related to seed Keywords.
You can even check metrics for a better understanding of keywords.
Like,
Search Volume
Trend
Keyword Difficulty
CPC (cost per click)
Competitive Density (for PPC campaigns)
SF (Search Features)
Top Competitors
Let's understand with an example,
I entered my seed Keyword "best SEO Tool" and chose the country United States. In just a few seconds the keywords list appeared.
On the top, I can choose variations for the research like type keywords or just question type keywords, then beside them is board match, phrase match, exact match, or related.
By clicking on "Advanced Filters" I can find my desired keyword list. Like low KD keywords or which keywords search volume is above 10,000.
Below this variation bar number of all keywords, they're in total search volume and average KD showing. Surely an easy way to show the data just in a line.
On the left side of the keyword list, this tool shows a keyword list with certain words like "free, audit, analysis" and the total volume of that certain word.
And by clicking on a particular keyword, I can check the top 10 ranking competitors for that keyword on Google.
And from here, I can perform an in-depth competitor analysis on these top 10 ranking sites for my seed Keyword by clicking one by one on them.
Truly easy and understandable, I mean what else do you want to know in Keyword Research.
SpyFu: Keyword Research
Spyfu also comes with built-in keyword research features, But it's not like the fully-fledged that we have seen in Semrush.
To start the keyword research in Spyfu, head over to "Keyword Research", then enter your seed keyword and click on the search button.
In the Keyword Overview results, you can view that keyword's Monthly volume, Similar keywords, Question keywords, and top 10 SERPs ranking.
In the bottom, you can also see PPC keywords related to your seed keyword.
And there are also various sections available besides Keyword Overview, which are
Related Keywords- As the name suggests, it shows all related keywords with it's volume, KD (keyword difficulty score), and CPC. And there are filters also available on the left side to sort out results.
Advertiser History- This provides the PPC campaign's historical data for the seed related keywords.
Ranking History- From here you can get the SERPs (competitor sites ranking).
Other sections give sight on backlinks, link building opportunities and position tracking.
Winner: Which One is Better for Keyword Research
There's no doubt SEMrush is far better in Keyword Research, not because it's Keyword Magic Tool features and in-depth keyword insights (although that's also a reason), but due to the keyword data and accuracy that it get from all world.
In fact, Semrush has the biggest keyword data in the world, which updates every week.
While the Spyfu keyword tool looks good but it's data is only limited to US & Uk targeting, plus don't forget accuracy is also not that good compared to SEMrush.
Winner- SEMrush
---
Data Source & Accuracy: Semrush vs SpyFu
Do you know, Semrush collect data from 120 countries and has 142 Geo database centres, until now has collected
21B Keywords, Can generate up to 20M ideas for a single keyword (largest database in the market)
808M Domain Profiles
43T Backlinks, their crawler scans 25B backlinks per day and removes duplicate links (this makes Semrush the fastest backlink crawler)
Check more stats here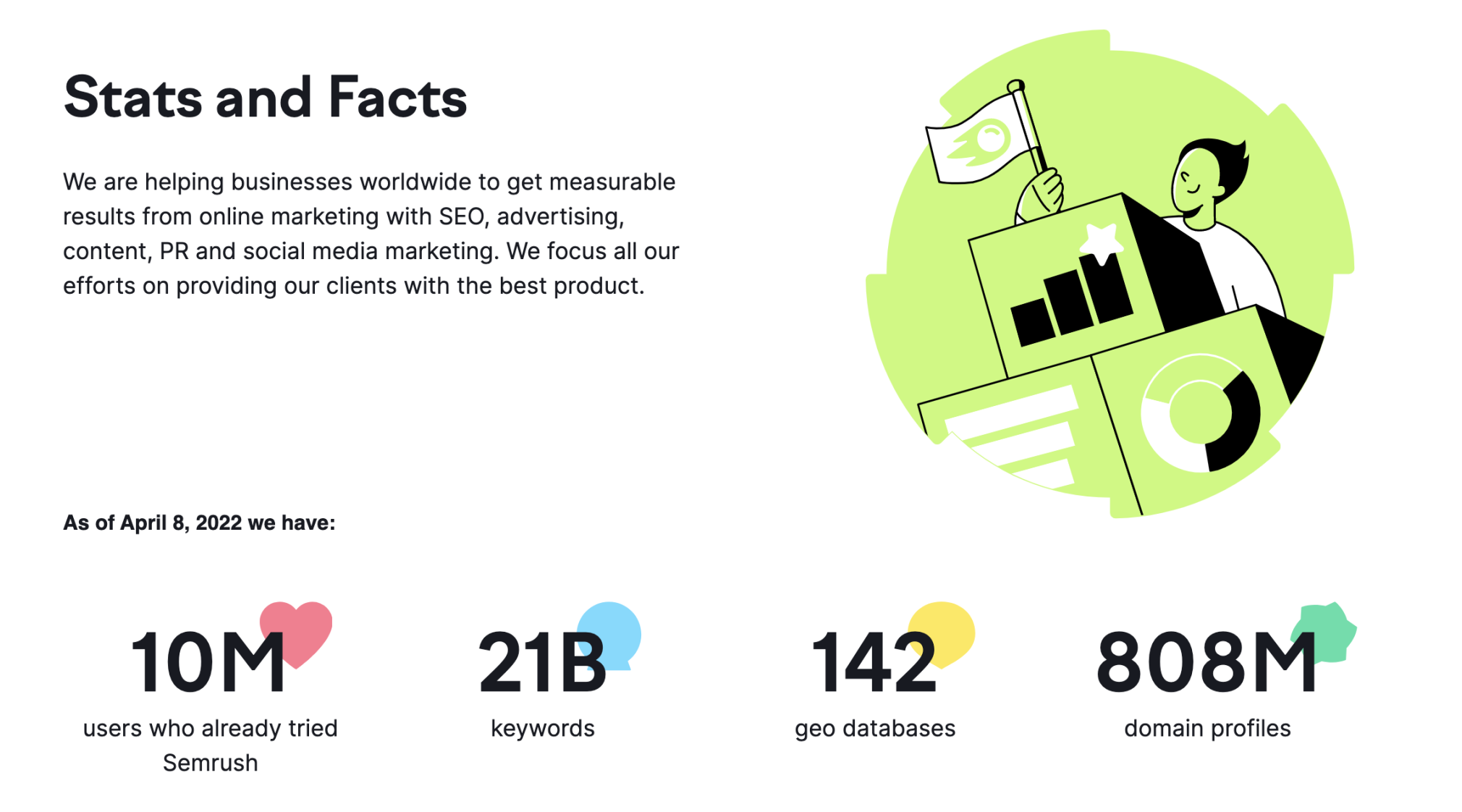 Now you can think to yourself, why their data is so accurate and trustworthy.
While Semrush has various multiple sources to fetch and authenticate the data, Spyfu only gets it's data from Google.
And Spyfu has only 2 database centres, US & Uk, that's why it's results are only limited to these 2 territories. And when you try to get data for other countries it shows inaccurate results.
So as for data accuracy, no doubt SEMrush has the biggest and most accurate results to show.
Winner – SEMrush
---
Pricing & Plans: Semrush vs SpyFu
SEMrush: Pricing Plans
Semrush pricing starts from $119.95/month, but if you choose to buy an annual plan then it saves 17% and then costs only $99.95/month (when billed annually).
Currently, Semrush has 3 pricing plans,
Pro – 119.95/month (Best for marketing newbies, freelancers, startups, and individual SEO experts )
Guru – 229.95/month (Best for SMEs, growing SEO agencies and marketing consultants )
Business – 449.95/month (Best for: large agencies, E-com brands and enterprises)
Semrush also offers a free trial to experience it's tool, Which you can get below.
If you are an individual blogger or SEO expert, then I suggest you go for it's PRO plan, as it comes with 40+ toolkits and all the features that I've mentioned in this comparison.
SpyFu: Pricing Plans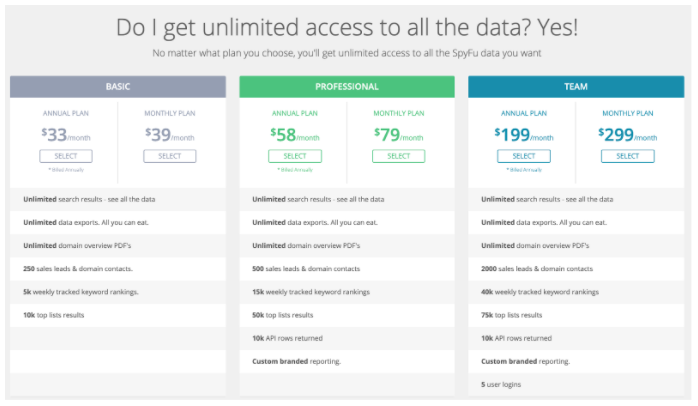 Spyfu pricing starts from $39/month and when you choose to pay annual it cost $33. That saves around 16%.
Like semrush, Spyfu also offer 3 plans,
Basic – $39/month
Professional – $79/month
Team – $299/month
Each plan gives extra access to Spyfu features.
Side by Side Features Comparison:
SEMrush vs SpyFu
Reading this side by side comparison, you can see the tool's similarities and differences at a glance.



Overview
Description
Brand/Store
Availability
User Rating
Review
Specification
SEO Audit/Reporting
Technical/On-Site SEO
Local SEO
SEO Change Tracking
SEO Management
SERP Tracking
Keyword Research
Competitor Analysis
PPC Research
Link Building
Backlink Analysis
Content Audit
Content Insight
Content Marketing
Data Visualization
Custom Reports
White Labeling
Traffic Insights
Social Media Assistant
Writing Assistant
Final Verdict: Winner
SEMrush vs SpyFu
Till now we have compared competitor analysis, keyword research. data accuracy and both tool's pricing.
And it's pretty clear SEMrush is exceeding in every term.
Although Spyfu is a good tool buy mostly focused on competitor analysis limited to US & UK territory data centres.
On the other hand, SEMrush has 40+ tools (including advanced competitor analysis) with 142 data centres, which makes it trusted by 10M users.
And I strongly suggest, if your budget allows investing in SEMrush is a good decision, Plus there's a Free Trial also available (get semrush 7 days free trial).
But if you are short on budget and still need competitor analysis then I think Spyfu might be good for you. But there is no free trial available for Spyfu.
Winner – SEMrush
A Small Request

I hope you loved this post – SpyFu vs Semrush | Which 1 Better Competitor Analysis Tool?

I've put so much effort into writing this blog post to provide value to readers & you, It'll be very helpful for me, if you consider sharing it.
Your 1 share can reach this article to more people and help us grow.

It will take just a few seconds,
👇Here are the share buttons!
Thank you for reading this post, don't forget to share with more people like you!
SEMrush vs SpyFu: Which 1 Better Competitor Analysis Tool?