SEMrush Review – All in 1 SEO Tool to Increase Website Traffic
SEMrush Review: In this post, we are going to review SEMrush, it's features, SEO tools, and Users rating to find out, is it really worth your money!
What is SEMrush
SEO is getting complicated day after day, google is hardening it's algorithms and the only way to stay with pace is using an SEO tool. That's where SEMrush does its magic.
SEMrush is an All in One Seo tool suite that any blogger needs, it makes SEO easy and understanding.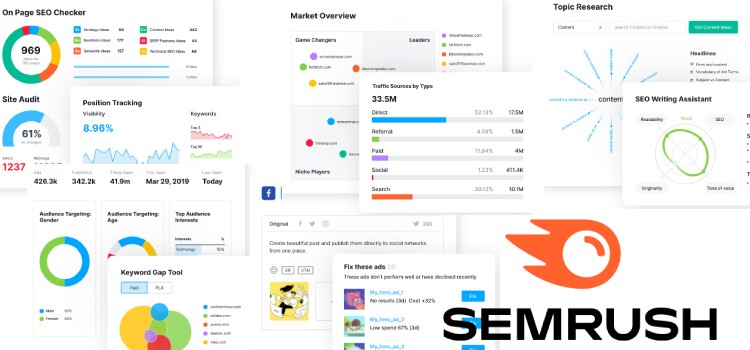 With the help of SEMrush, you can analyze your post or website- what it lacks and what you need to do to beat your Competitor in rankings.
It has a huge database that contains (as from SEMrush official website)
10 million users

142 geographic databases

21 billion keywords and upto 20 million ideas for a single keyword

808 million domain profiles

500TB of raw website traffic data for 190 countries and regions (1Billion events analyze per day)

41 trillion backlinks (25B URLs crawled per day)

277 million display ads

1 billion+ Google Ads
It also has a feature for google algorithms updates so no worries about it. Every time a core update comes this feature monitor and let you know the improvements you should make in your blog/website.
Isn't that great!.
But wait, it's just the tip of the iceberg. There are still many exciting features that will amaze you.
So, let's head towards SEMrush amazing features…
Expert's Review
SEMrush Review – All in 1 SEO Tool to Increase Website Traffic SEMrush Review: In this post, we are going to review SEMrush, it's features, SEO tools, and Users rating to find out, is it really worth your money! What is SEMrush SEO is getting complicated day after day, google is hardening it's algorithms and […]
Overall Valuable Features
8.6
Like, I said SEMrush is an all in one SEO suite of different tools/features.
Even though you don't need to use every tool for your success.
Your main objective here is to fulfil your SEO goal and track the results. And by finding, which tools or features help you to get towards your SEO goal will make work easier.
For better understanding, SEMrush divided its features into 4 sections. And I will also introduce the features in that term.
Project Tools
Site Audit: The most effective tool to improve your rankings in search engines.
with the help of the SEMrush site audit tool, you can scan your entire site including posts and then it will show all errors that your site facing
This tool will show the methods so you can correct those errors and improve.
And when your site is free of errors, it will automatically start to rank higher on Google.
After creating your site project, this tool sends your site audit status every month.
Organic Traffic Insights: Another great feature of SEMrush is organic traffic insights which let you know which keywords bringing traffic to your site and their rankings in google.
And even how much those keywords jumped up or went down.
All you have to do is connect your SEMrush account with your site's google analytics and search console and let this feature do it's magic.
Position Tracking: It's quite possible you created a fresh new site or already have an old one. And want to check your keywords rankings position on google.
Then this tool fulfils this job.
With Position Tracking, you can monitor article keywords in search engine positions for the anywhere national, region or even local.
That's not enough, you can also monitor your competitor's keyword and even compare their ranking positions with your keywords position in a side by side view.
It still has many features like discovering local Competitors, grouping keywords with tags and targeting different devices.
Post Tracking: well, this is another amazing tool from SEMrush that I personally like most.
It is really helpful when creating a guest posting strategy.
Sometimes it's most difficult to make a record of performance for every post that you publish on different sites.
That's where this tool comes into play.
Post tracking measures every post that you published outside of your blog, track their social shares, how many backlinks that post got and even how much referral traffic you are getting from that guest post.
Isn't that great, what else you can want from an SEO tool.
On-Page SEO checker: with the help of complete structured to-do list, this tool can improve the post's quality which determines the factors of top google rankings.
This tool also offers in-depth comparison data for Google's top 10 Competitors.
Such as,
Semantically-Related words

and phrases which you can use to enrich your content.

Backlinks and

additional referral traffic opportunities.

Content's Length

compared to your 10-top ranking rivals.

Keyword Usage

for your post compared to ranking Competitors
Brand Monitor: With the Brand Monitoring tool you can easily monitor your or your Competitor's brand mention.
Not just brand mentions but referral traffic, mention sentiment, reach even PR effectiveness.
Content Audit: This tool conducts an audit on your site pages to check their quality and which one needs improvements to stay ranked high in SERP.
A content audit can analyze upto 20,000 pages of your site at once and can show you all the Content that needs updation.
Backlink Audit Tool: Analyzing site's backlinks is also an important task.
By analyzing backlinks you can find toxic and spam links that are harming your site and then disavow them. Otherwise, Google can penalize your site.
But checking your backlinks and finding toxic links regularly can be a hard task. Hopefully, there is also a tool in SEMrush for this "Backlink Audit".
This will automatically Analyze your backlinks on a regular basis once you add your site as a project on the SEMrush account.
Then whenever it finds a spammy or toxic backlink it will inform you.
And then you disavow them from the search console.
That way your site will be clean always.
Link Building Tool: Link building was never so easy after using this revolutionary tool from SEMrush.
With the help of link building tools, you can strategize outreach campaigns and find new opportunities for creating backlinks from scratch.
This tool also keeps records for campaigns and how many outreaches actually turned into a backlink.
With this single tool, you can find new opportunities for link building, get contact information for those sites, manage them, turn those opportunities into backlinks and monitor your campaign process.
By just this single tool, isn't this awesome!
That's why I said, making backlinks was never so easy before this tool.
Social Media Poster & Tracker Tool: SEMrush also offers a tool for social media marketers.
Where you can publish posts for different social media, schedule them and analyze stats.
Also track your Competitors, their followers, posts engagements, hashtags and which posts get the most engagements.
SEMrush's social media tool even helps in managing Facebook ads.
Quickly finds what is lacking in your ads and will show you the ways to Optimize campaigns and ad spending.
Ad Builder: SEMrush is also a great tool when it comes to Google Ads.
Their ad builder tool helps to you find out ideas for your ad creatives and use them as a template,
Research what your competitors are doing and how other advertisers promote products and services in the same niches.
It also helps to create responsive HTML ads for display ad campaigns.
PPC Keyword Tool: Most amazing tool of SEMrush for paid ads.
PPC tool helps to select the keywords based on CPC, volume and other important metrics.
With this, you can build the best performing Keywords list, Optimize them and even can set negative keywords.
Learn more about SEMrush's PPC tool here
---
Common Tools
Traffic Jet: A premium paid way to get traffic from different sources with the help of traffic Jet. Best tool for boosting traffic in just few clicks.
Keyword Magic Tool: Best tool in the market to get millions of keyword suggestions in few clicks.
All you need to just enter the seed keywords that you want to rank for, choose the country where you want to rank and let the keyword magic tool do its work.
In just a few seconds, you will get all keyword suggestions lists related to seed Keyword.
You can even check metrics for a better understanding of keywords.
Like,
Search Volume
Trend
CPC (cost per click)
Click potential (the % of clicks it get if ranked under the top 20)
Keyword Difficulty
Top Competitors
Keyword Difficulty: A metric to determine the difficulty of a particular keyword by SEMrush.
Domain vs Domain: Side by side comparison between domains to analyze their data with charts and visualization.
Charts: The best way to analyze your site's data, campaigns, PPC to Competitors with the help of charts. Easy to understand and illustrate
My Report Tool: Organize and See all your or your customer's site data in one place. Even export as PDF.
CPC Map: An amazing feature to check CPC with the volume of particular keywords in different countries or regions.
SEO Writing Assistant: Truly revolutionary tool to help writers to create a good piece of content that is highly SEO Optimized and makes readers happy.
With the help of this amazing tool, you can Optimize content for user intent as well as search engines.
It has also a plagiarism checker in it, so every time you use this tool will create unique content.
And the best part of this tool, you can use it outside of SEMrush on multiple famous platforms like Google docs and WordPress as plugin integration.
Topic Research Tool: The best way to find fresh new topic ideas which is engaging to your audience.
This tool allows you to find the most popular topics, most engaging headlines, popular Questions that people are asking related to your niche and help to do content gap Analysis means making a content creation plan.
Listing Management Tool: Amazing tool to boost your local SEO strategy via business listings.
Oppty: With the help of SEMrush big database, this tool helps to generate leads for marketing agencies and freelancers.
You can find lead opportunities based on location, trends and business niche.
Log File Analyzer: This tool provides almost accurate information which helps to understand how search engines interact and crawl sites.
---
Analytic Tools
Domain Overview: Check a domain's all reports in one place.
This tool is a set of reports that helps to get a quick review on a domain's Keywords, backlinks, authority, traffic, ranking positions and top competitors.
Everything at one place.
Sweet!
Market Explorer: Using this tool you can get much important information about any market or niche that you want to enter.
Like,
Leaders in the market, established players, game changers and big niche players.

Their annual growth rates

Cost to enter this market and the chances to succeed in this market/niche.
Traffic Analytics: Analyze the sources from where your or your Competitors site getting traffic.
Check top traffic generating pages Country-wise, is it coming from mobile or desktop users and find more about traffic.
Organic Research: Find Out which Keywords rank top 100 in google and drive the most traffic to your site.
Check the Competitors who are also ranking on the same keywords.
I can assure you, this is the best tool when it comes to knowing about Competitor's organic traffic Analysis.
Backlink Gap Analysis: As a beginner find new backlinks opportunities related to your niche just in few clicks.
Analyze upto 5 Competitors to check out their backlinks for finding new link building prospects.
Perform deep link Analysis, check any backlink profile and based on referring domains measure a domain's power.
With the help of the backlink Analysis tool, you can filter backlinks as their types and spot the link based on geolocation.
This tool makes your link building process so easy that you never imagined.
Advertising Research: With the help of SEMrush, you not only can organic research but also advertise the research of your competitors.
All this happens due to the massive SEMrush database.
This tool uncovers competitors' paid search strategy and helps you to analyze their ad budget and keywords, Copy ad pages and avoid their PPC mistakes.
Display Advertising Tool: Market's best tool to monitor and analyze competitor's display ads strategies.
Not even just monitoring, the SEMrush database also helps to target the right audience with audience insights. So, you can get the best performance out of your GDN campaigns.
Product Listing Ads (PLA) Research: Here comes my tool in advertising, Product Listing Ads.
As an e-commerce marketer, it is very beneficial for me to monitor and Analyze Competitor's google shopping ads. So I can stay ahead of the pace and get the best results.
With the help of this tool, you can too (as an e-com owner/marketer Analyze Competitor's PLA, find top advertisers in google shopping in your niche, view top keywords that are triggering sales.
---
Solution Providing Tools
Keyword Research Toolkit: An amazing step by step keyword research tool, where you can master list of keywords and filter them according to your desire.
It works similarly like the keyword magic tool.
You can know more about Keyword Research Toolkit here
Content Marketing: with the help of this SEMrush Content Platform, you can boost your content marketing campaigns.
This tool helps you in,
Finding topics

Creating content plan

Get a template for SEO friendly content writing

Optimizing the Content

Analyzing mentions

Measuring your content engagements

And if you have any errors then help to improve it.
Social Media Marketing: SEMrush also offers an all in one social media tool for marketers.
In which you can publish and schedule posts for cross social media platforms.
Even Analyze your Competitor's posts, copy their hashtags and which posts get the most engagement.
Monetize Your Audience: SEMrush even makes your monetization work easier with this toolkit.
A powerful and effective combination of tools for bloggers, affiliate marketers and Adsense publishers.
With this tool, you can,
Find a most profitable niche with CPC mao
Increase your organic traffic via an On-page SEO checker
Create good content with SEO writing assistant
Analyze Competitor's blog
---
SEMrush User Ratings on Various Sites

These are famous software/reviewing sites, where users left their unbiased reviews,
GetApp- 4.62 out of 5 (910 reviews)
G2- 4.5 out of 5 (746 reviews)
Trustpilot- 4 out of 5 (90 reviews)
Capterra- 4.6 out of 5 (900+ reviews)
Trustradius- 8.6 out of 10 (271 reviews)
Thank you for reading this post, don't forget to share with more people like you!
| | |
| --- | --- |
| SEO Audit/Reporting | ✔️ |
| Technical/On-Site SEO | ✔️ |
| Local SEO | ✔️ |
| SEO Change Tracking | ✔️ |
| SEO Management | ✔️ |
| SERP Tracking | ✔️ |
| Keyword Research | ✔️ |
| Competitor Analysis | ✔️ |
| Backlink Analysis | ✔️ |
| Link Building | ✔️ |
| PPC Research | ✔️ |
| Content Audit | ✔️ |
| Content Insight | ✔️ |
| Content Marketing | ✔️ |
| Data Visualization | ✔️ |
| Custom Reports | ✔️ |
| White Labeling | ✔️ |
| Traffic Insights | ✔️ |
| Social Media Assistant | ✔️, Post & Track |
| Writing Assistant | ✔️, Google Doc, Wordpress |