LifeTime Deal
Sociamonials
Sociamonials Review [Lifetime Deal]
Sociamonials Review: This post going to be a detailed review of Sociomonials lifetime deal. In which we will talk about it's features, using benefits, Pricing, Pros and Cons.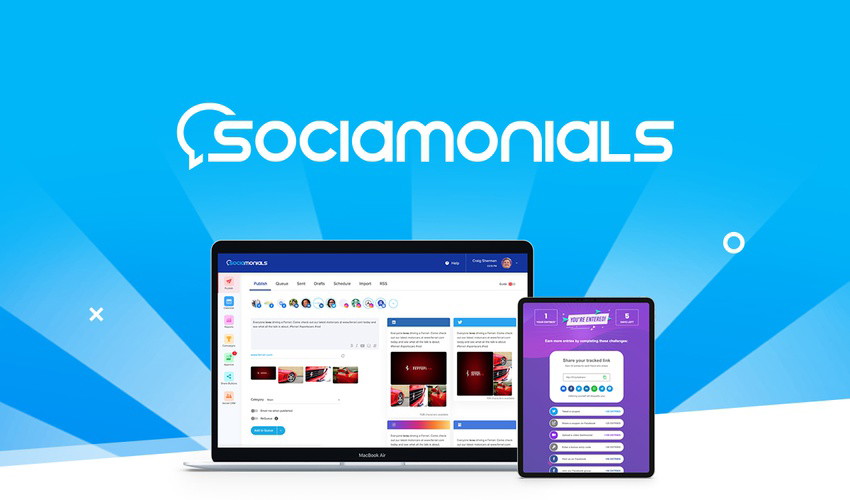 What is Sociamonials?
Sociamonials is an A.i social media assistant and management tool, which let users manage or create, publish and schedule the posts on all major social media platforms from a single dashboard. And show published post results on all in 1 analytical section.
Plus with the Sociamonials viral marketing features, users can also launch contests and giveaway campaigns without any extra effort.
Sociamonials helps you optimize your campaigns and increase your ROI with soical media automated posting, viral giveaways, and advanced metrics.
---
Highlights (TL;DR):
Schedule social posts with automatic reposts optimized for revenue
Integrate user-generated content, launch engaging contests and sweepstakes, and track your influencers and social media metrics
Best for: Best for: Small businesses, content creators, Social media agencies and digital marketers looking for a real ROI on their efforts with easy-to-build campaigns
Special Extra Discount: [Use a new appsumo account to get a 10% extra discount]
---
Sociamonials Features: Overview

▪️ Social Publishing
Scoiamonials created a simple and powerful all in 1 dashboard to manage your Facebook, Instagram, Youtube, Linkedin, Twitter, Pinterest, Tiktok and Google Business social media accounts from a single dashboard.
Within the publishing dashboard, users can,
Create or schedule posts
Preview them before posting (how they will look on Facebook, Instagram or LinkedIn)
Publish the post on all platforms in 1 click
Mark them for Autoposting with scheduling
The best thing about sociamonials publishing dashboard, it also lets you Customize the post for each network in the editor, isn't that amazing!
What makes the sociamonials extra special is its "optimal post time" features. This means whether you want the best time to increase sign-ups, registrations, sales, or leads Just use this feature and let Sociamonials automatically pick the best times to post for each network based on the business metrics you set.
And because it supports adding multiple team members with permission, Admin has full control of team members content quality before approving the publishing.
▪️ Content Calendar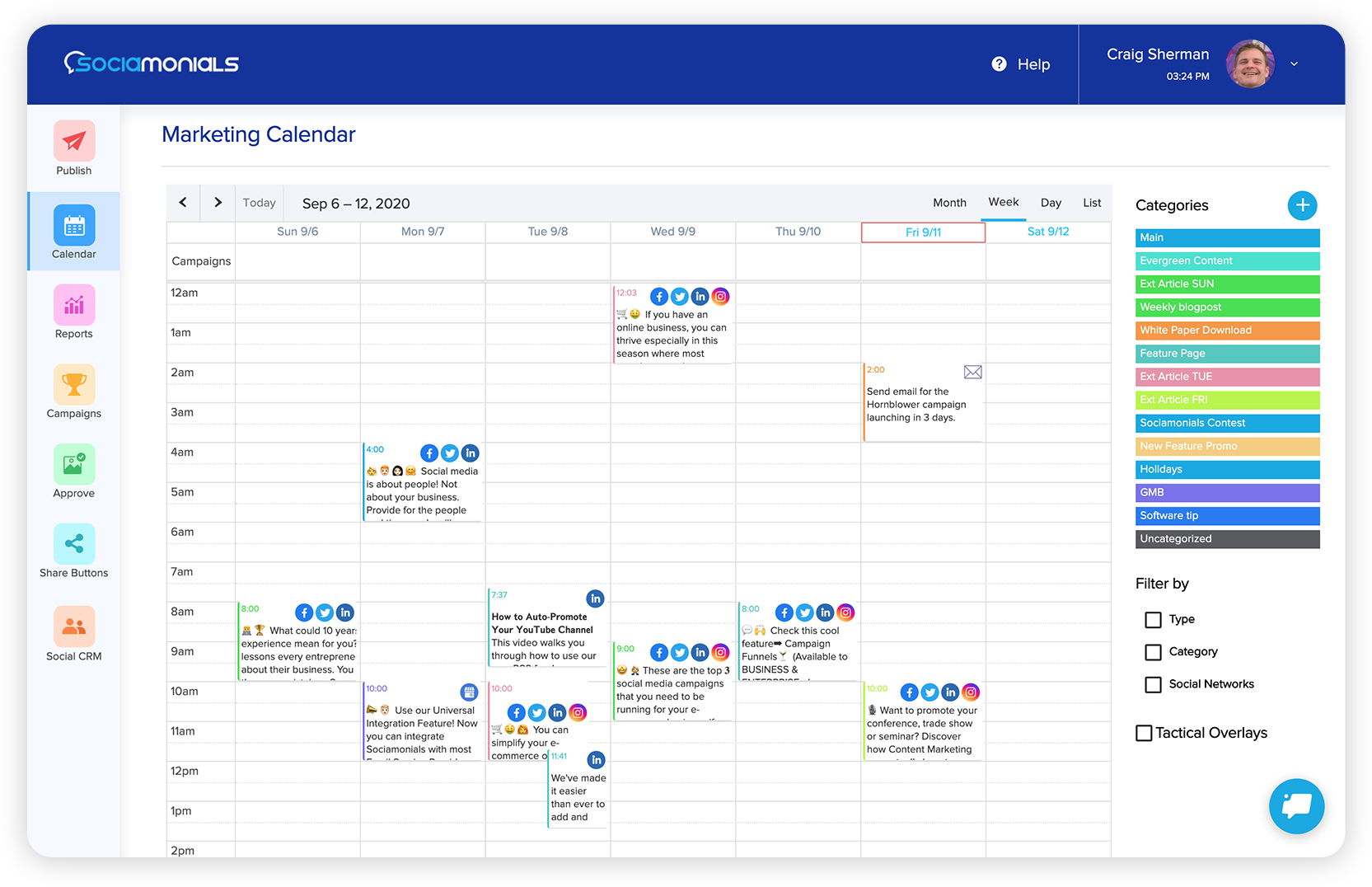 Planning content is never easy but Sociamonials make it easier than ever before with the visual content calendar.
From the calendar dashboard, users can view previously posted content & future scheduled posts, which platforms are selected for publishing and tons of more stats.
And to make the reporting easier to understand, you can also use coloured categories, for example, green for blog posts, red for promotional posts, and yellow for inspirational posts.
Using Sociamonial's Calendar Planner feature, you can view and visually plan content for various or some special days ahead of time.
▪️ Viral Social Media Campaigns
Sociamonials offers most easiest way to get your brand out there by launching contests as big as Wonkas and sweeping contests that help get your brand across.
Along with Sociamonials one-click content publishing & visual calendar, pre-designed viral social medial campaigns are it's core features which makes the sociamonials most unique compared to it's competitors such as Postly, Feedhive or Hootsuite.
There are tons of various use social campaigns available, pre-designed to go viral and ready to use.
By launching these campaigns on social media, you can encourage your audience for different things like,
Testimonial Campaigns – It will help you to get the testimonials (reviews) for your brand, service or product.
Customer Stories – Gather customer stories or case studies for your product/service
Employee Advocacy – Launch a campaign for your company employees or team members
Referral Marketing Campaigns – With this you can do referral marketing
Share a Deal, Get a Deal – You might have seen many times something like this, share this with 10 people and get a 100% discount. You can do that with this type of campaign.
Weekly/Monthly Giveaways – Run giveaways weekly or monthly basis with this
Photo/Video Contests – You can also launch contests for video or photo posts
Post Contest – With these types of you can launch post contests
Video/Photo Sharing Campaigns – You can even start a sharing campaign
Lead Generation Campaigns – Gather emails, sign-ups or phone numbers with lead generation campaigns
The most amazing part about lead generation campaigns, sociamonials let it's users to integrate with many popular email marketing tools like Mailchimp, Aweber, Sendfox, Convertkit and many more.
This means as soon as you get the lead, they will automatically be added to your list for email marketing (no need to manually add them one by one).
Sociamonials automatically detect fraud and prevents spam submissions.
Participants can submit entries quickly via mobile devices. Social media users can share your campaign with friends or fans, and you'll even have access to their user data for more outreach opportunities.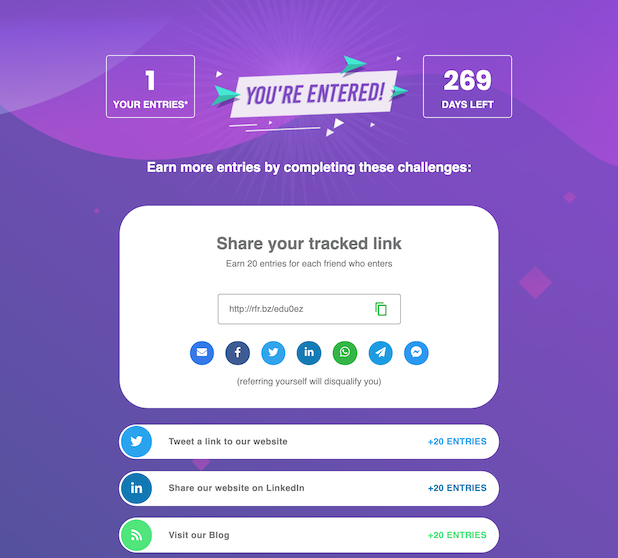 There are several options available when creating a contest, including white-label, branded entry forms, and custom page layouts.
Your contest is optimized for Facebook, Twitter, Instagram, YouTube, and Pinterest. With Sociamonials, you can easily create winning contests without any coding experience.
▪️ Syndicate User Generated Content
What if you can use your audience's video/image testimonials on your website as a trust factor for others on automation, well that's possible with Socialmonials UGC syndication.
Sociamonials allows you to make your users create videos that get posted on various social media platforms such as Facebook, Twitter, YouTube, etc. You can also post their reviews or pictures on any platform. Isn't that crazy.
And this is not available in any other social media marketing tool except Sociamonials.
▪️ Share Button
Apart from all these, sociamonials also have a feature which is called "Share button", and like the name suggests it lets you add sharing buttons with the social counter on your website, email & any other platform.
If you don't know Social counter encourages people to take action.
And You can even customize these buttons, as your desire.
▪️ Reports & Analytics
SociaMonials offers powerful social media analytics tools that let you see how people interact with your brand across multiple social platforms.
You'll be able to see exactly which social media channels drive the most interactions and traffic, as well as which ones lead to conversions or sales. With easy to use dashboards and reporting capabilities, you'll be able to monitor your campaigns easily.
▪️ Team Collaboration
You can Invite Clients or Team members to the Workspace by a simple email request, that's all No sign up required.
And the best thing here, Role base approval.
Suppose you added a team member whose work is creating the post and publishing it, so you can add approval here.
So until you will not approve the post, it will not be published. It makes things more swiftly, especially if there are interns.
All the mentioned features are very easy to use and come with an amazing user-friendly interface. So, don't waste time just reading the feature and try them now without any risk.

Special Extra Discount: [Use a new appsumo account to get a 10% extra discount]
---
Social Media Platforms Integration available on Sociamonials

Users can connect multiple social medial accounts at once with sociamonials,
Facebook
Instagram
Twitter
LinkedIn
YouTube
Pinterest
TikTok
Google My Business
RSS Feeds
---
Sociamonials Lifetime Deal Pricing

Sociamonials is currently on Appsumo Lifetime Deal, starting from $69 one time payment which offers,
Lifetime access to Postly
All future updates
Unlimited scheduling
Multiple Team Members
No Sociamonials branding (work like agency)
Publishing approval workflow
Detailed user permissions
Android & iOS mobile app
Unlimited landing pages, pop-ups, and sticky-tab widgets
Photo, video, and essay contests
Video testimonials, product reviews, and customer stories
Custom submission forms
Premium integrations
1 million+ stock photos
Advanced analytics
60 Days Money Back
And there is also 60 days money-back guarantee for every plan, which means if somehow you are not happy with Postly (which is not going to happen), you can return it under 60 days of purchase and full money will be back without asking any question.
So why are you hesitating!
Needs Attention: Most deals are out of stock within a week of coming to a lifetime deal offer. So take it now if you need it or don't want to miss it.

---
GET Additional 10% OFF on Sociamonials Lifetime Deal

Want an extra 10% discount on Soicamonials Appsumo Lifetime Deal, Just follow these steps below,
Wait for few seconds, until a discount pop up appears
Enter your Email address
Check your inbox, you will get an extra 10% discount
NOTE: This is only for your First-order or New Appsumo Users.

Thank you for reading this post, don't forget to share with more people like you!
Specification:
Sociamonials
PLATFORM
CUSTOMER SUPPORT
| | |
| --- | --- |
| 24/7 Live Support | ❌ |
| Email/Help Desk | ✔️ |
| Online Chat | ❌ |
| Phone Support | ❌ |
INTEGRATION
| | |
| --- | --- |
| Integration Available | All major media platforms, Popular email marketing platforms |
ALTERNATIVE
| | |
| --- | --- |
| Best Alternative to | Feedhive, Hootsuite, Buffer |
Pop Up Tool Features
| | |
| --- | --- |
| Analytics Dashboard | ✔️ |
| Prebuilt Templates | ✔️ |
PLAN
| | |
| --- | --- |
| Free Trial | ✔️, 14 Days Trial |
BEST FOR
| | |
| --- | --- |
| Suitable for | Agencies, Bloggers, Startups, Marketers, Social media experts |
FEATURES
| | |
| --- | --- |
| Copywriting | ❌ |
| Scheduling | ✔️, With Calendar |
| Social Media Management | ✔️ |
Social Media Tool Features
| | |
| --- | --- |
| Multiple User | ✔️ |
| Post Creation | ✔️ |
| A.i | ❌ |
| AI Generated Ad Copy | ❌ |
| Api | ✔️ |
| Ecommerce | ❌ |
| eCommerce Integration | ❌ |
Giveaway/Contest Campaigns
8.5
PROS:
Easy to use UI
Best for Small businesses, content creators, and digital agencies
Manage up to 30 social media accounts in 1 workspace
Create, publish or schedule posts on Visual Calendar
Tiktok & Google My Business also supported
Email Marketing integration available
CONS:
No A.i for copywriting (as for now)
😍 Try World's Best Ai Writer for Free!
🔥FREE 80+ Widgets, Make your Site Stand!