LifeTime Deal
Wordplay.ai review
Wordplay.ai Review & Lifetime Deal
Wordplay.ai review: In this post we are going to review Wordplay a.i content writing tool and talk about it's features, using benefits, lifetime deal and why it's better compared to other a.i writers.
What is Wordplay.ai?
There are many ways to create a post or article. You can use your time to write by yourself. Or you can hire someone to do it for you. But this is very difficult and expensive.
But what if there's a tool that can generate an entire long-form article/post in matter of few minutes using it's A.i.
Then let me introduce, Wordplay.ai – Long form A.i content writer
Wordplay A.I writing tool allows you to create full-length 1,500+ word articles from a single keyword in just 1 click, no complicated process, no text selecting and no multiple clicks. All it takes your topic keyword and 1 click.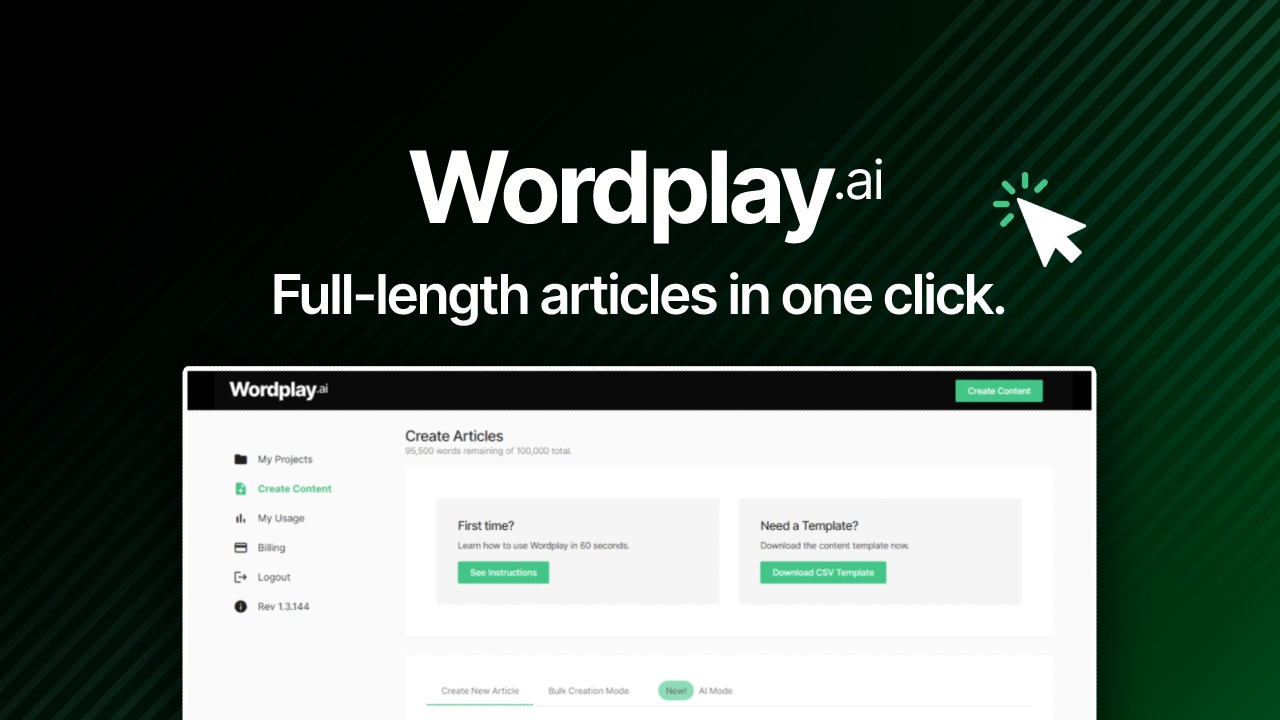 Plus, wordplay also lets you add subheadings for more control over the content relevancy that you want from A.i while generating the article. And this thing is only available in Wordplay.
Highlights (TL;DR):
Create full-length 1,500+ word articles from a single keyword in just 1 click.
Add subheading to more control over A.i.
Best for: Content Writers, Bloggers, Freelancers, SEO experts, and Copywriters.
---
WordPlay Features: Overview

▪️ U.i & Ease of Use
This platform U.i has a pretty much clear interface, with all the features and options available in the left side menu.
Dashboard starts with "My projects", where you can see all of your generated content with words length and time at content generated.
And as for the A.i Writer, Wordplay has the simplest yet most effective A.i writer that I've ever used.
To start generating the content users can click either on "Create Content" menu option, or green button available on upper right side.
Other many features show the insights as their name suggests, such as,
My Usage – It shows the words credit remaining for your account with credit used
Add Ons – From here you can download the WordPress plugin to integrate your WordPress, so that generated content can be directly imported into the WP site.
Billing – This section shows your account details.
Now let's talk about it's A.i writer.
▪️ A.i Writer – Create Long-Form Blog Posts or Articles in 1 Click
After you click on the 'Create Content' button, Here you can see options to start generating the content.
Create New Article
Bulk Creation Mode
A.i Mode
#1. Create New Article
It asks for the Keyword/Topic title which around you want A.i to generate the content.
Where other a.i writers also ask for keyword/topic little information, Wordplay only needs a single keyword or topic.
And for more control over the content and it's quality, wordplay.ai also asks for subheadings that you want A.i to write about. With the word length increase, users can add more subheadings.
Based on the word length, A.i take 5-15 minutes to generate the content.
#2. Bulk Creation Mode
With this a.i section, you can generate content in bulk. And to do that it asks to import a CSV file with Topic titles.
#3. A.i Mode
This is the new mode that wordplay developers just added, and it's basically a much more easier to use mode. Where A.i asks for to select the word count wheater it's short-form content of 500 words, medium 750 words or a long-form content of 1500 words.
Once you selected the content type based on word length, then it asks for the Topic title and project details.
Whether you choose, any of these modes, wordplay generates a good quality content.
Here's an example,
▪️ Quality of A.i Generated Content
Wordplay solely focuses on generating quality content.
After trying few times, I'm really amazed by the quality of this tool, every time it's a.i generate relevant content related to my topic keyword and subheadings.
watch this video to know more quality of generates content.
▪️ Import Generated Content Using WordPress Plugin
Wordplay also offers a built-in plugin for WordPress sites. All you have to download the plugin in your WP site and authenticate with your login credentials.
After that, you can directly import the Wordplay generated content into your WordPress site.
---
Benefits of using Wordplay

Generate high-quality long-form articles in 1 click (first and only long from a.i writer)
Most simple user interface
Add subheadings that you want A.i to cover in the article (not available in any other a.i writer)
Export content in any format Text or Html
WordPress plugin to import generated articles directly on your website
---
Wordplay Lifetime Deal: Includes

Lifetime access to Wordplay
All future Plan updates
Long-form a.i writer
Generate 1,500+ word articles from one keyword
Optionally add subheadings for more control
Import your AI content directly into WordPress with the Wordplay Plugin
And there is also 60-day money-back guarantee for every plan, which means if somehow you are not happy with Wordplay (which is not going to happen), you can return it under 60 days of purchase and full money will be back without asking any question.
So why are you hesitating!
Needs Attention: Most deals are out of stock within a week of coming to a lifetime deal offer. So take it now if you need it or don't want to miss it.

---
Wordplay: Video review (Watch me generate a full-length article in 1 click)
Thank you for reading this post, don't forget to share with more people like you!
Specification:
Wordplay.ai review
PLATFORM
CUSTOMER SUPPORT
| | |
| --- | --- |
| 24/7 Live Support | ❌ |
| Email/Help Desk | ✔️ |
| Online Chat | ✔️ |
ALTERNATIVE
| | |
| --- | --- |
| Best Alternative to | Jarvis, Scalenut |
WRITING FEATURES
| | |
| --- | --- |
| Content Generation | ✔️ |
| Grammar Check | ✔️ |
| Idea Recommendation | ❌ |
| Plagiarism Check | No inbuilt Plagirism checker, ❌ |
| Sentence Formatting | ✔️ |
PLAN
BEST FOR
| | |
| --- | --- |
| Suitable for | Startups, Enterprises, Marketing Agencies, Bloggers, Content Writers, Copywriters, SEO experts, Social Media influencers |
FEATURES
| | |
| --- | --- |
| Copywriting | ❌ |
| A.I/Machine Learning | ✔️ |
| Import/Export | ✔️, Export available |
| Content Management | ✔️ |
PROS:
Wordplay is the most simple A.i writer I've ever used
It is the first and only long-form a.i writer
Users can also add subheadings to have more control over A.i
Bulk creation mode available
Wordpress plugin to import content directly on your website
CONS:
No inbuilt plagiarism checker, hope we see that in future
😍 Try World's Best Ai Writer for Free!
🔥FREE 80+ Widgets, Make your Site Stand!