Are you searching for best Appsumo lifetime deals for your business growth? In this post, I have listed out top trending 10 best AppSumo deals in February 2023. You can get these best appsumo deals on WordPress plugins, Search Engine Optimization (SEO), Ai writing tools and
Also, you'll find the best deals on Productivity, Analytics, Customer Relationship Management (CRM) and Productivity.
Every month AppSumo launches the latest and very valuable tools for digital marketers, startup owners and entrepreneurs to improve their business.
This month too, they have released some amazing new deals you cannot find anywhere else like Texta.ai, Balloonary, Dinorank, and many more Saas lifetime deals.
Before we head down to the best appsumo deals, it's really important you should know about Appsumo, if you never heard of this platform.
Already familiar with Appsumo, click here to skip this part and jump straight down to this month's best tools.
What is Appsumo?
AppSumo is a website that offers lifetime deals (one-time purchases) on software/saas tools for entrepreneurs, small businesses, and freelancers. They offer discounts of up to 98% off, so you can get the tools you need to grow your business without breaking the bank.
In most simple words, you will get the product for a lifetime without paying full price.
In addition, AppSumo also offers a variety of other perks for entrepreneurs. For example, they have a referral program that allows you to earn credits towards future purchases, and they offer a 60-day money-back guarantee on all of their products.
if somehow you are not happy with the purchase, you can return it within 60 days of purchase and the full money will be back without asking any questions. No risk is involved.
So what are you waiting for? If you're looking for the best deals to grow your business, then head on over to AppSumo and check out their latest lifetime deals.
Best Appsumo Lifetime Listed (February 2023)
Saas Deal
Type
Alternative to
Price
Deal
Link
A.i AD Management Tool
Create A.i driven Ad Campaigns

Balloonary, Scalify

$59.00
Lifetime Deal
Link Activated


Get 91% OFF

GET
A.i Writing Tool


Create high-quality Short as well as Long-form content

Jasper, Writecream
$69.00
Lifetime Deal
Link Activated


Get 96% OFF

GET

A.I Social Media Assistant


Social Media Management Tool
Postly
$59.00
Lifetime Deal
Link Activated


Get 95% OFF

GET
Wordpress Plugin


Best Affiliate Marketing Tool for Wordpress



$49.00
Lifetime Deal
Link Activated


Get 97% OFF

GET

Sales Funnel Builder


Build sales funnels and pages even from phone
Leadpress, Unbounce
$79.00
Lifetime Deal
Link Activated


Get 95% OFF

GET
Cache Plugin


Improve website google ranking by making it faster

Wp Rocket
$59.00
Lifetime Deal
Link Activated


Get 97% OFF

GET
A.i AD Management Tool
Create A.i driven Ad Campaigns
Crigloo, Scalify
$69.00
Lifetime Deal
Link Activated


Get 93% OFF

GET
Please Note:
– We list new deals everymonth, so make sure to bookmark this website page to stay updated with best tools & deals.

– Most deals are out of stock within a week of coming to a lifetime deal offer. So take it now if you need it or don't want to miss it. 
11 Popular Appsumo Lifetime Deals in February 2023
1. Texta.ai – Ai writing tool
Texta.ai is an Artificial intelligence writing tool which lets you create SEO-optimized blog posts, Emails, Product descriptions, Ad copy and much more content types within a few minutes.
It has more than 50+ ai assistants available for creating different content types.
Key Features & Benefits:
Texta ai has 50+ (increasing every month) ai writers available for creating different types of content such as blog posts, digital ads, social media content, emails and more
Long-form content- The editor section lets you generate all types of content in a single editing panel like Google Docs or wordpress posts.
Unlimited words content generation, unlike most ai writers creaitor.ai has no limit on content generation.
Texta AI also provides free Grammarly integration to remove all grammar, punctuation and typing mistakes from your content.
Multi-Language Support- More than 25 languages are available to generate content.
Best For: Bloggers, social media experts, e-commerce shops, content writers and anyone looking for a powerful AI tool to assist in writing.
Alternative to: Jasper, Rytr
Regular Price: $696.00/year
AppSumo Lifetime Deal Price: $69.00/one-time payment
---
2. Optinly – No code pop-up builder
Optinly lets you easily create goal-based web page popups with specific triggers. You can use these attention grabbing pop-ups to engage visitors, cpature email or leads and grow customer base.
There are 6 pop-up types that you create from scratch using drag n drop builder or simply choose from 30+ prebuilt templates or create from scratch using drag n drop builder.
And the prebuilt templates are fully customizable, you can change the font, colour, add images, animations, links, and much more to get the pop-up in tip-top shape, right from Optinly.

Pop-up Types, which you can create with Optinly.
Exit intent pop up- Create Exit Intent Popups to stop visitors from abandoning your website.
Floating sidebar- Display completely non-obtrusive popups on your webpage
Gamification pop up (spin the wheel)- Engage users and drive more conversions using Gamification popups.
Notification pop up- Notification popups are perfect when you want to grab the instant attention of visitors.
Fullscreen overlays- Fullscreen Overlays are best when you want your visitors to know about new product launches, exclusive discounts & More.
Time Delay pop up- 8 out of 10 websites that used timed delay popups found it to be effective.
Key Features & Benefits:
Grab Visitor's Attention- Show visitors what they need – at the right time and at the right place.
Increase Conversion Rate- Make visitors take desired actions and achieve your business goals.
Collect Feedback- Know what website visitors think about your brand & your store.
Promote Special Discounts- Run discount campaigns using pre-built popup templates.
Conduct Surveys- Make wise decisions for your store's growth by conducting online surveys.
Grow Your Email List- Capture more visitors and grow your email list by displaying popups.
Increase Cart Value- Double your store's revenue by offering them tailored & personalized discounts.
Earn Customer Referrals- Grow your brand value by increasing WOM and customer referrals.
Best for: Ecommerce stores and digital marketers wanting to capture user attention with highly effective pop-ups
Alternative to: OptinMonster, WisePops, and Poptin
Regular price: $300/year for 1 site
Appsumo Lifetime Deal: $59/one-time payment for 5 sites
---
3. Radaar – Social media management tool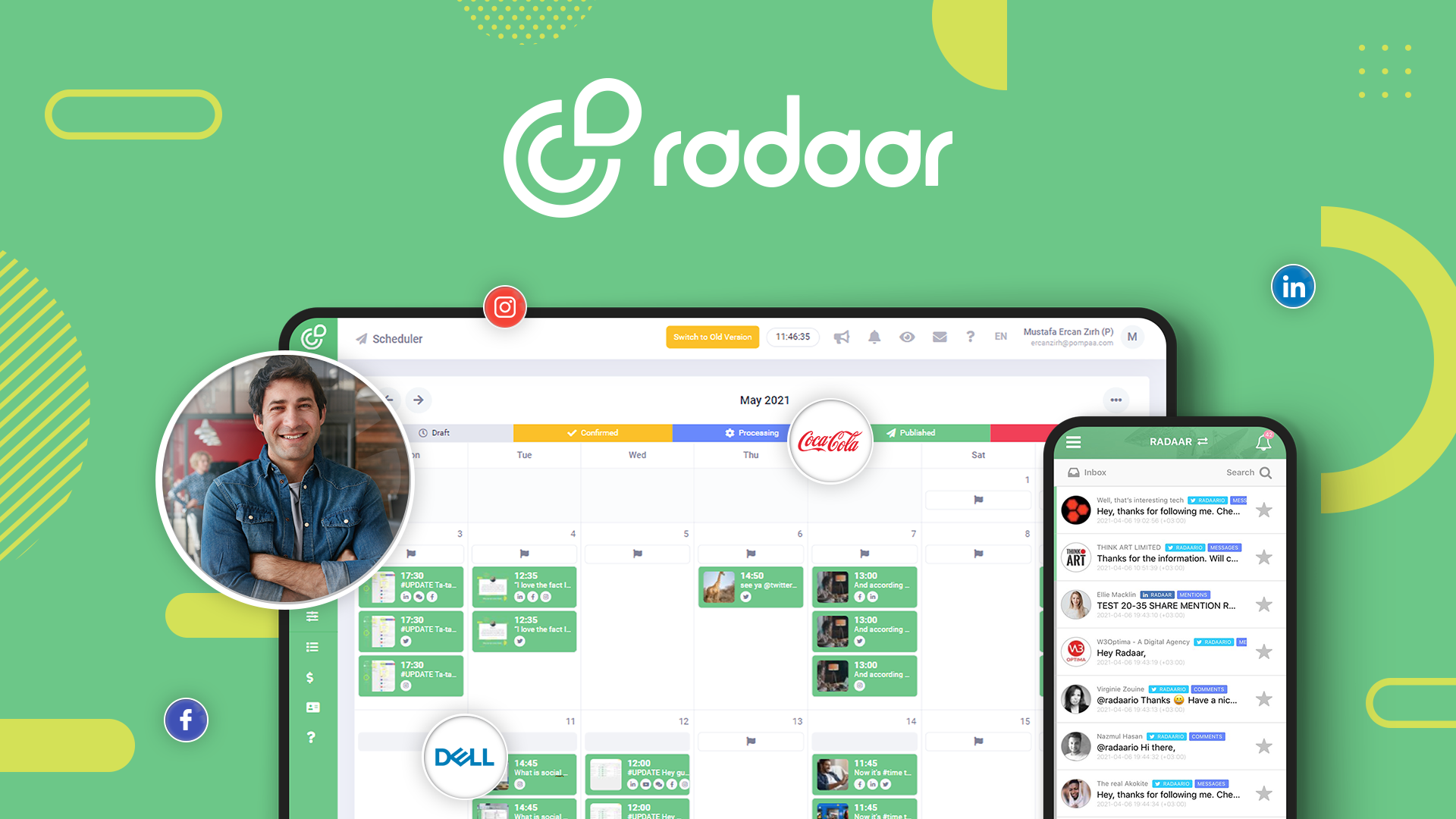 Radaar is a social media assistant and management tool, which let users manage or create, publish and schedule posts on all major social media platforms from a single dashboard. And show published post results on all in 1 analytical reports section.
Plus to make the social media game easier to win, this tool also has many other amazing features such as
Inbox – All in one inbox to manage all social platforms messages and conversations in a single inbox.
Hashtag Manager – Find, research, and manage all your brand hashtags.
URL Shortener – Can you believe there's also an inbuilt shortener like Rebranding or Switchy (it feels like a charm).
Monitor – With this your monitor your social media competitors or your any other query using keywords.
Quick Replies – Create replies that auto-send to start the conversation with the audience this will improve your response time.
And many more other features
Key Features & Benefits:
Radaar support all major social platforms integration & connectivity such as Facebook, Instagram, telegram, Pinterest, youtube, whatsapp, google, TikTok, Twitter and more.
Along with social scheduling, Users can also schedule IG reels & Youtube shorts.
Using Radaar's Calendar feature, you can view and visually plan content for various or some special days ahead of time.
There's another special feature "Monitoring", which lets you add keywords, topics or competitors always to monitor related content
Best for: Small businesses, content creators, Social media agencies and digital marketers looking for a real ROI on their efforts with easy-to-build campaigns
Alternative to: Hootsuite, Feedhive
Regular price: $720/year
Appsumo lifetime deal: $59/one-time payment
---
4. Linguix – Best Grammarly alternative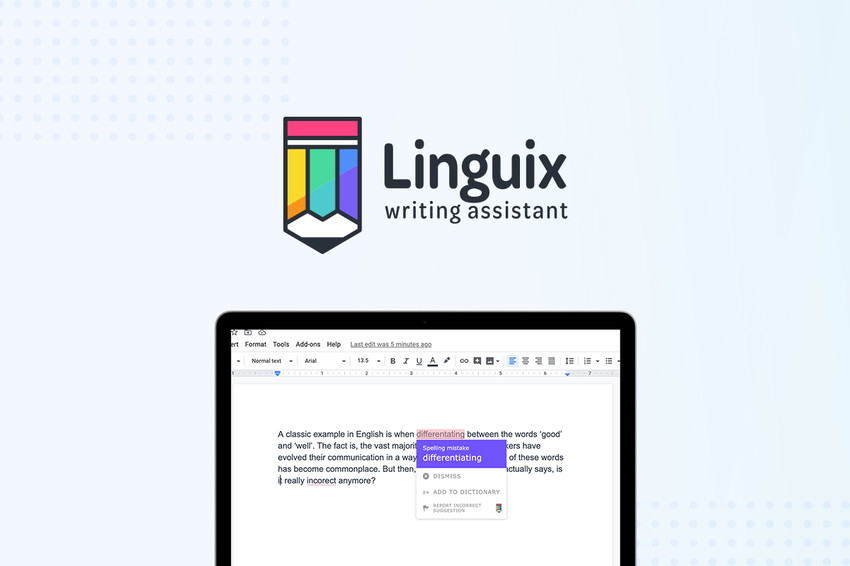 Linguix is a writing assistant that uses artificial intelligence to identify errors in your writing. It's really easy to use – all you have to do is paste your text into the Linguix editor and it will highlight any errors for you.
What I really like about Linguix is that it goes beyond just correcting grammar mistakes. It also offers suggestions on how to improve your writing style and make your text more readable.
For example, if you use a lot of passive voice in your writing, Linguix will suggest ways to rephrase your sentences to make them more active.
I think one of the best things about Linguix is that it's available as a free browser extension. So you can use it anywhere, anytime – whether you're writing an email, a blog post, or even a tweet.
If you're looking for a way to improve your writing skills, I highly recommend giving Linguix a try.
Key Features & Benefits:
Allows users to instantly find and eliminate grammatical errors, spelling mistakes, and typos while writing.
Linguix is an excellent online grammar checker tool, which makes it a terrific alternative to Grammarly!
Instantly replace difficult words or phrases with ones that are easier to understand. Get contextual suggestions as you type.
Linguix integrates with the leading productivity apps, including Google Docs, Slack, Frase and Asana, so you can write anywhere, anytime.
Best for: Marketers, content creators, and sales teams that depend on high-quality, error-free communication
Alternative to: Grammarly and Wordtune
Regular price: $179/year for 1 user
Lifetime deal: $59/one-time payment for 3 users
---
5. Cheat Layer- Workflow automation tool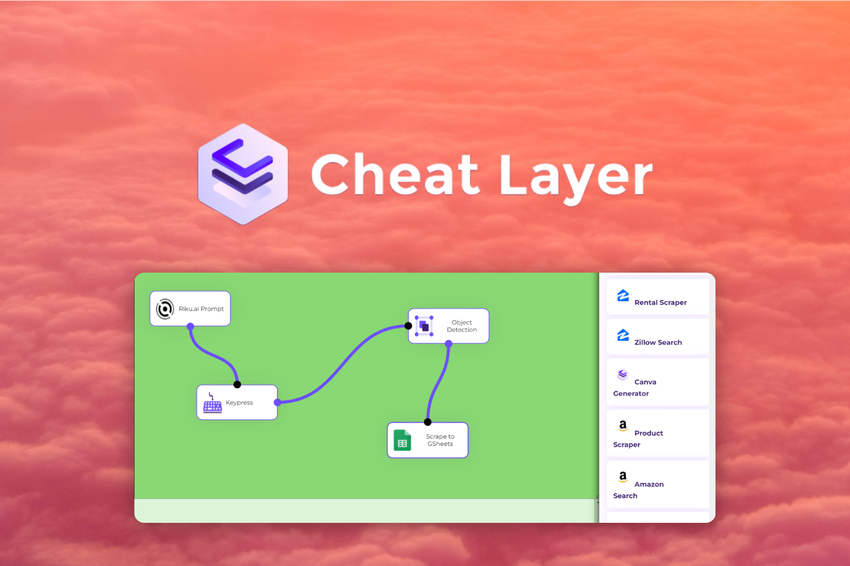 Cheat layer is a no-code platform that lets you integrate all of your cloud-based services and build custom automation to streamline your workflow.
With Cheat layer, you can connect all of your apps and services with just a few clicks, and then automate repetitive tasks to save even more time.
It is incredibly easy to use, even if you don't have any coding experience. And because it's cloud-based, you can access it from anywhere, on any device.
So if you're looking for a way to boost your productivity and save time, cheat layer is definitely worth checking out.
Key Features & Benefits:
Create automation between any cloud apps without requiring coding.
Users can search a library of more than 500 apps and connect the ones they use most frequently.
Configure custom automation with APIs or webhooks
Cheat layer is packed full of intermediate tools and filter options to manage the flow of your data.
And because the cheat layer comes with white label access, You can turn any automation into branded Chrome Extensions to resell to clients and earn money as a business.
Best for: Marketing agencies, e-commerce platforms, and developers looking to boost efficiency with custom, no-code automation
Alternative to: Zapier
Regular price: $192/year
Lifetime deal: $69/one-time payment
---
6. Markopolo – Ai ad management tool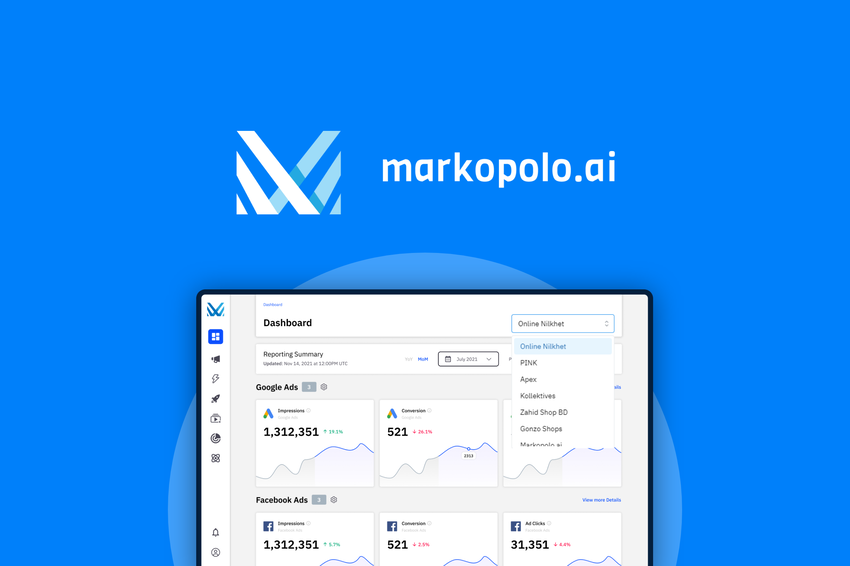 As a business owner, you know that social media and search advertising are essential to reach new customers and grow your business. But with so many platforms and options, it can be difficult to know where to start – and even more difficult to keep up with it all.
That's where Markopolo.ai comes in.
Markopolo is a social media and search advertising tool that uses AI to help you generate social copy, identify target audiences, and schedule cross-platform campaigns.
In other words, it takes the guesswork out of social media and search advertising, so you can focus on running your business.
Here's how it works:
First, you create a profile for your business on Markopolo. Then, you specify the goals you want to achieve with your social media and search campaigns. For example, you might want to increase brand awareness, drive traffic to your website, or generate leads.
Next, Markopolo's AI engine will create custom social copy and targeted ad campaigns based on your goals. The best part? You can set it and forget it – Markopolo will automatically optimize your campaigns and deliver the best results.
Finally, Markopolo provides detailed reporting so you can track your progress and see how your campaigns are performing.
If you're looking for a way to streamline your social media and search advertising, Markopolo is the perfect solution.
Key Features & Benefits:
Run social media and advertising campaigns with AI-generated content, creative, and audience settings
Markopolo lets users manage ads for hundreds of brands simultaneously
Use prebuilt templates to make the ad creation process easy
Markopolo's cutting-edge targeting platform uses AI to identify the most lucrative audience segments for your ads.
You can allocate campaign budgets according to the target audiences you want to reach and quickly test your ads' impact on performance metrics.
Best for: Agencies, marketers, and entrepreneurs that want to use AI to optimize their social media and search ads to boost ROI
Alternative to: WordStream, Smartly.io, and AdEspresso
Regular price: $1188/year
Lifetime deal: $59/one-time payment
---
7. Sendfox – Most affordable email marketing solution
SendFox is an affordable email marketing tool for bloggers, podcasters, marketers and other content creators that lets you set up your own email campaigns, schedule, and automate.them.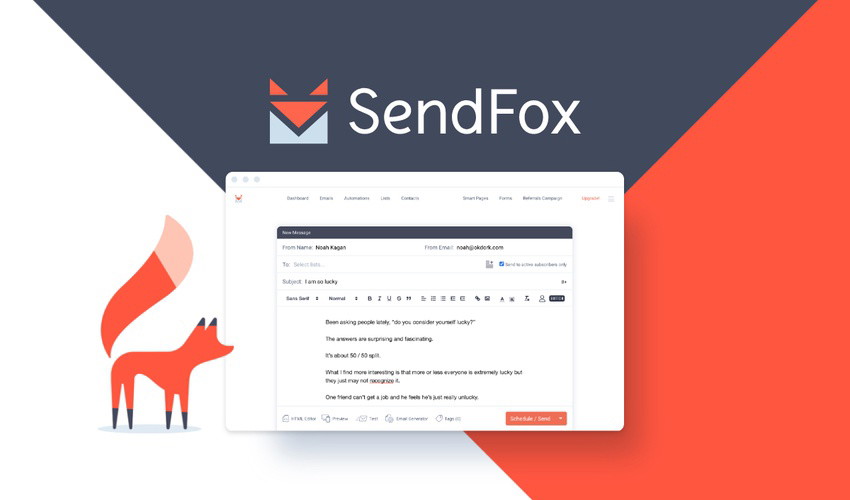 Appsumo's founder Noah mentions they created Sendfox to cut down their expenses on email marketing campaigns that they are running via other email marketing tools. As we know it costs a lot.
But now thankfully, with their email marketing tool, you can get SendFox lifetime deal in just 49$.
If you're looking for an affordable email marketing solution that lets you set up email automation, send drip campaigns, and create landing pages, SendFox is a great option.
With SendFox, you can easily create beautiful email newsletters, automated email sequences, and landing pages that convert.
Plus, SendFox integrates with a variety of third-party tools, so you can use it to its full potential.
Key Features & Benefits:
Unlimited email sends
Scheduled email campaigns at any time of the day
Unlimited triggered automations (with unlimited emails per automation)
Custom landing pages
Custom forms (including GDPR)
Lists and tagging to keep your contacts separate
WYSIWYG email editor to make writing emails easy
Advanced analytics to track opens, clicks, and more
CRM functionality to write notes on each subscriber
Integrations: Sumo.com, KingSumo, Zapier, API, and POST HTML code
RSS feed auto-pull — create email drafts automatically from an RSS feed
Manage unlimited brands from one account
Best for: Content creators, solopreneurs, and bloggers looking for a simple and affordable email marketing solution
Alternative to: Mailchimp, Convertkit and Active Campaign
Regular price: $240
Lifetime deal: $49/one-time payment
---
8. Keywordsearch – Youtube keyword research tool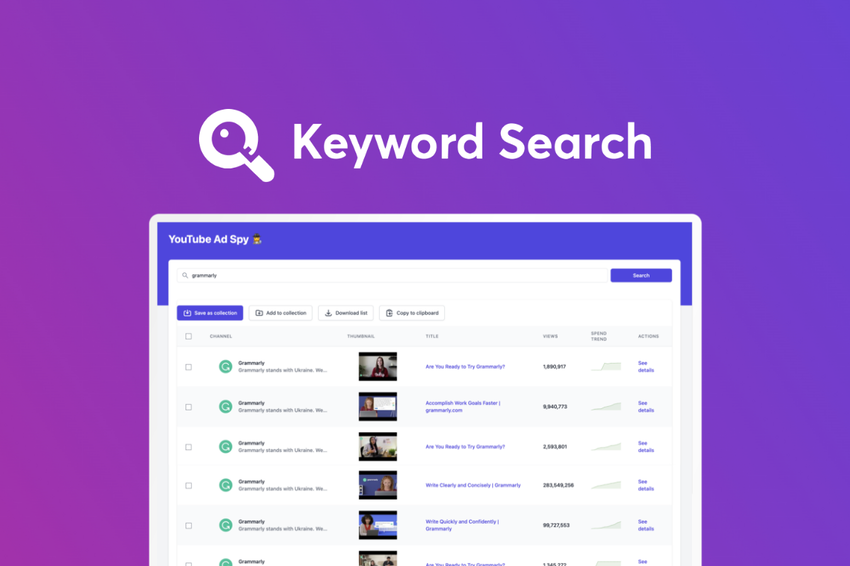 Keyword Search is a suite of AI tools that helps you research high-ranking keywords, videos, channels, and ads on YouTube. With Keyword Search, you can get the inside scoop on what's working for others in your niche, and replicate their success.
It's easy to get started with Keyword Search. Just enter a keyword or phrase into the search bar, and you'll get instant results. You can also use the advanced search options to narrow down your results.
Once you've found a few keywords that look promising, it's time to start optimizing your videos for them. Keyword Search makes it easy to find the right tags, titles, and descriptions for your videos.
With the right keywords, you can make sure your videos are being seen by the people who are most likely to be interested in them.
Keyword Search is an essential tool for anyone who wants to get the most out of YouTube. With it, you can research keywords, find successful videos and channels, and optimize your own videos for maximum visibility.
Key Features & Benefits:
Discover the best keywords for YouTube & youtube ads with AI
Find out high-ranking keywords, YouTube channels, and video placements for your ad campaigns
See how popular certain keywords are, spot trends, and discover keyword opportunities
Check keywords difficulty, and avg monthly search volume.
Best for: YouTubers, content creators, and marketing agencies that want to boost ad ROI on YouTube with smart keyword research
Alternative to: Vidiq
Regular price: $873/year
Lifetime deal: $69/one-time payment for 3 users
---
9. Tykr – Global stock market tool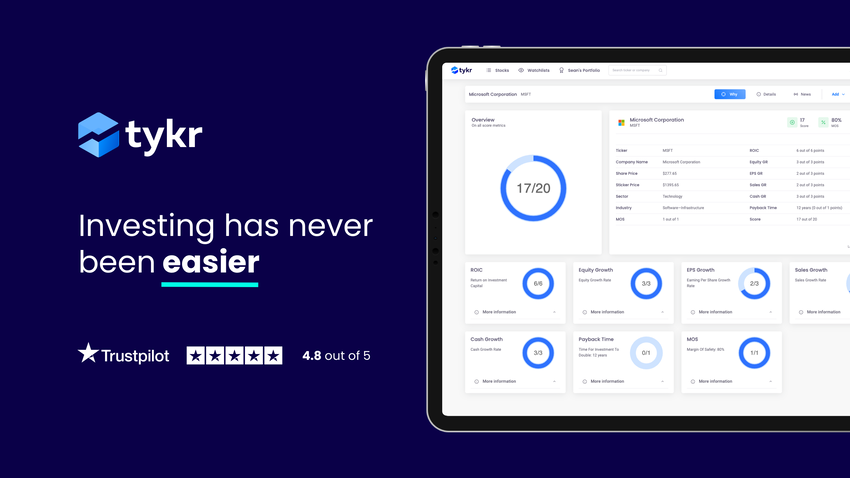 When it comes to investing in stocks, it can be tough to know when to buy and sell. Do you wait for the perfect moment? Or do you jump in and hope for the best?
With TYKR, you can take the guesswork out of stock investing. TYKR is an ai-powered stock market investment that will tell you when to buy and sell stocks (based on the company's Financial statements), removing the emotions and guesswork from the equation.
With TYKR, you can find out the stocks which have a high chance to grow in future and see how they would have performed in the past.
This way, you can make informed decisions about when to buy and sell stocks in the future.
All you have to sign up and select the country, and which stock market you want to monitor and analyse.
TYKR is an excellent tool for both beginner and experienced investors. If you're new to the stock market,
TYKR can help you learn the ropes and make your first trades with confidence. And if you're an experienced investor, TYKR can help you fine-tune your strategy and get the most out of your investments.
Features & Benefits:
Reduce the risk of losing money
Remove the fear of managing your own investments
Save money while managing your own investments
Know when to buy when stocks are going down
Know when to sell when stocks are going up
Easy-to-use dashboard safely guides you
Find great stocks before they become mainstream news
20-Year proven annual returns between 10% and 96%
20-Year history outperforming the S&P 500
Layman's terms language makes investing easy to understand
A source of truth to avoid bad advice
Best for: Beginner and advanced investors who want to reduce risk, save time, save money, and increase their annual returns
Regular price: $900/year
Lifetime deal: $119/one-time payment
---
10. NeuronWriter – Content optimization tool with ai writer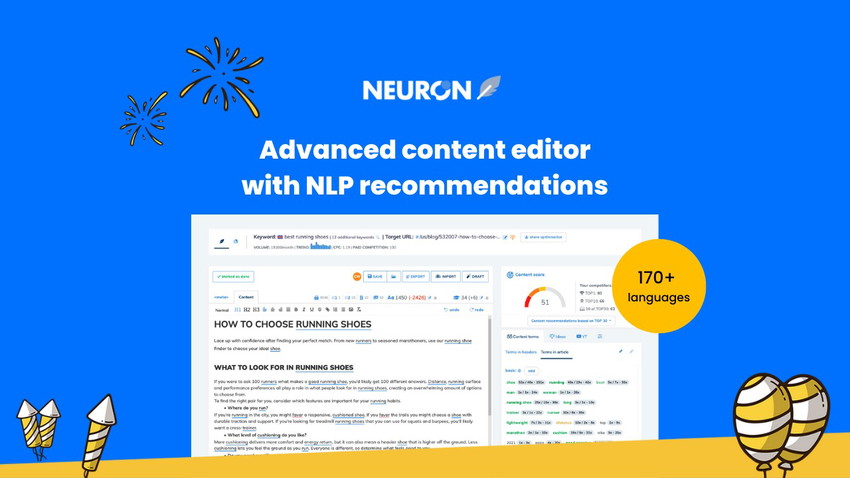 NeuronWriter uses natural language processing (NLP) to analyze your content and help you identify areas where you can improve your SEO.
For example, NeuronWriter can help you choose the right keywords to use in your content, and it can also help you optimize your titles and descriptions.
It is designed to help you boost your SEO rankings by making it easier for you to write high-quality, keyword-rich content. It does this by using a variety of NLP techniques, including keyword extraction and semantic analysis, to help you identify the most effective keywords to use in your content.
In addition to helping you improve your SEO, NeuronWriter can also help you save time. NeuronWriter can automatically generate content for you, and it can also help you format your content so that it is easy to read and understand.
If you are looking for a way to boost your SEO, NeuronWriter is a great option to consider
Features & Benefits:
All you have to do is provide the target keyword, Neuron analyzes your competitors' best content and suggests what ideas to cover & what Google users are looking for.
AI will help you generate content highly focused on the topic.
Discover the best-related keywords to write semantically rich SEO-optimized content.
Invite your team to contribute to a project. Join forces with as many coworkers as you want!
Easy exporting will allow you to simplify the publishing process and get quick results.
Best for: businesses and entrepreneurs looking for a powerful AI tool to assist with content and SEO
Alternative to: Frase, Marketmuse, SurferSEO
Regular price: $750/year
Lifetime deal: $59/one-time payment
---
11. Siteguru – Website audit tool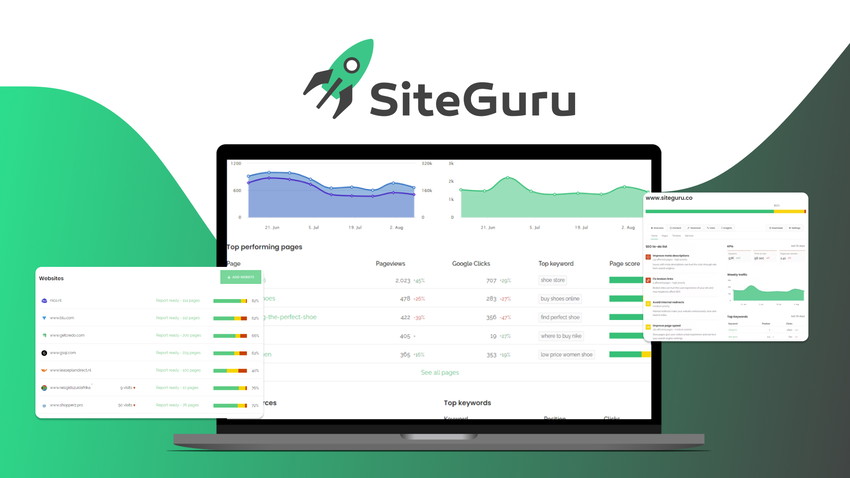 If you're serious about getting your website to rank higher in search engine results pages, then you need to audit your site's SEO.
With SiteGuru, you can get a full SEO audit that tells you exactly where you need to start making changes.
This is important because knowing where your site needs improvement is the first step to fixing those issues and improving your rankings. SiteGuru makes it easy to get started on the road to SEO success.
SiteGuru is an important tool for anyone who wants to improve their website's SEO. With its easy-to-use interface and comprehensive report, it's a great way to get started on the path to better search engine rankings.
Features & Benefits:
Get a full SEO audit that tells you exactly where you need to start to improve your rankings.
Siteguru gives you an actionable to-do list that helps you improve your rankings and get more traffic
By combining data from Google Search Console and Google Analytics, also help you monitor your SEO performance
You can add unlimited users in siteguru – invite clients and colleagues
Best for: Website owners, bloggers, marketers and everyone who just getting started with SEO as well as experienced SEO consultants
Alternative to: Labrika, Sheerseo
Regular price: $499/year
Lifetime deal: $49/one-time payment
---
12. DinoRank- SEO & Content Optimization tool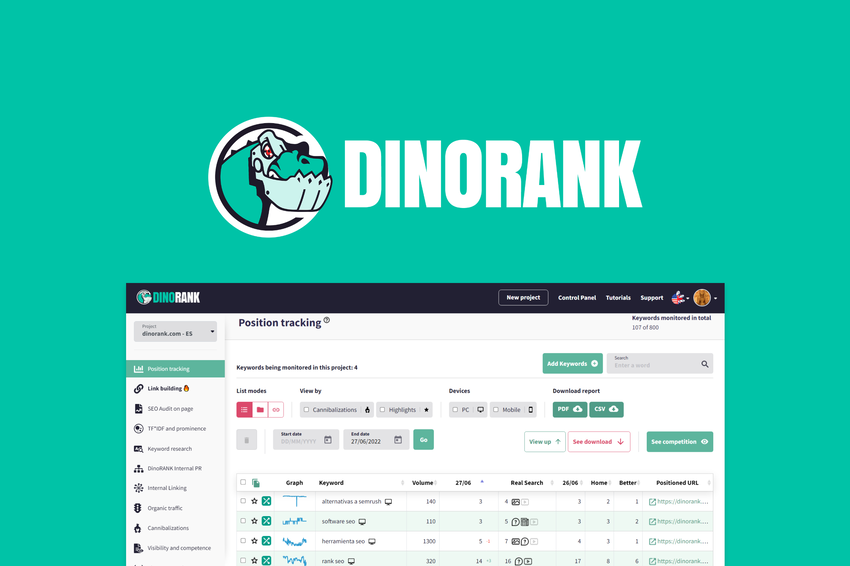 If you're looking for a tool which can help you to optimize your content and SEO to boost ranking on google then Dino rank is a must-check for you.
With Dinorank, you can manage your entire content's SEO strategy with keyword rank tracking, internal linking, competitor analysis, SEO insights and more.
Dinorank also provides semantically related keywords which you can use to optimize content for more related keywords.
Features & Benefits:
Monitor your blog's keywords position on google, and see which keywords are ranking higher or dropping the positions.
You can check your domain or your competitor's domain estimated traffic and best-performing keywords and SEO strategies.
DinoRANK lets you generate a detailed ball graph of all your internal links so you can visualize how your pages are connected.
With advanced competitor analysis, you can track your competitor's keywords performance and understand the content that brings the most traffic for them.
Best for: Website owners, bloggers, marketers and everyone who wants to optimize their SEO and content.
Alternative to: SE ranking
Regular price: $699/year
Lifetime deal: $69/one-time payment
More deals coming so,
Stay tuned as we'll be updating more AppSumo deals for you, so make sure to bookmark this page using CRTL+D.
Meanwhile, click here to see all the live deals at appsumo!
Thank you for reading this post, don't forget to share with more people like you!